Fiery Power Play
Celia and Fidel
October 8 - November 21, 2021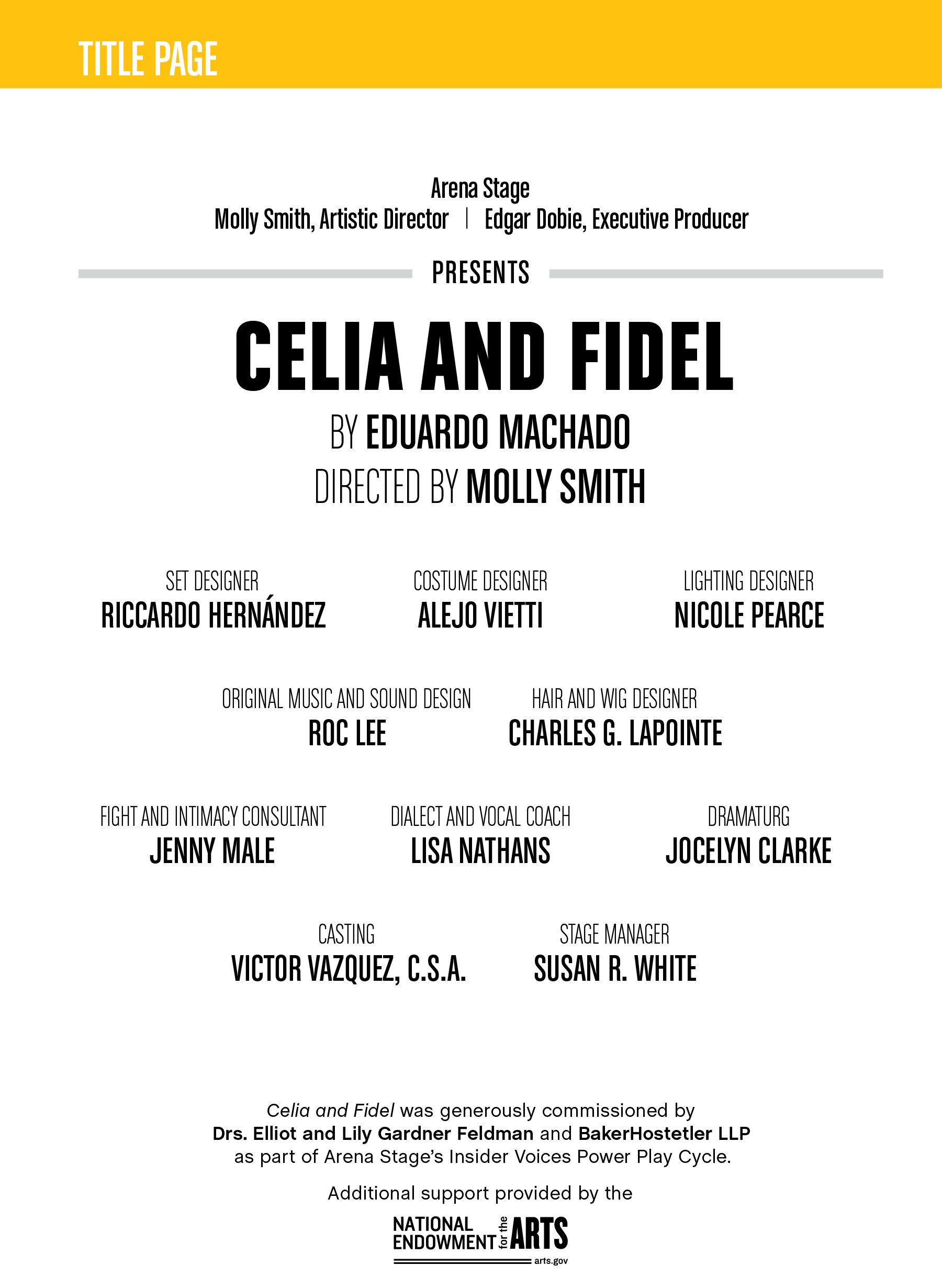 We have had a wild and wonderful ride while putting together this explosive play. I have so many associations with Fidel and Cuba, and now even more since Celia and Fidel opened and closed on one fateful night, March 13, 2020, when live performance was shut down because of the COVID-19 pandemic. A mere 18 months later and we are back! I know that this time away has meant that the play has lived more inside of us, that the actors work is deeper and Eduardo Machado has done some amazing rewrites. The story happening in Cuba today in this moment is a continuation of the story you will see in this performance—people are desperate for food, vaccines, freedom—and have taken to streets. The song "Patria y Vida", which means Country and Life as opposed to Castro's slogan, Country or Death, has spurred the new revolution this summer. Artists always lead.
Castro loomed large in my imagination for many years, as he did for all Americans. In his tiny island 600 miles long, he was able to bring the U.S. to its knees with the help of Russia. My mother was a social worker, and she flew to Miami in 1961 to pick up 250 Cuban children ("the Pedro Pan movement") who were escaping the country under the belief that their parents would come to pick them up within weeks. I remember in 1962 during the Cuban Missile Crisis going with my grandmother to the basement looking for places to hide in the fruit cellar if a nuclear bomb went off. Twenty years ago, my partner Suzanne and I travelled to Cuba with the Washington Ballet, and we went to Cuba again with an Arena group in January 2020. We soaked up the joy and pain that is contemporary Cuba. We delved into the culture of the island, seeing theater, dance, music, and of course eating wonderful food. We went to the Nationale and Ambos Mundos—both places mentioned in the play. We walked the streets and corridors that Fidel and Celia and our fictional characters Manolo and Consuelo walked. I was heartbroken to see the effects of the embargo—Cuban people didn't have basic items, like cooking oil. The trip was profound.
Very few stories about Castro have been put on stage; mostly we know him through documentaries. Eduardo Machado is an important voice in the American theater and his understanding of Cuba, and its people is moving. In this Power Play, Eduardo illuminates the story of Celia Sánchez, whose history has been hidden from many of us. She was called the Mother of the Revolution and was Castro's closest confidant. Eduardo activates it all, thrusting us into the Mariel Boatlift in 1980 and the conflict that must have been happening behind the closed doors of Fidel's office about the thousands of people wanting to flee Cuba.
Celia and Fidel is a political play which deftly moves from the politics of socialism and communism to the push and pull of legacy, power, the new generation, and countries colliding. What happens when a revolution runs out of steam? What happens when people want more? This is very much a play about today: the question of embargos and who really gets hurt and the need for more effective immigration policies. The fierce arguments around socialism that are swirling around the American democratic party are contained in Celia and Fidel from a different perspective.
I'm so glad we are back together with the fierce original company to complete our work! Enjoy this deep, dark, dangerous and provocative story.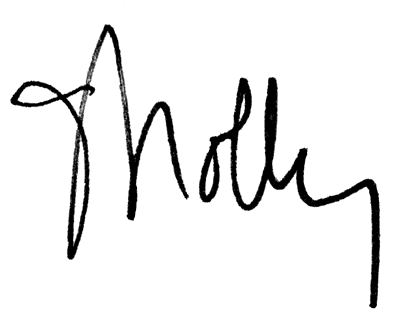 Molly Smith, Artistic Director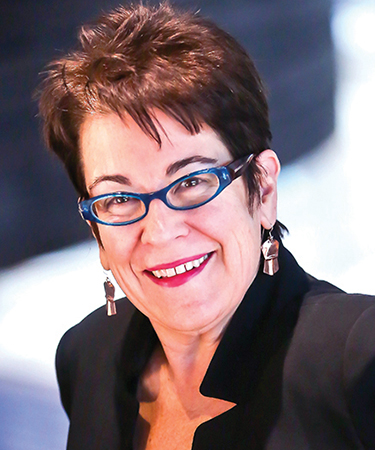 In a New York Times review, Ben Brantley noted that Eduardo Machado's work "delves, with equal parts wistfulness and anger, into the knotty confusions of the political relations between Cuba and the United States; Communism and capitalism as bedfellows in Cuban ideology; and the tortured ties between those who fled that island country and those who stayed behind." For the last 70 years, Cuba has been looming in the American consciousness and it is easy to see why Eduardo is an essential voice in the American theater. What he has managed to unearth in Celia and Fidel is a testament to his skill and we are honored to have commissioned him as one of our Power Play writers.
Eduardo comes to Arena not only as one of our nation's leading playwrights, but as a leader, full of ideas, stories and insight. He has worked across the country in some of our leading resident theaters and has found time to test the boundaries of his artistry in film, television and literature. He was the head of playwriting at Columbia University, and in 2004 he succeeded founder Max Ferrá as the artistic director of INTAR — one of the nation's longest-running companies dedicated to Latinx artists. You can see glimpses of his career as an educator and as a producer in his manner. He's soft-spoken, intuitive and has a story for every occasion. He leans into the feedback and embraces the journey that is new play development with wit and grace.
Throughout the process of finessing the play, Eduardo has been an ambassador for his piece. He has willingly leapt into participating in donor events, marketing videos and anything to engage with the community. His experience as an artistic leader is evident in how he ebbs and flows through conversations with patrons and the press. In the fall, he and I attended a dinner at Castas Rum Bar with our friends from GALA Hispanic Theatre and before rehearsals began, Molly and Eduardo led a trip to Cuba with members from our Board, staff and patron community. His participation in all facets of Arena's ecosystem has enriched both the artistic process and the culture of our workplace.
I have an abundance of admiration for artists like Eduardo who take a moment to step away from their process to engage with our community. Arena is at the crossroads of the American theater, with artists and companies coming and going on a weekly basis. When they have a moment to speak with a group of students, participate in a talkback or lead a donor experience, it only furthers the idea that theater can — and should — elevate one's community.
Thanks for listening,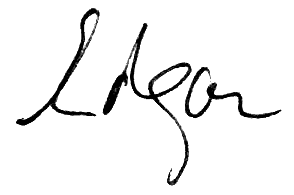 Edgar Dobie
Executive Producer
President of the Corporation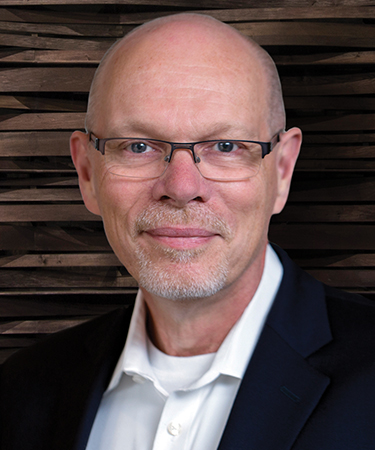 Arena Stage is built on the land of the Piscataway people of the Algonquin-speaking tribes, as well as the lands of the Native American people of the greater Anacostia, Potomac and Tidewater regions.
Setting
April 1980, Fidel Castro's Office, Havana, Cuba.
Cast
Celia Sánchez...................Marian Licha
Fidel Castro...................Andhy Mendez
Manolo Ruiz........................Liam Torres
Consuelo.................Heather Velazquez
Celia and Fidel is a fictional play inspired by historic events.
Celia and Fidel runs approximately two hours, including one 15-minute intermission.
The video and/or audio recording of this performance by any means whatsoever is strictly prohibited. Please turn off all electronic devices. Eating and drinking are not permitted inside the theater.
Masks must be worn at all times during the performance.
Assistant Set Designer.................Riw Rakkulchon
Original Production Dramaturg.......Soyica Colbert
Stage Management Assistant..Niew Bharyaguntra
Production Assistant....................Dayne Sundman
Assistant Director...............Gregory Keng Strasser
Wardrobe Supervisor......................Adelle Gresock
Audio Engineer................................Drew Moberley
Light Board Operator..........................Scott Folsom
Props.................................................Regina Vitale
Acknowledgements
The Director thanks the following people for the expertise they shared as we developed this production: Dr. Aisha Z. Cort, Emilio Cueto, Peter Kornbluh and tobacconist W. Curtis Draper.
MARIAN LICHA
MARIAN LICHA (Celia Sánchez) is excited about the Celia and Fidel comeback. She was last seen at Arena Stage as Sister Sonia in Destiny of Desire and as Ofelia in Anna in the Tropics. Other favorite roles include, How the Garcia Girls Lost Their Accents (Round House Theatre), Ana en el Tropico and The House of Spirits (Gala Theatre). Select Regional and Off-Broadway credits include The Kennedy Center, Provincetown Playhouse, TOMI Theatre, Repertorio Espanol in NYC and The Capital Fringe Festival. She continues to tour with Frida Vice-Versa, a one-woman show. Some TV and film credits are Homicide, Step Up 2, Americanish and Comedy Central's Lost in Pronunciation. She's a proud member of EQUITY and AFTRA/SAG and the mother of two beautiful children. marianlicha.com. Instagram: @Marianlicha11.
ANDHY MENDEZ
ANDHY MENDEZ (Fidel Castro) most recently appeared on stage as Ramoncito in the world premiere of The Cubans at the Miami New Drama/Colony Theatre in Miami, FL. Other theater credits include Davenant's Macbeth and Timon of Athens at the Folger Theatre in Washington, D.C.; the world premiere of Confessions of a Cocaine Cowboy at Miami New Drama/Colony Theatre; Shakespeare in Love at Cleveland Playhouse; and Hamlet: Prince of Cuba at Asolo Rep, with full performances in English and Spanish. Select NY credits include Daughter of the Waves, Sotto Voce and the world premiere of Strawberry and Chocolate. On film and television, Andhy will be in the upcoming feature film, Scrapper, and has appeared on many television shows including Bull, Chicago PD, Blacklist and Orange Is the New Black.
LIAM TORRES
LIAM TORRES (Manolo Ruiz) is an actor, activist and teaching artist for Manhattan Theatre Club in New York. He is thrilled to be working with Molly Smith and Arena Stage. Liam has appeared in several Eduardo Machado plays, including: Mariquitas, Paula and Havana Journal at Theatre for the New City. His New York credits include: Mark in Intar's Locusts Have No King, Lobster Face, Fit, The Hologram Theory, The Last Castrato and The Marital Bliss of Francis & Maxine with Fay Simpson. Regional credits include: Anna in the Tropics at SpeakEasy in Boston; Sleepwalkers at Alliance Theatre in Atlanta; and Better at Pinter Studios in London. Film credits include: Lauren Fritz's film Kabul, The Wounded and the Slain, Rover and Zoowith Jermaine Hopkins.
HEATHER VELAZQUEZ
HEATHER VELAZQUEZ (Consuelo)'s theater credits include: Pipeline (Lincoln Center); American Mariachi (Denver Center and The Old Globe); Another Word for Beauty (Goodman Theatre); So Go the Ghosts of Mexico (Sundance theatre Lab); Rosario and the Gypsies (Theatre for the New City); Pinkolandia (Intar); Nobody Rides a Locomotive No Mo' (Rising Circle Theatre). Television credits include: Blue Bloods and Live from Lincoln Center (Pipeline).
EDUARDO MACHADO
EDUARDO MACHADO (Playwright) was born in Cuba and came to the United States when he was nine. He is the author of over 40 plays, including The Cook, Havana is Waiting, The Modern Ladies of Guanabacoa, Fabiola, Broken Eggs and Stevie Wants to Play the Blues. His plays have been produced at Seattle Repertory, The Goodman, Hartford Stage, Actors Theatre of Louisville, Mark Taper Forum, Long Wharf, Hampstead Theatre in London, The Cherry Lane Theatre, Theater for the New City and Repertorio Español, among many others. He was formerly artistic director of INTAR Theatre in NY and has been a Professor of Playwriting at NYU Tisch and Columbia. He is the co-author of Tastes Like Cuba: An Exile's Hunger for Home and his plays are published by Samuel French and TCG.
MOLLY SMITH
MOLLY SMITH (Director) has served as Artistic Director since 1998. Her more than 30 directing credits at Arena Stage include large-scale musicals, like Anything Goes, Disney's Newsies, Carousel, Fiddler on the Roof, Oklahoma!, My Fair Lady, The Music Man, Cabaret, South Pacific; new plays, like Sovereignty, The Originalist, Camp David, Legacy of Light, The Women of Brewster Place, How I Learned to Drive; and classics like Mother Courage and Her Children, A Moon for the Misbegotten, The Great White Hope and All My Sons. Her directorial work has also been seen Off-Broadway at 59E59 in New York, Portland Center Stage, Canada's Shaw Festival, The Court Theatre, The Old Globe, Asolo Repertory, Berkeley Repertory, Trinity Repertory, Toronto's Tarragon Theatre, Montreal's Centaur Theatre and Perseverance Theater in Juneau, Alaska, which she founded and ran from 1979-1998. Molly has been a leader in new play development for over 40 years. She is a great believer in first, second and third productions of new work and has championed projects, including Dear Evan Hansen; Next to Normal; Passion Play, a cycle; and How I Learned to Drive. She led the re-invention of Arena Stage, focusing on the architecture and creation of the Mead Center for American Theater and positioning Arena Stage as a national center for American artists through its artistic programming. During her time with the company, Arena Stage has workshopped more than 100 productions, produced 39 world premieres, staged numerous second and third productions, and been an important part of nurturing nine projects that went on to have a life on Broadway. In 2014, Molly made her Broadway debut directing The Velocity of Autumn, following its critically acclaimed run at Arena Stage. She was awarded honorary doctorates from American University and Towson University. In 2018, she was honored as Person of the Year by the National Theatre Conference and inducted into the Washington DC Hall of Fame. In 2020, she was awarded the Director of Distinction in Cairo, Egypt, from the Academy of Arts. During the COVID-19 pandemic in 2020, she developed the concept for two online films, May 22, 2020 and The 51st State, overseeing the production direction as well as directing pieces within the films. She also spearheaded a variety of other new online content, including a weekly talk show Molly's Salon, during the live performance hiatus.
RICCARDO HERNÁNDEZ
RICCARDO HERNÁNDEZ (Set Designer)'s Broadway credits include: Jagged Little Pill; Frankie and Johnny in the Clair de Lune; Indecent; The Gin Game; The Gershwins' Porgy and Bess; The People in the Picture; Caroline, or Change (National Theater London); Elaine Stritch at Liberty (Old Vic London); Topdog/Underdog (Royal Court); Bells Are Ringing; Parade (Hal Prince director, Tony and Drama Desk nominations); Bring in 'Da Noise, Bring in 'Da Funk; and The Tempest. Recent: Claudia Rankine's The White Card (Diane Paulus director, ART); Lempicka (Rachel Chavkin director, WTF); Admissions (LCT); La Dame aux Camélias (France); and The Invisible Hand (NYTW – Henry Hewes Outstanding Set Design Award). He has designed over 250 productions in the U.S. and internationally. Awards include: OBIE Award Sustained Excellence; Yale School of Drama Design Faculty.
ALEJO VIETTI
ALEJO VIETTI (Costume Designer)'sArena Stage credits include: Ella, The Pajama Game, Anything Goes (Helen Hayes Award) and Disney's Newsies. New York credits include: Broadway's Holiday Inn, Allegiance (Drama Desk nomination) and Beautiful: The Carole King Musical (U.S. tour, West End – Olivier Award nomination, Australia, Japan and UK tour). He has designed for City Center Encores!, Radio City Rockettes, Roundabout Theatre, Manhattan Theatre Club, Atlantic Theatre, among others. Opera credits include: New York City Opera, Chicago Lyric Opera, Minnesota Opera, Wolf Trap Opera andDonesk Opera (Ukraine). Selected regional work includes: Alley Theatre, Shakespeare Theatre, Ford's, Signature, Goodspeed, Guthrie, Hartford Stage, Paper Mill Playhouse and The Old Globe. Other credits include:Disney's The Hunchback of Notre Dame, Ringling Brothers and Barnum & Bailey Circus. TDF Irene Sharaff Young Master Award recipient.
NICOLE PEARCE
NICOLE PEARCE (Lighting Designer) is an international lighting designer for dance, theater and opera based out of Queens, New York. Her work has been seen across the United States, Europe, Siberia, Japan, Korea, New Zealand and Cuba. New York credits include: The Playwrights Realm, The Play Company, The Asia Society and The Mint Theater Company. Regional credits include: Long Wharf, McCarter Theater, Hartford Stage, Philadelphia Theater Company, Williamstown Theater Festival, Resident Ensemble Players and Pittsburgh Public Theater. Selected dance credits include: Joffrey Ballet, Houston Ballet, Hubbard Street, Mark Morris Dance Group, Jessica Lang Dance, Alvin Ailey American Dance Theater, Nederland's Dance Theater, Malpaso and American Ballet Theater. Opera credits include: Arizona Opera, L.A. Opera, The Juilliard School, Opera de Montreal and Minnesota Opera. Nicole's installation of 1,000 paintings entitled Tiny Paintings for Big Hearts will be open to doctors, nurses, staff and patients of Elmhurst Hospital in Elmhurst, NY in September 2021 (@nicolepearceart). www.nicolepearcedesgin.com
ROC LEE
ROC LEE (Original Music and Sound Design) is a Helen Hayes Award-winning D.C.-based composer/sound designer. He holds a Master of Music in stage music composition from CUA. Credits include: Snowchild, The Price, Mother Courage (Arena Stage); Crossing Mnissose (Portland Centerstage); Small Mouth Sounds, Doll House 2 (Roundhouse); Kid Prince and Pablo (Kennedy Center TYA); Fairview, Describe the Night (Woolly Mammoth Theatre); The Lathe of Heaven (Spooky Action Theater); Admissions, Curve of Departure (Studio Theatre); CHARM, Ulysses On Bottles, Oh God! (Mosaic Theater); Aubergine, The Importance of Being Earnest (Everyman Theatre); Singin' In The Rain, Matilda The Musical, Tiger Style!, The Invisible Hand, On The Town, Aubergine (Olney Theater Center); AIDA (Constellation Theatre); Hello My Name Is... (Welders); [410]Gone (Rorschach Theatre); FAME!; In the Heights (GALA Hispanic Theater). https://roclee.net
CHARLES G. LAPOINTE
CHARLES G. LAPOINTE (Hair and Wig Designer) is an award-winning Wig and Hair Designer who maintains a highly successful career on stages throughout the United States and abroad. Prior at Arena Stage: Disney's Newsies; Ken Ludwig's Dear Jack, Dear Louise; Anything Goes. Highlights: Numerous Broadway; Touring; American Regional Theatre; West End and International productions including Hamilton (Make-Up Artists & Hair Stylist Guild Award); Ain't Too Proud; Beautiful: The Carole King Musical; Beetlejuice; The Cher Show (Drama Desk Award); The Band's Visit; Anastasia; The Lifespan of a Fact; SpongeBob SquarePants (Drama Desk Award); Jersey Boys; A Gentleman's Guide to Love and Murder; The Color Purple; In the Heights. Television: The Wiz Live! (Emmy Award Nomination); Jesus Christ Superstar Live! (Emmy Award Nomination and Make-Up Artists & Hair Stylist Guild Award).
JENNY MALE
JENNY MALE (Fight and Intimacy Consultant) is a certified teacher with the Society of American Fight Directors and a certified intimacy director with Intimacy Directors International. She also serves as resident fight and intimacy director for Rep Stage and is an associate professor of theatre at Howard Community College.
LISA NATHANS
LISA NATHANS (Dialect and Vocal Coach) is thrilled to be coaching again for Arena Stage after coaching Disney's Newsies and Ken Ludwig's Dear Jack, Dear Louise. Other D.C. credits include various productions with the Kennedy Center Theater for Young Audiences, Shakespeare Theatre Company, Olney Theatre Center, Signature Theatre, Theater Alliance, Keegan Theatre and MetroStage. Regional credits include: Guthrie Theater, The 5th Avenue and Theatricum Botanicum. TV credits include: National Geographic's Elemental: Hydrogen vs. Hindenburg. Teaching (USA and UK): University of Maryland: TDPS (Assistant Professor, Voice, Speech, and Acting); CalArts; Stella Adler Academy; RADA; Royal Welsh; Royal Central; University of Washington (PATP MFA); and University of Minnesota (Guthrie BFA). Training: Royal Central School of Speech and Drama: MFA (Voice Studies); Boston University: BFA (Acting); Linklater Voice Designation; and Colaianni Speech Practitioner. Break legs all!
VICTOR VAZQUEZ, C.S.A.
VICTOR VAZQUEZ, CSA (Casting) is a casting director in New York City. He is the founder of XCasting (xcastingnyc.com) and sits on the national board of the Casting Society of America.
JOCELYN CLARKE
JOCELYN CLARKE (Dramaturg) is Senior Dramaturg at Arena Stage in Washington, D.C. He was Theatre Advisor to the Arts Council of Ireland for ten years. As a dramaturg, Clarke has worked with writers such as Katori Hall, Taylor Mac, Lydia Diamond, Abhishek Majumdar, Eduardo Machado, Charles Randolph Wright, Lisa Kron, Craig Lucas, Carl Hancock Rux, Mary Kathryn Nagle, Tanya Saracho, and Karen Zacarias. He was a script editor on several Irish films, including Young Offenders, and was executive story editor on all three seasons of the BBC/RTE TV series Young Offenders. He is a writer on the second season of P-Valley, Katori Hall's acclaimed TV series for Starz. His new adaptation of Elizabeth Swados' musical The Beautiful Lady, will be directed by Anne Bogart at La Mama Theatre in New York in May 2022.
SOYICA COLBERT
SOYICA COLBERT (Original Production Dramaturg) is the Interim Dean of Georgetown College and Idol Family Professor of African American Studies and Performing Arts. Arena Stage: A Raisin in the Sun, Two Trains Running and Celia and Fidel. Off-Broadway: The Public Theatre: Shadow/Land. Regional: STC: Associate Director-Literary and Shakespeare Theatre Company. The Amen Corner. Studio Theatre: Okinawa Demo Reel. Awards: National Endowment for the Humanities Fellowship, Woodrow Wilson Fellowship, Mellon Fellowship. Personal: she/her/hers | Colbert is the author of Radical Vision: A Biography of Lorraine Hansberry, Black Movements: Performance and Cultural Politics and The African American Theatrical Body: Reception, Performance and the Stage. She co-edited The Psychic Hold of Slavery and Race and Performance After Repetition| Teaching: Georgetown University | Training: Rutgers University: Ph.D. in English, Georgetown University: BA in English |Twitter: @DrSoyica. is the Interim Dean of Georgetown College and Idol Family Professor of African American Studies and Performing Arts.
RIW RAKKULCHON
RIW RAKKULCHON (Assistant Set Designer) Bio coming soon.
SUSAN R. WHITE
SUSAN R. WHITE (Stage Manager), for Martha.
Supporting Sponsorship for Arena Stage's program is generously provided by a lifelong Washingtonian in honor of Anne Paine West, Arena Stage's longtime Director of Board and Donor Relations who retired in 2020.
Arena Stage Full Circle Society
Arena Stage Annual Fund Individual Supporters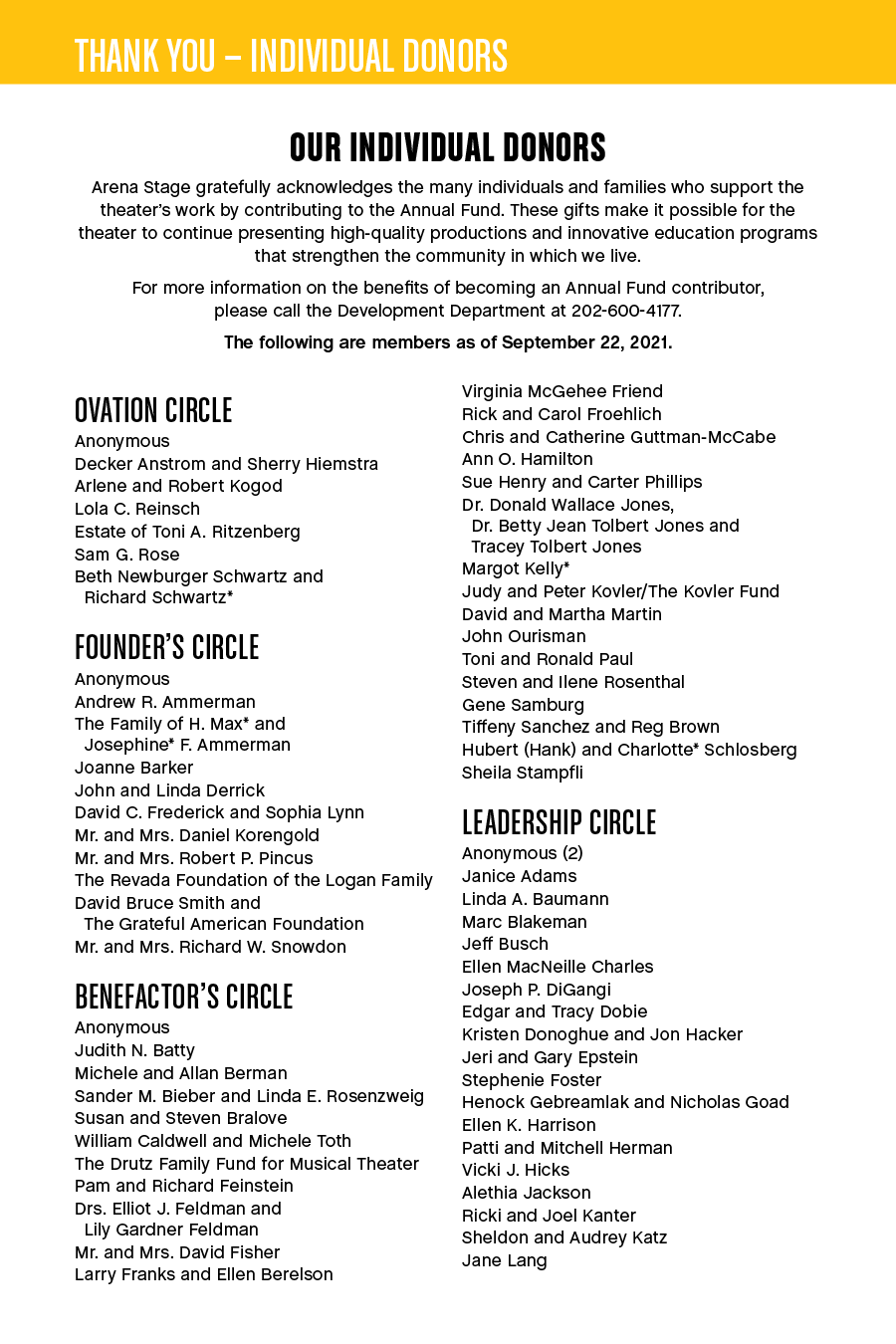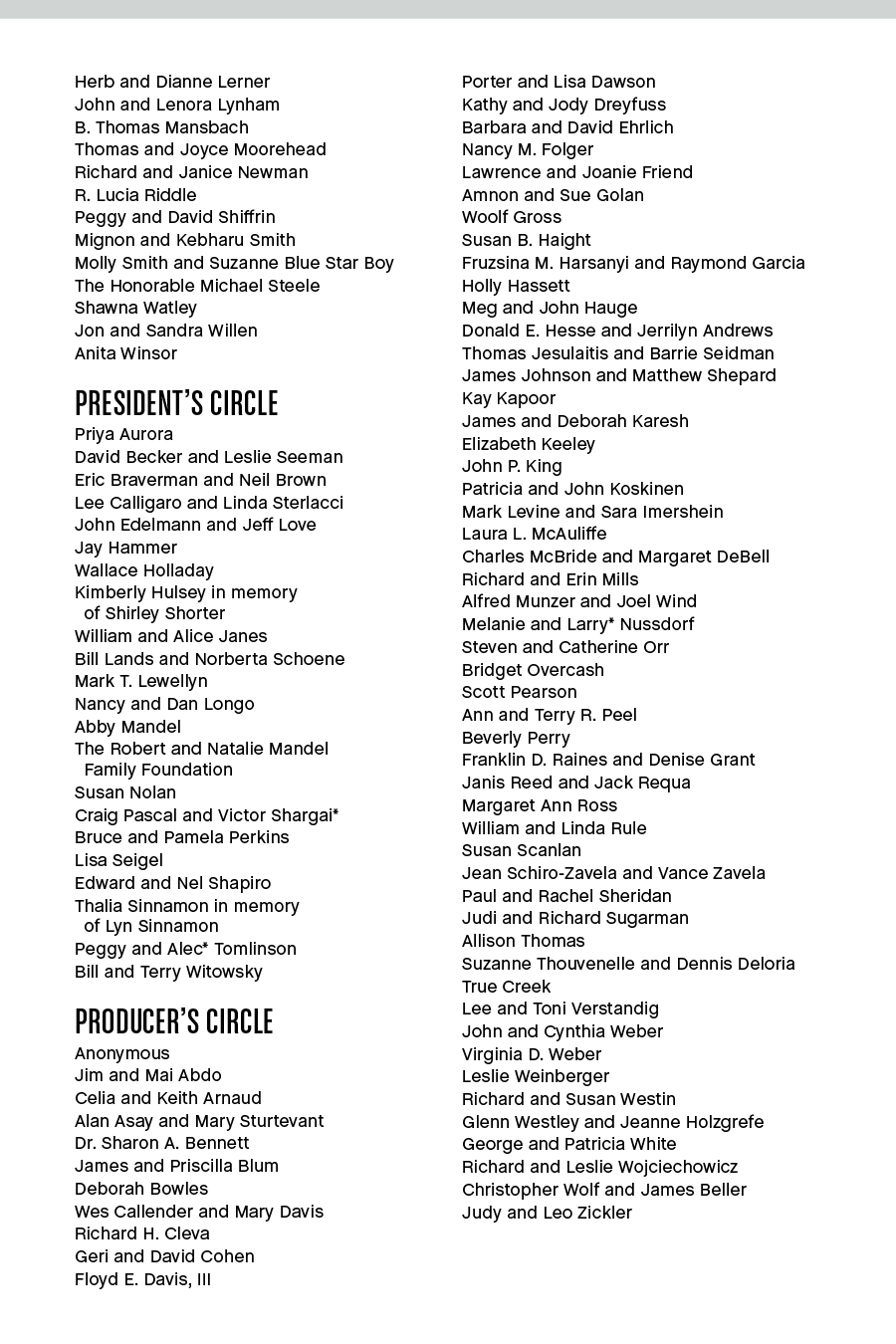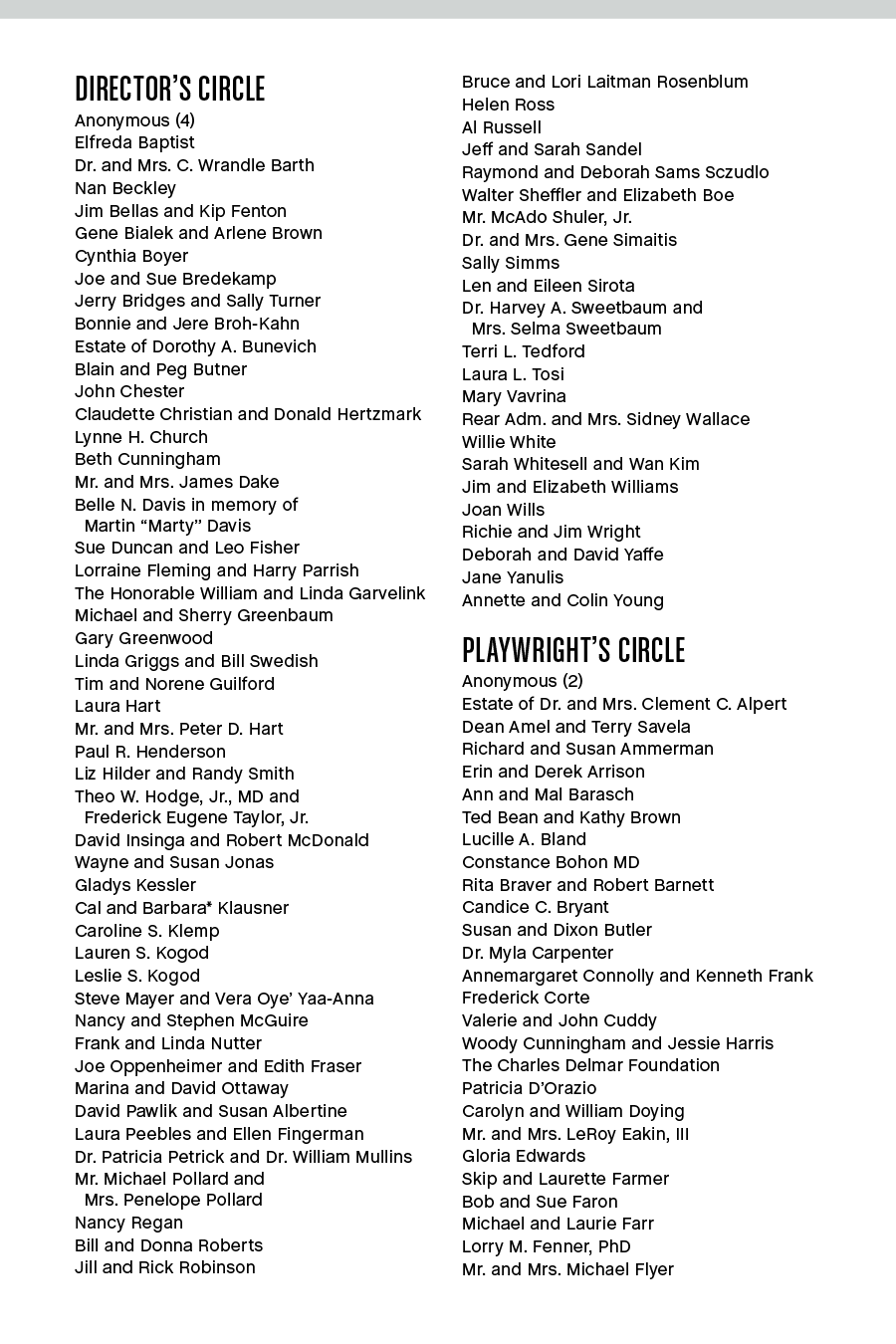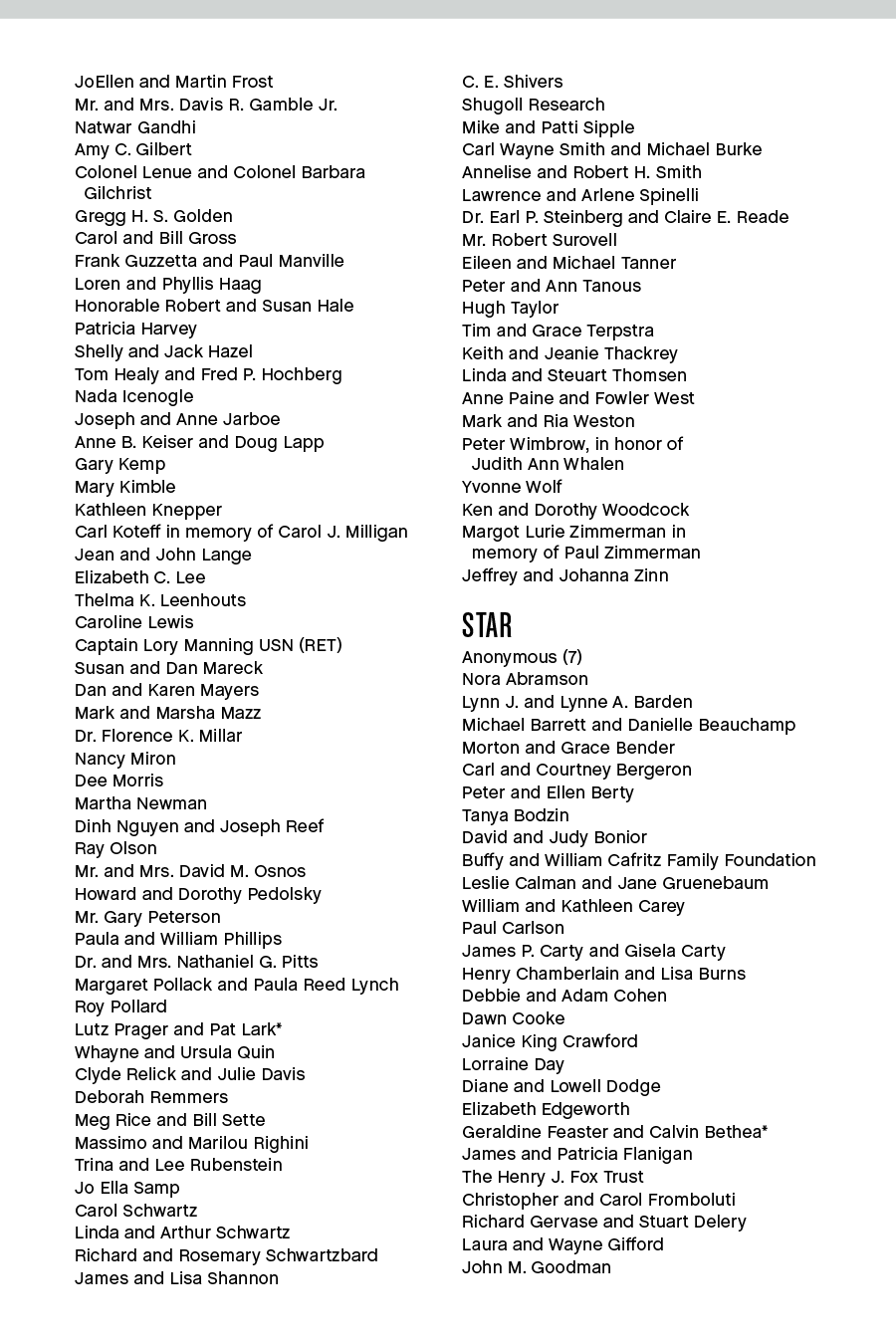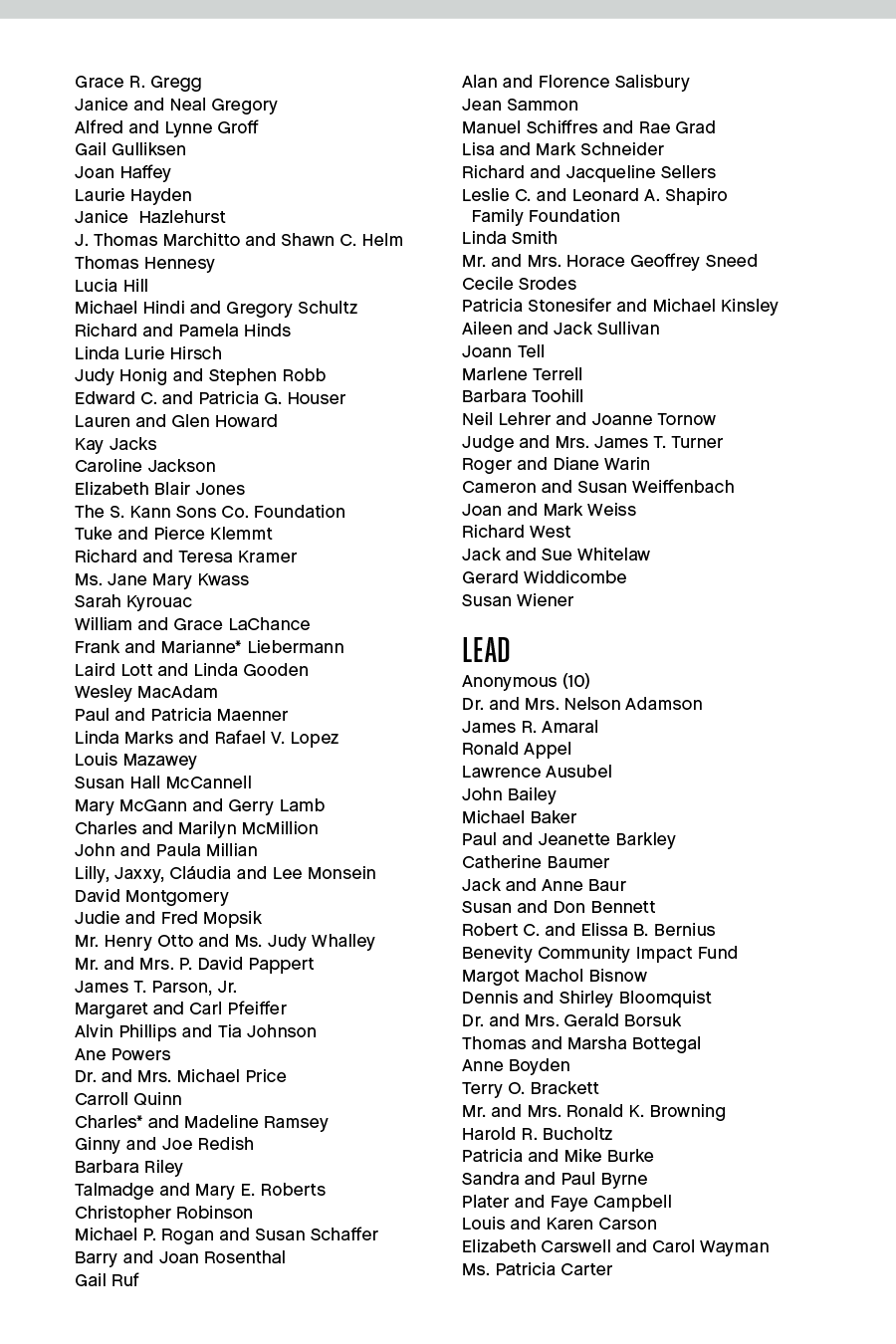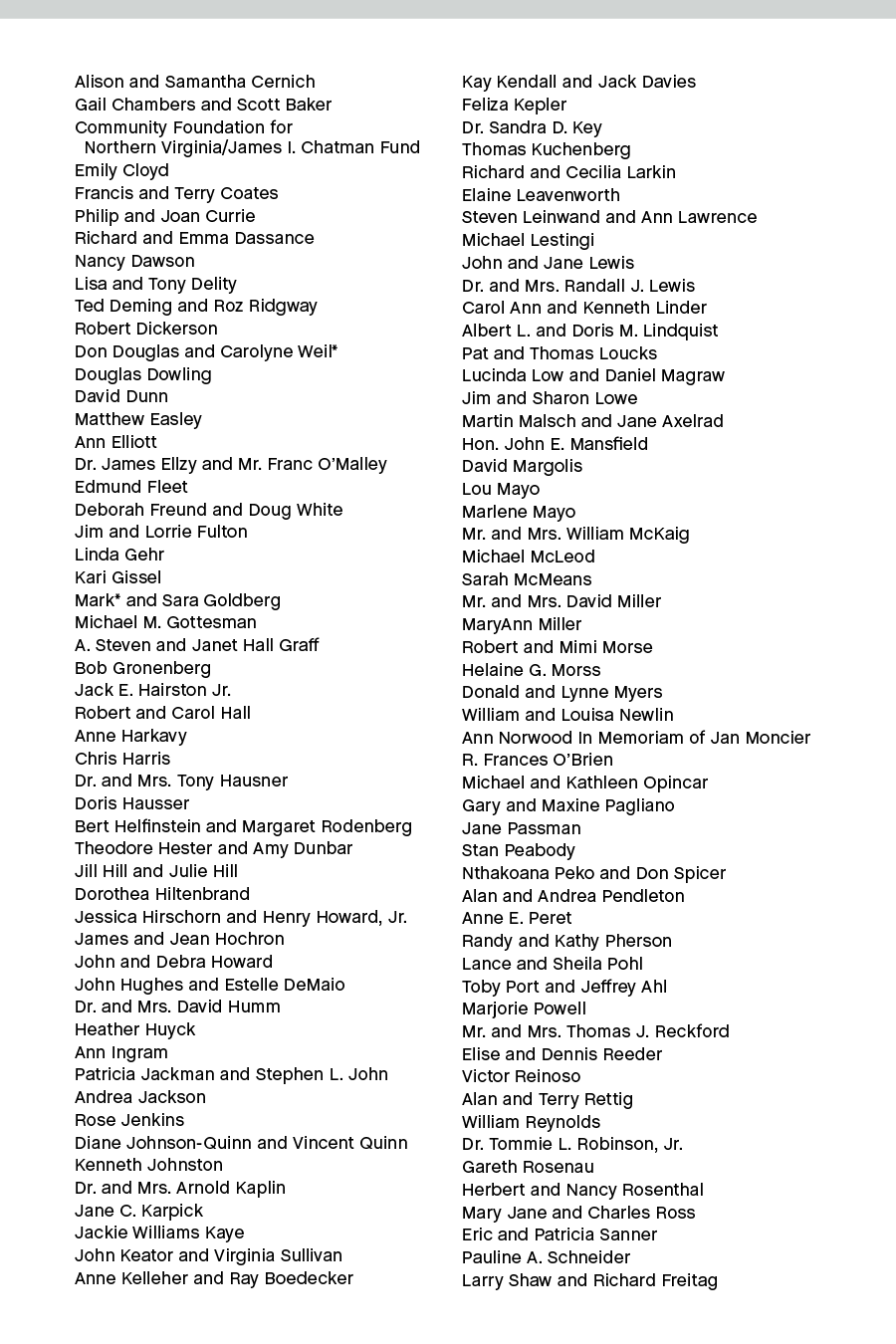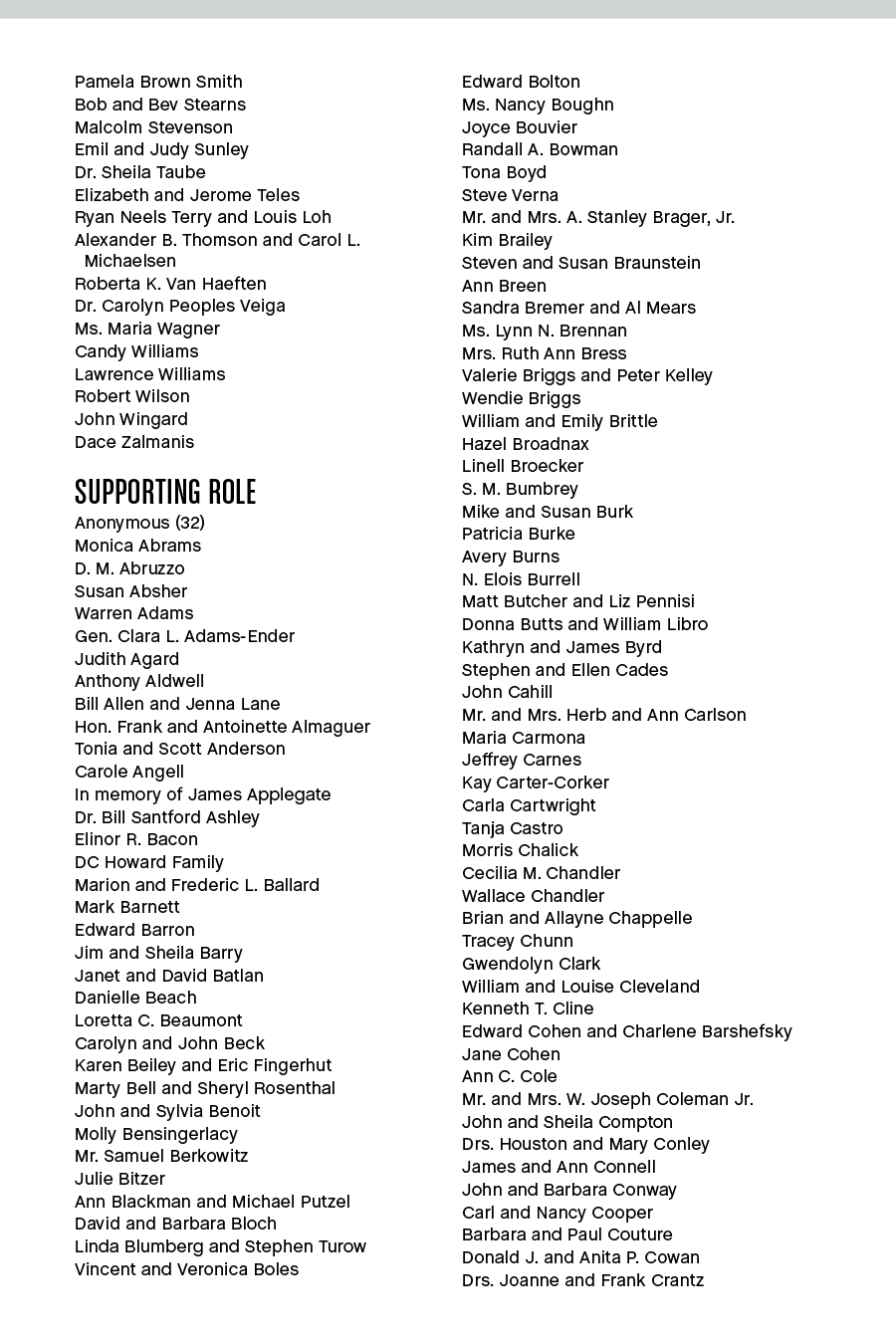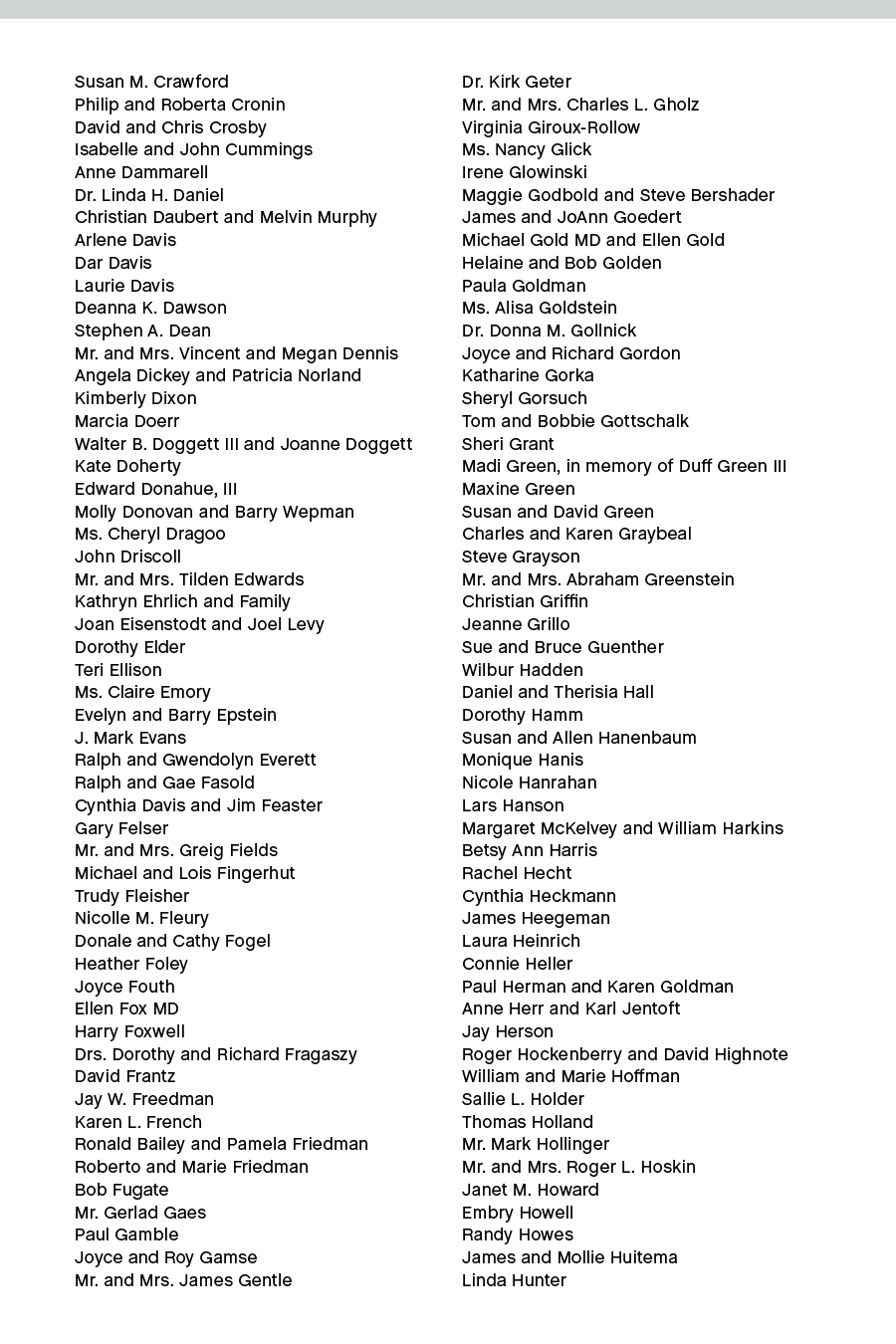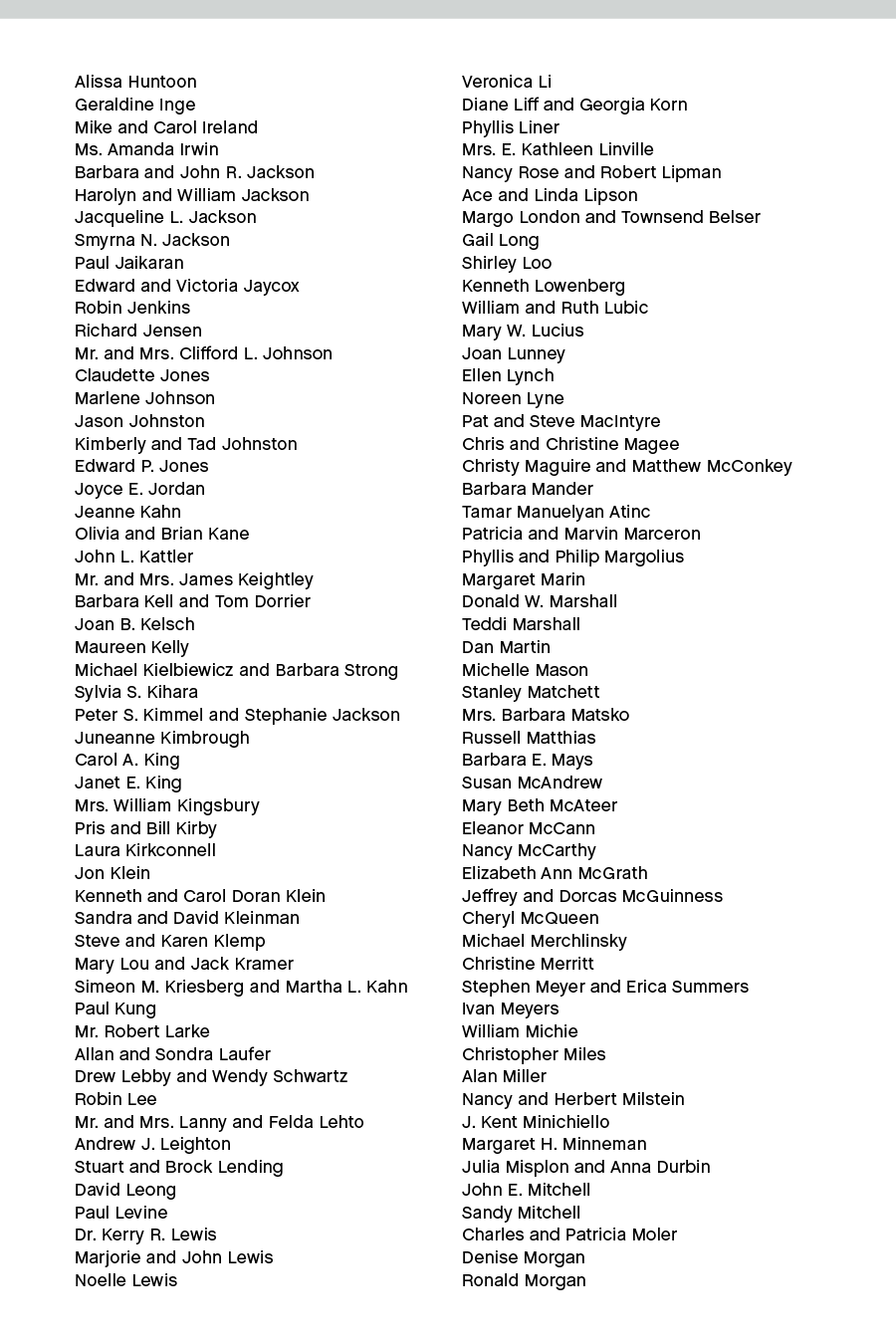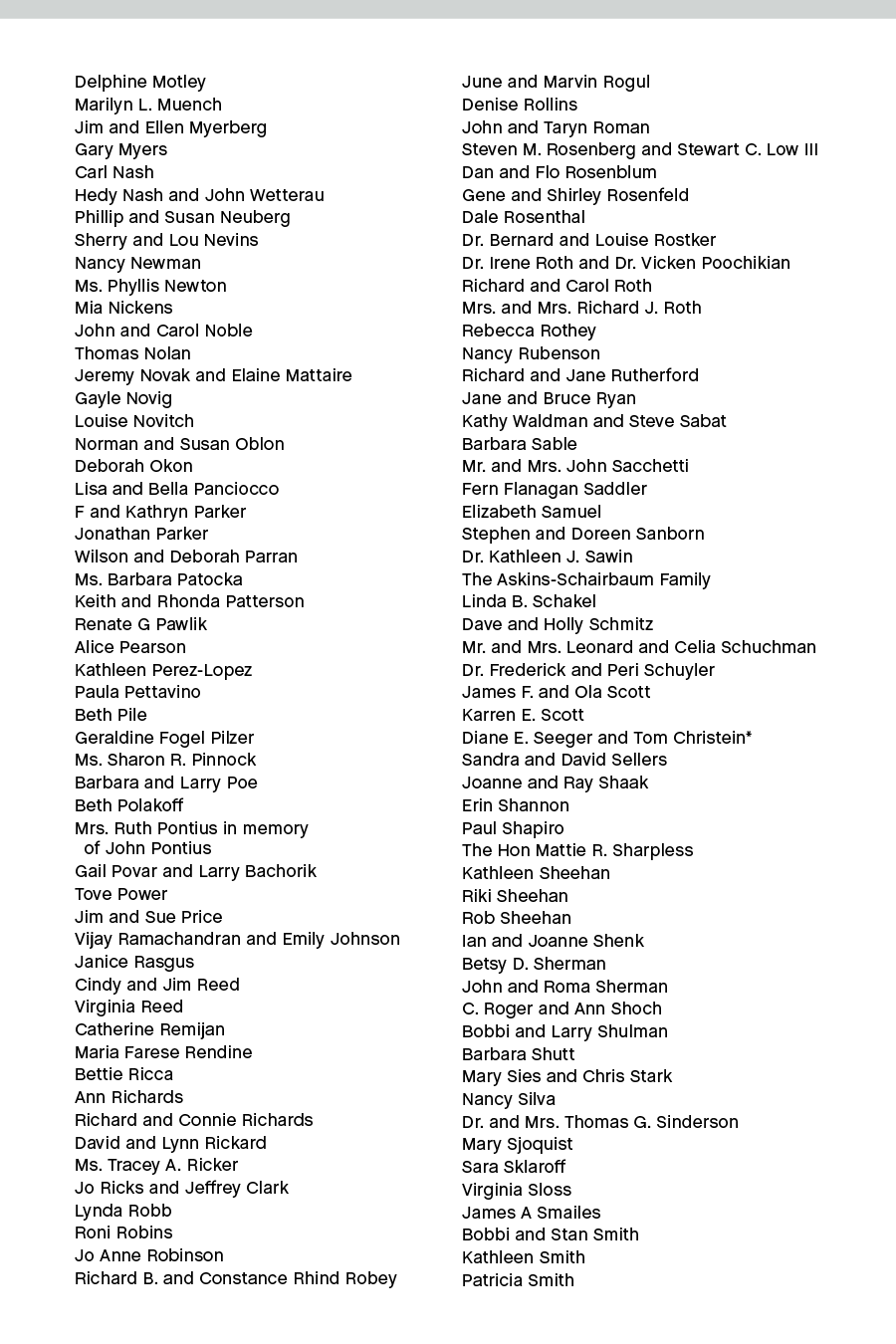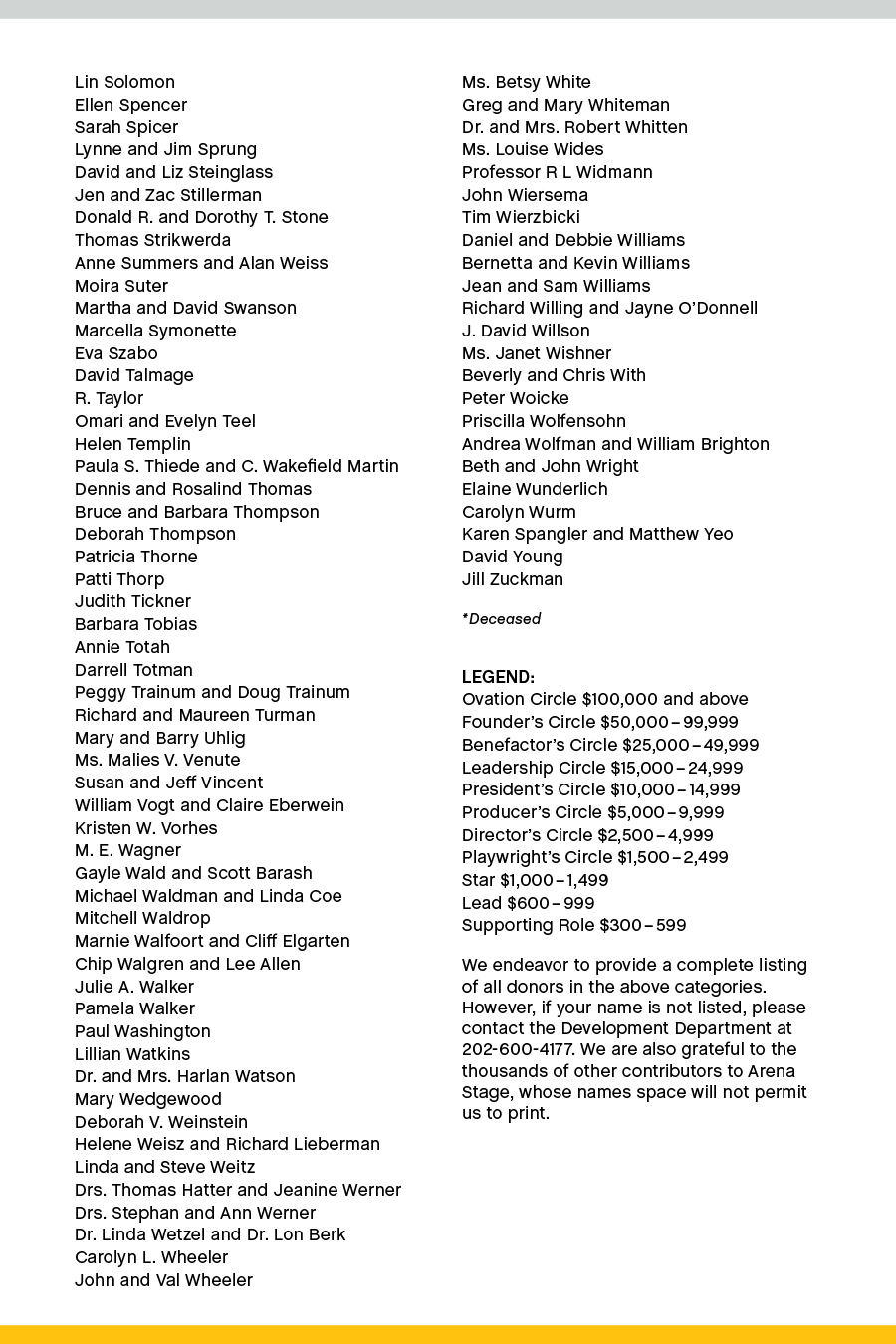 Arena Stage Annual Fund Foundation Donors
Arena Stage Annual Fund Corporate Donors
Theatre Forward