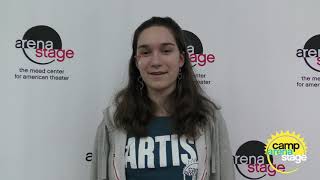 Play video icon.
Camp Arena Stage
Location

Georgetown Visitation Preparatory School
1524 35th Street NW
Washington, D.C., 20007

Contact
Camp Arena Stage will take place in Summer 2021! At this time we are unsure whether it will be in-person or online. While our dearest hope is to be together and in person, we know after the success of Virtual Camp Arena Stage that we can create our joyful, artistic community at a distance if necessary.
We will post updates here, including dates, format and registration, as we determine them. Any plans will align with city regulations and guidance from the CDC.
Community and art make the magic of Camp Arena Stage.
At camp we see, recognize and appreciate each individual for who they are and the art only they can make. We value being present, joyful, creative and kind.
We know art has a product, but it is also a process full of mistakes and discoveries. We support one another and make a place that is safe to take risks and grow.
"By far the most beautiful piece of art to come out of camp this year, in my opinion, was the masterpiece of a community we built together, painted with people of all shapes, sizes and personalities, all brought together in one place by one simple thing: a love of art."
Logistics
4-Week Intensive: The classic Camp Arena Stage immerses campers in the artistic process, allowing time for in-depth projects and arts exploration. Camp concludes with the annual Arts Extravaganza.
2-Week Session: A great introduction to Camp Arena Stage or a way to fit CAS into a packed summer, in this abridged session campers benefit from top-notch artistic instruction without the time commitment of the 4-Week Intensive.
Campers are welcome to register for both sessions.
Read more about sessions, tuition, important dates and camper paperwork
Schedule
Every day campers attend their set schedule of activities/classes. These activities are chosen before camp begins from more than 75 options in theater, dance, music, visual art, filmmaking and writing. Campers take the same five activities each day for the full camp session.
Campers can choose activities within the same discipline or a variety of disciplines. It's up to them!
Scholarships
As of March 16, Camp Arena Stage will only accept scholarship applications via email (camp@arenastage.org). If access to technology is not possible, call 202-600-4064 to arrange an alternative. Applications cannot be dropped off in person. No US Mail, Fed Ex, Priority Mail, couriers, etc.
Scholarship deadline extended to March 25. Please contact us with questions via email.
Camp Scholarships are supported by Friends of Southwest DC, Lavern Chatman/James I. Chatman Fund and the Robert and Natalie Mandel Family Foundation.
Multimedia
from the parent's perspective
Camp Arena Stage is a multi-arts summer day camp for artists ages 8-15.
Teaching Artists and Campers tell you why they love Camp Arena Stage
Have the summer of your life at Camp Arena Stage!
Welcome to Camp Arena Stage
Campers tell you why they love Camp Arena Stage
Photo by Cameron Whitman.
Photo by Cameron Whitman.
Photo by Cameron Whitman.
Photo by Cameron Whitman.
Photo by Cameron Whitman.
Photo by Cameron Whitman.
Camp Arena Stage
Georgetown Visitation Preparatory School
1524 35th St NW, Washington, DC 20007
Get Directions
Sponsors
Arena Stage's community engagement efforts are generously sponsored by Denie and Frank Weil; AT&T; The Coca-Cola Foundation; the Paul M. Angell Family Foundation; Joanne Barker; the deLaski Family Foundation; the D.C. Commission on the Arts and Humanities; Arthur and Barbara Bushkin; Hattie M. Strong Foundation; Robert and Natalie Mandel Family Foundation; Max and Victoria Dreyfus Foundation, Inc.; Exelon Corporation; Alice Shaver Foundation; Theatre Forward; Collins Aerospace; Edington, Peel & Associates; Friends of Southwest D.C.; GEICO; JBG Smith; Wayne and Susan Jonas; Venable Foundation; Washington Nationals Dream Foundation; Wells Fargo & Company; Foley & Lardner LLP; Weissberg Foundation in memory of Wallace Kent Babington; The Albert & Lillian Small Foundation; Jean Schiro- Zavela and Vance Zavela; Actors' Equity Foundation; and Youth Activities Task Force (YATF) of the Southwest Neighborhood Assembly, Inc.