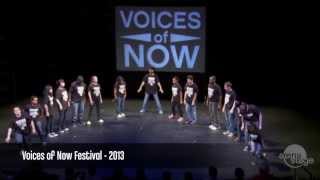 Play video icon.
Voices of Now
Voices of Now (VON) is an internationally recognized, devised theater program where ensembles of middle-school, high-school, and adult artists work together to create autobiographical plays and films. These fast-paced, collaboratively written, physical pieces pose significant social questions relevant to the ensemble of artists and their communities.

Working locally and internationally, VON's goal is to create positive change within the artists' communities by engaging in dialogue centered on the unique life experience of each ensemble member. More than 2,000 artists have had their lives changed by their VON experience in the last decade alone.
The 18th Annual Voices of Now Festival 2023
The Community Engagement department invites you to join us for four nights of new plays written and performed by nine ensembles from the D.C. Metro area. Artists aged 11 to 28, raise important questions about their communities through an evening of original, autobiographical theater. All performances will be held in the Arlene and Robert Kogod Cradle at Arena Stage at the Mead Center for American Theater.
Admission the Festival Is FREE!
Due to limited space, we encourage you to reserve tickets ahead of time here or by calling our sales office at (202) 488-3300
Wednesday, May 17 — 7:30 p.m.
Fault Line by the Jefferson Middle School Academy Ensemble
Life Form by the Pre-Professional Ensemble
Lift-Off by the Mentor Ensemble
Thursday, May 18 — 7:30 p.m.
Sideline by the Mead Ensemble
Inside Out by the Luther Jackson Middle School Ensemble
Beneath the Surface by the Wendt Center Ensemble
Friday, May 19 — 7:30 p.m.
Time Limit by the Kilmer Middle School Ensemble
Flight Path by the Holmes Middle School Ensemble
Life Form by the Pre-Professional Ensemble
Saturday, May 20 — 7:30 p.m.
Lift-Off by the Mentor Ensemble
Look Out by the Robinson Secondary School Ensemble
Sideline by the Mead Ensemble
Films
From the moment schools were closed in 2020 due to the COVID-19 pandemic, we worked to restructure VON to meet current needs, and transitioned our rehearsals to a virtual format. We were presented with multiple challenges: how do we create ensemble-based theater with artists who are not in the same room? Working virtually, is it possible to maintain the aesthetic of a VON play which is typically highly choreographed? How will the work be performed? Who will it be performed for? Will they watch it?
With these questions in mind, we decided to focus our efforts on creating films that captured the experiences of the VON artists in real-time. In addition to traditional scripting, we used electronic devices such as smartphones and video conferencing tools, as well as art forms such as animation, illustration and music production to respond to the pandemic as it unfolded.
Access to over 200 VON artists allowed us to catalog the experiences of young people in a way that will speak to future generations, generated by a cohort of artists who are uniquely qualified to create art that fosters productive inquiry while representing their authentic point of view. Together, we have created time capsules that reflect how young people think, observe and behave during this historic time.
Inside Voices: a film by Arena Stage's Voices of Now ensembles is a moving time capsule of the lives of over 120 student artists' creating art through a devised theater process.
Arena Stage presents Waiting Room: A new film by Arena Stage's Voices of Now Ensembles.
Mini Film Residencies
Through residencies and partnerships VON techniques have been used to create mini-films with a variety of organizations and participants.
THIS IS THE WAY In partnership with Miner Elementary School
SAFE HAVEN In partnership with Creative Arts & Performing Arts Center (CAPAC)
ROAD MAP In partnership with the Wendt Center for Loss & Healing
ESCAPE PLAN In partnership with the Wendt Center for Loss & Healing
Current Voices of Now (VON) Ensembles
Please select the VON ensemble below that best represents you below. If your organization is interested in hosting a VON ensemble, or you would like to learn more about ways to partner with us, please contact Community Programs Manager, Mauricio Pita at mpita@arenastage.org
Get Involved
Voices of Now workshops and residencies are available to middle school, high school, community groups, educators and theater professionals. Learn more by contacting Community Programs Manager Mauricio Pita at mpita@arenastage.org
Sponsors
Sam G. Rose is the Lead Sponsor of Voice of Now.
Voices of Now is made possible by support from Global Medical REIT, The Lois & Richard England Family Foundation, Hattie M. Strong Foundation and Friends of Southwest D.C.
Arena Stage's community engagement efforts are generously sponsored by Denie and Frank Weil; The Estate of Ms. Toni A. Ritzenberg; AT&T; Joanne Barker; the D.C. Commission on the Arts and Humanities; Catherine and Chris Guttman-McCabe; Hattie M. Strong Foundation; Robert and Natalie Mandel Family Foundation; Floyd E. Davis Family Foundation; Max and Victoria Dreyfus Foundation, Inc.; Alice Shaver Foundation; Theatre Forward; Collins Aerospace; England Family Foundation; Friends of Southwest D.C.; GEICO; JBG Smith; Wayne and Susan Jonas; Foley & Lardner LLP; Weissberg Foundation; Jean Schiro- Zavela and Vance Zavela; Actors' Equity Foundation; and Youth Activities Task Force (YATF) of the Southwest Neighborhood Assembly, Inc.)"