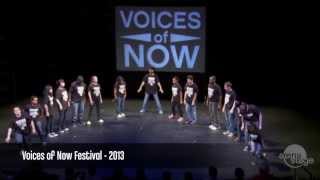 Play video icon.
Voices of Now
Sam G. Rose, Lead Sponsor
VOICES OF NOW RESPONSE TO COVID-19
From the moment schools were canceled, we have worked to transition our rehearsals to a virtual format and restructure the program to meet the current circumstances. We were presented with some challenges: How do we create ensemble-based theater with artists who are not in the same room? Is it possible to maintain the aesthetic of a Voices of Now (VON) play-which is typically highly choreographed? How will the work be performed? Who will it be performed for?
With these questions in mind, we have decided to make a film. In addition to traditional scripting, we will use video conferencing tools to create ensemble performances. We will also incorporate art forms that have never before been used in Voices of Now. This will allow us into the artists' lives in unprecedented ways. This project will explore the artist's lives amidst the pandemic.
VON artists are uniquely qualified to create art that leads to productive inquiry while representing their authentic point of view. Access to over 120 VON artists allows us to catalog the experiences of young people in a way that will speak to future generations. Together, we will create a time capsule that will reflect young people's point of view and thoughts during this historic time.
Through Voices of Now, Arena Stage provides an artistic home for ten ensembles of artists in middle school, high school, university, and beyond. Voices of Now artists devise autobiographical plays that are fast-paced, collaboratively written physical theater pieces that pose challenging social questions relevant to the artists and their communities.
Our Voices of Now ensembles have gone digital, building art and creating a time capsule that will speak to this moment in time. This video is one of the pieces created by the Mentor Ensemble.
Ashley Foreman, Director of Education, shares how the Voices of Now ensembles went virtual.
Voices of Now - "Last Day"
Inside Voices: a film by Arena Stage's Voices of Now ensembles is a moving time capsule of the lives of over 120 student artists' creating art through a devised theater process.
Get Involved
Voices of Now workshops are available to middle school, high school and community groups of eight or more. Group leaders and performers can learn more by contacting Community Programs Manager Mauricio Pita at mpita@arenastage.org at 202-600-4065.
Sponsors
Voices of Now is made possible by support from the Hattie M. Strong Foundation, Rockwell Collins, Friends of Southwest D.C., Washington Nationals Dream Foundation, Eileen Fisher, Friends of Southwest DC, Raytheon, GEICO, the Weissberg Foundation and Wells Fargo & Company.
Arena Stage's community engagement efforts are generously sponsored by Denie and Frank Weil; AT&T; The Coca-Cola Foundation; the Paul M. Angell Family Foundation; Joanne Barker; the deLaski Family Foundation; the D.C. Commission on the Arts and Humanities; Arthur and Barbara Bushkin; Hattie M. Strong Foundation; Robert and Natalie Mandel Family Foundation; Max and Victoria Dreyfus Foundation, Inc.; Exelon Corporation; Alice Shaver Foundation; Theatre Forward; Collins Aerospace; Edington, Peel & Associates; Friends of Southwest D.C.; GEICO; JBG Smith; Wayne and Susan Jonas; Venable Foundation; Washington Nationals Dream Foundation; Wells Fargo & Company; Foley & Lardner LLP; Weissberg Foundation in memory of Wallace Kent Babington; The Albert & Lillian Small Foundation; Jean Schiro- Zavela and Vance Zavela; Actors' Equity Foundation; and Youth Activities Task Force (YATF) of the Southwest Neighborhood Assembly, Inc.