Staff
Joseph Berardelli
Joe Berardelli joined the Arena staff in May 2001 and is responsible for overseeing and managing all fiscal and fiduciary responsibilities of Arena Stage including financial planning, administration and budgeting. In this capacity, he supervises the Business Office, reports to the Executive Director and serves on the Finance, Investment and Audit Committees. Joe holds an MBA from the State University of New York and has been an Adjunct Professor in the Graduate Arts Management program at George Mason University since 2008. Prior to joining Arena's staff, he was the Controller at the nation's oldest community music school, Third Street Music School Settlement, on the Lower East Side of New York City. At Third Street, Joe was responsible for all accounting, budget and human resources functions. He has also served as the Business Manager for the Orchestra of St. Luke's and Theatre Operations Manager at Symphony Space also in New York City.
Cynthia Jean-Louis
Cynthia Jean-Louis is a Human Resources professional with over 11 years of experience working in for-profit and non-profit businesses, fostering partnerships with multimillion dollar reputable companies. She specializes in creating strategies, and implementing human resource systems to streamline processes, improve workflow, and increase productivity. Hailing from Queens, New York, she received her Bachelor's Degree from SUNY Old Westbury and continued her studies at Georgetown University, where she received her Master's Degree in Human Resource Management. Highly adept at utilizing workforce analytics, she develops innovative solutions to promote accountability and awareness around diversity and inclusion, drive employee engagement, skillfully recruit and hire talent, and lead organizational change. Cynthia has a strong business acumen and is an expert in incorporating human capital to drive and meet business needs through HR systems, policies and practices. Diversity, Inclusion and Equity is her focal point for creating value and providing opportunities for innovation to drive change, and create high functioning teams. As a SHRM-CP certified strategic partner, and a certified Diversity and Inclusion Professional through Cornell University, she values continuous learning and fostering a learning environment for forward thinking.
Anita Maynard-Losh
Anita Maynard-Losh is the director of community engagement and senior artistic advisor at Arena Stage where she leads the theater's education and outreach programs and serves on the artistic team. Now in her 16th season at Arena Stage, Anita has been involved in an artistic capacity on 40 Arena Stage productions: she directed the world premiere of Our War as part of the National Civil War Project, and has been an associate director, text director, and vocal/dialect coach on multiple other productions. Anita trained and taught at the American Conservatory Theater in San Francisco, was on the faculty at Webster University in St. Louis, headed the theater department at the University of Alaska Southeast and was the associate artistic director of Perseverance Theater in Juneau, Alaska where she directed 21 mainstage productions. Anita traveled extensively with the artist-in-schools program in Alaska, working primarily with indigenous populations within the context of traditional villages. The Alaska Native-inspired production of Macbeth that Anita conceived and directed was performed in English and Tlingit at the National Museum of the American Indian as part of the Shakespeare in Washington Festival. Her essay about the project was published in Weyward Macbeth: Intersections of Race and Performance, Palgrave MacMillan. She has coached dialects for the Kennedy Center, the Washington National Opera, Oregon Shakespeare Festival, Portland Center Stage and the Broadway revival of Ragtime. Anita directs and devises ensemble theater with Arena Stage's Voices of Now program, primarily in partnership with the Wendt Center for Loss and Healing working with grieving teenagers to create and perform original autobiographical theater pieces exploring loss and stigma of grief. Anita has traveled with the Voices of Now program to India (2012, 2014), Croatia (2015, 2019) and Bosnia and Herzegovina (2019), to collaborate with communities in devising original plays addressing social justice issues.
CASTING DIRECTOR / LINE PRODUCER
Teresa Sapien
DRAMATURG
Jocelyn Clarke
ARTISTIC DEVELOPMENT ADMINISTRATIVE ASSISTANT
Asha Moses
CHIEF FINANCIAL OFFICER
Joe Berardelli
LEADERSHIP OFFICE MANAGER
Alison Irvin
LEGAL COUNSEL
Arent Fox LLP, Fried, Frank, Harris, Shriver & Jacobson; Robbins, Russell, Englert, Orseck, Untereiner & Sauber, LLP
CONTROLLER
John Monnett
PAYROLL MANAGER
Larry Bright
STAFF ACCOUNTANT
Chris Murk
ACCOUNTING ASSOCIATE
Mark Runion
AUDITORS
Bormel, Grice & Huyett, P.A.
DIRECTOR OF HUMAN RESOURCES
Cynthia Jean-Louis
*Allen Lee Hughes Fellow
DIRECTOR OF COMMUNITY ENGAGEMENT / SENIOR ARTISTIC ADVISOR
Anita Maynard-Losh
DIRECTOR OF EDUCATION
Ashley Forman
SCHOOL PROGRAMS MANAGER
Rebecca Campana
MASTER TEACHING ARTIST
Psalmayene 24
COMMUNITY PROGRAMS MANAGER
Mauricio Pita
TRAINING PROGRAMS MANAGER
Olivia Jones
COMMUNITY ENGAGEMENT ASSISTANT
Alan Gonzalez Bisnes
AUDIENCE SERVICES
SENIOR DIRECTOR OF SALES AND AUDIENCE SERVICES
Lindsey Wareing
ASSISTANT DIRECTOR OF AUDIENCE SERVICES
Sabrina Clark
ASSISTANT DIRECTOR OF SALES SERVICES
Isaac Evans
ASSISTANT MANAGER OF GROUP SALES
Ellison Roberts
GROUP SALES ASSOCIATES
Gary Shackleford
MANAGERS OF SALES SERVICES
Brian Antin
Marsha Kangas
SALES ASSOCIATES
Alvin Deskins
Jocelyn Harris
Kiana Livingston
Colin O'Bryan
Chrissy Sapp
Jacob Savage
Austin Sternlicht
HOUSE MANAGERS
Andrew Rampy
Renata Wilson
VISITOR SERVICES MANAGER
Jody Barasch
ASSISTANT DIRECTOR OF EVENTS AND RENTALS
Emma Latimer
EVENTS AND RENTALS ASSISTANT MANAGERS
Brittany Lamback
Demi Mohamed
EVENTS AND RENTALS ASSISTANT
Cameron Appel
DEVELOPMENT
DIRECTOR OF DEVELOPMENT
Ryan Merkel
DIRECTOR OF INSTITUTIONAL RELATIONS
Shayla Hines
DIRECTOR, DEVELOPMENT OPERATIONS AND EVENTS
Maria Corso
MAJOR GIFTS AND CAMPAIGN MANAGER
Taylor Rambo
FOUNDATION RELATIONS MANAGER
Abigail Cady
CORPORATE SPONSORSHIPS MANAGER
Charity Harris
GIFT PLANNING SPECIALIST
Maya Weil
MAJOR GIFTS COORDINATOR
Casey Radner
MEMBERSHIP MANAGER
Ryan Impagliazzo
DEVELOPMENT OPERATIONS ASSISTANT
Hannah Guy-Mozenter
DEVELOPMENT COMMUNICATIONS ASSISTANT
Lauren Lopaty
GENERAL MANAGEMENT
ASSISTANT GENERAL MANAGER
Alicia Sells
ASSISTANT COMPANY MANAGERS
Maddie Newell
Katharine Templeton
INFORMATION SYSTEMS AND OPERATIONS
DIRECTOR OF INFORMATION SYSTEMS AND OPERATIONS
Travis Armbuster
SYSTEMS ADMINISTRATOR
Jarett Poole
DATABASE MANAGER
Rachel Schlaff
HELP DESK ASSOCIATE
Edward Wieland
OPERATIONS COORDINATOR
Jenna Murphy
FACILITIES AND ENGINEERING MANAGER
Jerry Sampson
MAINTENANCE TECHNICIANS
Vincent Gregg
Henry Williams
Keaun Windear
PORTER
Lawrence Wise
STAGE DOOR ATTENDANTS
Ra'Chelle Carey
Kay Rogers
MARKETING AND COMMUNICATIONS
SENIOR DIRECTOR OF MARKETING AND COMMUNICATIONS
Renée M. Littleton
DIGITAL COMMUNICATIONS MANAGER
Brieahn J. DeMeo
PUBLICIST
Lauren McMillen
COMMUNICATIONS ASSOCIATE
Samantha Schneider
SENIOR GRAPHIC DESIGNER
Shawn Helm
MULTIMEDIA DESIGNER
Nicole Brate
ARTWORK CREATION
Nicky Lindeman
ILLUSTRATORS
Jonathan Bartlett
Charles Chaisson
Raul Colón
Charlie Davis
Tim O'Brien
Roberto Parada
Paul Rogers
Jason Seiler
Owen Smith
PRODUCTION
DIRECTOR OF PRODUCTION
Robert Hand
PRODUCTION MANAGER
Karen O. Mayhew
ASSISTANT PRODUCTION MANAGER
Trevor A. Riley
SCENIC
TECHNICAL DIRECTOR
Natalie Bell
ASSOCIATE TECHNICAL DIRECTOR
Zachary Fullenkamp
ASSISTANT TECHNICAL DIRECTOR
Travis Smith
CHARGE SCENIC ARTIST
Li Qiang
CARPENTERS
Craig Hower
Sean Malarkey
Hannah Martin
Logan McDowell
Frank Miller
Amanda Srok
PROPERTIES
PROPERTIES DIRECTOR
Jennifer Sheetz
ASSOCIATE PROPERTIES DIRECTOR
Lance Pennington
ASSISTANT PROPERTIES DIRECTOR
Jonathan Borgia
MASTER PROP CARPENTER
Michael Ritoli
PROPS ARTISAN
Niell DuVal
PROPERTY ASSISTANTS
Marion Hampton Dubé
Kyle Handziak
LIGHTS
MASTER ELECTRICIAN
Christopher V. Lewton
ASSISTANT MASTER ELECTRICIAN
Paul Villalovoz
ELECTRICIANS
Scott Folsom
Brian Flory
Kelsey Swanson
SOUND
SOUND AND VIDEO SUPERVISOR
Brian Burchett
MASTER SOUND AND VIDEO TECHNICIAN
Timothy M. Thompson
SOUND TECHNICIANS
Alex Cloud
Adam W. Johnson
Drew Moberley
COSTUMES
COSTUME DIRECTOR
Joseph P. Salasovich
ASSOCIATE COSTUME DIRECTOR
Cierra Coan
DRAPERS
Carol Ramsdell
Steven Simon
FIRST HANDS
Michele Macadaeg
Mallory Muffley
CRAFTSPERSON
Deborah Nash
WARDROBE SUPERVISORS
Alina Gerall
Alice Hawfield
COSTUME ASSISTANT
Kathleen (Kitt) Crescenzo
COSTUME AND WARDROBE ASSISTANT
Adelle Gresock
STAGE MANAGEMENT
STAGE MANAGERS
Rachael Danielle Albert
Marne Anderson
Kurt Hall
Martha Knight
Emily Ann Mellon
Christi B. Spann
Susan R. White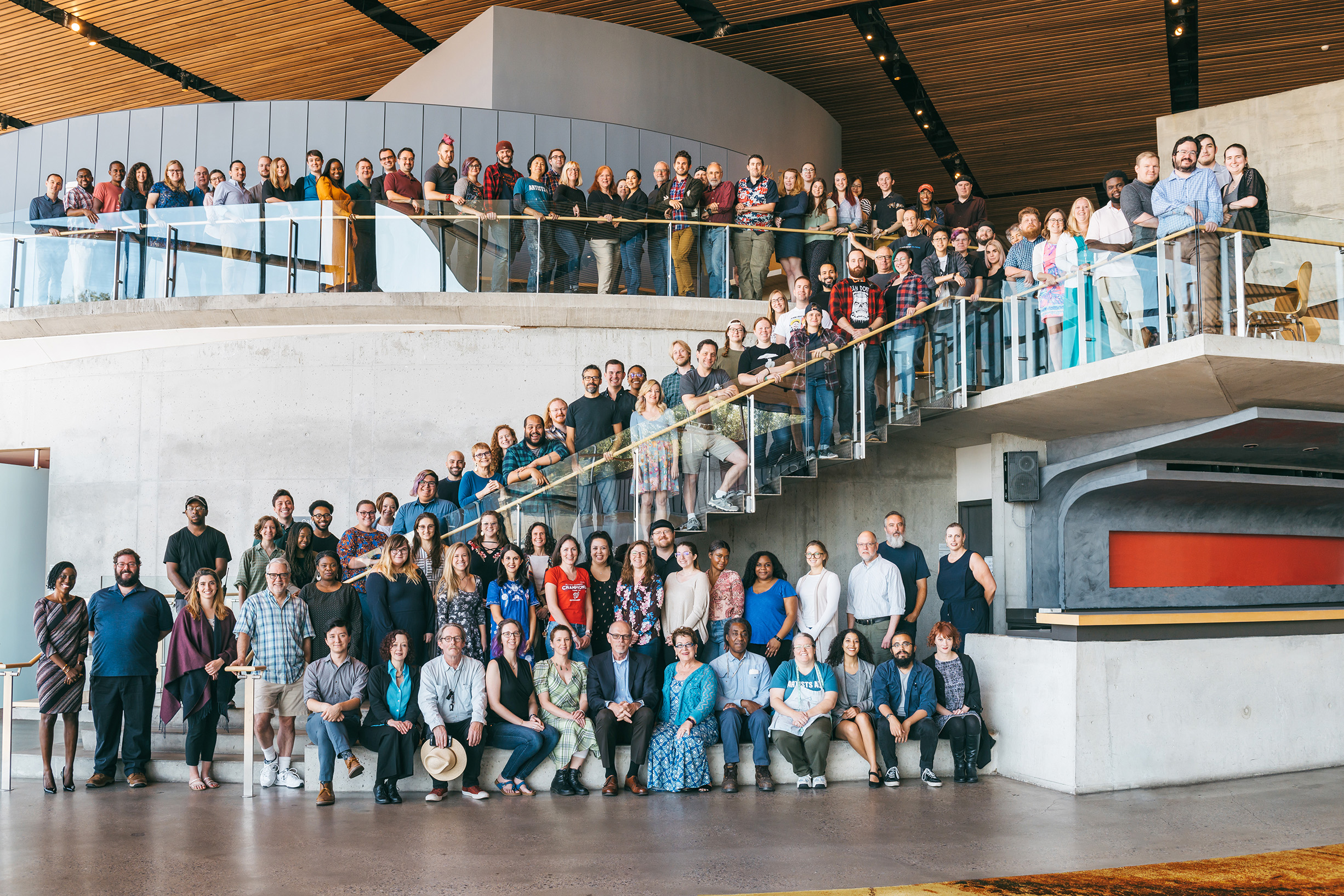 Photo by Cameron Whitman Photography.