Staff
Joseph Berardelli
Joe Berardelli joined the Arena staff in May 2001 and is responsible for overseeing and managing all fiscal and fiduciary responsibilities of Arena Stage including financial planning, administration and budgeting. In this capacity, he supervises the Business Office, reports to the Executive Director and serves on the Finance, Investment and Audit Committees. Joe holds an MBA from the State University of New York and has been an Adjunct Professor in the Graduate Arts Management program at George Mason University since 2008. Prior to joining Arena's staff, he was the Controller at the nation's oldest community music school, Third Street Music School Settlement, on the Lower East Side of New York City. At Third Street, Joe was responsible for all accounting, budget and human resources functions. He has also served as the Business Manager for the Orchestra of St. Luke's and Theatre Operations Manager at Symphony Space also in New York City.
Jon Kevin Gossett
Jon Gossett comes to Arena Stage with 30 years of fundraising experience, setting records in amounts raised and enabling nonprofits to significantly increase their depth and breadth of service and impact. In 2001, he received the Advanced Certified Fundraising Executive certification (ACFRE), the 77th professional internationally to qualify for designation. Prior to leading the marketing, public affairs, communications, annual giving, membership, and major donor teams at the National Trust for Historic Preservation, Gossett had served in a number of executive leadership roles. He had served as senior vice president at the Bipartisan Policy Center, a Washington, D.C.-based policy institute; St. Luke's Episcopal Health System in the Texas Medical Center; and at American Public Media Group (St. Paul, MN), home to Marketplace, 15 other national programs, Minnesota Public Radio, Classical South Florida and Southern California Public Radio. In the arts, he has led the development teams for the San Francisco Opera, Houston Grand Opera, and the Guthrie Theater Foundation, in Minneapolis. During his career, he has staffed twelve capital campaigns, including, at the time, the largest capital campaigns in the respective fields of united arts funds, regional theaters, public media organizations and historic preservation. Gossett holds a bachelor's degree in music performance and business administration from the University of Michigan, Ann Arbor and a master's degree in philanthropy and development from St. Mary's University of Minnesota. He has served as an adjunct professor at St. Mary's University of Minnesota in Minneapolis and as a presenter for Walden University. He has served on the boards of not-for-profit organizations including the Association of Fundraising Professionals (AFP) chapters in Houston and San Francisco, the Minnesota Humanities Commission, Greater Twin Cities Youth Symphonies and St. Luke's Episcopal Health Charities. He is currently an advisor to Friends of Puerto Rico and secretary for the Board of Dumbarton Place. In addition, he is the vice president for and advisor to A+ Educational Tours, a student educational travel company based in San Juan, Puerto Rico.
Khady Kamara
Khady Kamara joined Arena Stage in 2001 and has been an integral member of the communications team, eventually being promoted to Chief Marketing Officer before taking over as Associate Executive Director and ultimately Managing Director. Under her leadership, Arena's sales team repeatedly broke box office records for a number of shows. She successfully administered the upgrade and transition of Arena's ticketing software to meet the ever-changing needs of its growing patron base. Her work was integral in the success of Arena's temporary residency in Crystal City and the opening of the Mead Center for American Theater. During Kamara's tenure, she pioneered unprecedented efforts to maximize donations with ticket purchases, and group sales revenue has more than doubled in scope and range of audiences reached. Part of her focus has been on strengthening community relations, managing strategic planning efforts with the board of directors and helping grow the donor base. Kamara serves as Adjunct Faculty for the Arts Management Program at George Mason University and is on the Board of Governors for the Helen Hayes Awards.
Jackie Rucker Bohi
Jackie Rucker Bohi joined Arena Stage in November of 2017 following human resources positions with Wallis Annenberg PetSpace (Los Angeles CA), Shedd Aquarium (Chicago, IL), Wolf Trap Foundation for the Performing Arts and Washington National Opera. Jackie has focused on delivering human resources leadership to non-profit organizations in the performing arts and animal welfare spaces, specializing in recruiting, staffing, benefits administration, policy development and compensation analysis. Jackie takes a collaborate approach to the human resources function, assisted by a deep reservoir of corney jokes, Broadway musical references, Sharpie markers and pet anecedotes. Jackie earned her Bachelor's Degree from the University of Minnesota – Twin Cities.
Anita Maynard-Losh
Anita Maynard-Losh is the director of community engagement and senior artistic advisor at Arena Stage where she leads the theater's education and outreach programs and serves on the artistic team. Now in her 16th season at Arena Stage, Anita has been involved in an artistic capacity on 40 Arena Stage productions: she directed the world premiere of Our War as part of the National Civil War Project, and has been an associate director, text director, and vocal/dialect coach on multiple other productions. Anita trained and taught at the American Conservatory Theater in San Francisco, was on the faculty at Webster University in St. Louis, headed the theater department at the University of Alaska Southeast and was the associate artistic director of Perseverance Theater in Juneau, Alaska where she directed 21 mainstage productions. Anita traveled extensively with the artist-in-schools program in Alaska, working primarily with indigenous populations within the context of traditional villages. The Alaska Native-inspired production of Macbeth that Anita conceived and directed was performed in English and Tlingit at the National Museum of the American Indian as part of the Shakespeare in Washington Festival. Her essay about the project was published in Weyward Macbeth: Intersections of Race and Performance, Palgrave MacMillan. She has coached dialects for the Kennedy Center, the Washington National Opera, Oregon Shakespeare Festival, Portland Center Stage and the Broadway revival of Ragtime. Anita directs and devises ensemble theater with Arena Stage's Voices of Now program, primarily in partnership with the Wendt Center for Loss and Healing working with grieving teenagers to create and perform original autobiographical theater pieces exploring loss and stigma of grief. Anita has traveled with the Voices of Now program to India (2012, 2014), Croatia (2015, 2019) and Bosnia and Herzegovina (2019), to collaborate with communities in devising original plays addressing social justice issues.
Seema Sueko
SEEMA SUEKO (Director) joined the Arena Stage staff in July 2016 as deputy artistic director and has since directed The Heiress, The Price and Smart People at Arena. She previously served as associate artistic director at The Pasadena Playhouse and executive artistic director of Mo`olelo Performing Arts Company, a theater company in San Diego she co-founded. Her directing and acting credits include Denver Center, The Pasadena Playhouse, People's Light, The Old Globe, San Diego Repertory, Yale Repertory, 5th Avenue Theatre and Native Voices, among others. As a playwright, she received commissions from Mixed Blood Theatre and Center Stage. Her work has been recognized by the California State Assembly, NAACP San Diego, Chicago Jeff Awards, American Theatre Wing and American Theatre magazine. Seema developed the Consensus Organizing for Theater methodology, has done research on the neuroscience of acting, created the Green Theater Choices Toolkit and serves on the Diversity Committee of the Stage Directors and Choreographers Society.
DEPUTY ARTISTIC DIRECTOR
Seema Sueko
CASTING DIRECTOR / LINE PRODUCER
Teresa Sapien
LITERARY MANAGER
Naysan Mojgani
DRAMATURG
Jocelyn Clarke
ARTISTIC DEVELOPMENT ADMINISTRATIVE ASSISTANT
Asha Moses
LITERARY FELLOW
Dante Flores*
CASTING FELLOW
Mary Estrera*
DIRECTING FELLOW
Gregory Keng Strasser*
*Allen Lee Hughes Fellow
CHIEF FINANCIAL OFFICER
Joe Berardelli
LEADERSHIP OFFICE MANAGER
Alison Irvin
LEGAL COUNSEL
Arent Fox LLP, Fried, Frank, Harris, Shriver & Jacobson; Robbins, Russell, Englert, Orseck, Untereiner & Sauber, LLP
CONTROLLER
John Monnett
PAYROLL MANAGER
Larry Bright
STAFF ACCOUNTANT
Chris Murk
ACCOUNTING ASSOCIATE
Mark Runion
LEADERSHIP AND BUSINESS FELLOW
JP McLaurin*
AUDITORS
Bormel, Grice & Huyett, P.A.
*Allen Lee Hughes Fellow
DIRECTOR OF COMMUNITY ENGAGEMENT / SENIOR ARTISTIC ADVISOR
Anita Maynard-Losh
DIRECTOR OF EDUCATION
Ashley Forman
SCHOOL PROGRAMS MANAGER
Rebecca Campana
MASTER TEACHING ARTIST
Psalmayene 24
COMMUNITY PROGRAMS MANAGER
Mauricio Pita
COMMUNITY ENGAGEMENT ASSISTANT
Alan Gonzalez Bisnes
COMMUNITY ENGAGEMENT FELLOW
Megan Philippi*
*Allen Lee Hughes Fellow
CHIEF DEVELOPMENT OFFICER
Jon Kevin Gossett
DIRECTOR OF INSTITUTIONAL RELATIONS
Shayla Hines
DIRECTOR, OVATION CAMPAIGN
Ryan Merkel
DIRECTOR OF INDIVIDUAL GIVING
Ann Sagle
DIRECTOR, DEVELOPMENT OPERATIONS AND EVENTS
Maria Corso
DIRECTOR OF BOARD AND DONOR RELATIONS
Anne Paine West
LEADERSHIP GIVING OFFICER
Ana Teslik
DEVELOPMENT RESEARCH ANALYST
Molly Federman
MAJOR GIFTS AND CAMPAIGN MANAGER
Taylor Rambo
FOUNDATION RELATIONS MANAGER
Abigail Cady
CORPORATE SPONSORSHIPS MANAGER
Charity Harris
GIFT PLANNING SPECIALIST
Maya Weil
MAJOR GIFTS COORDINATOR
Casey Radner
MEMBERSHIP MANAGER
Ryan Impagliazzo
MEMBERSHIP COORDINATOR
Gwen Tunnicliffe
DEVELOPMENT OPERATIONS ASSISTANT
Hannah Guy-Mozenter
DEVELOPMENT COMMUNICATIONS ASSISTANT
Lauren Lopaty
DEVELOPMENT FELLOW
Kayli Modell*
*Allen Lee Hughes Fellow
DIRECTOR OF HUMAN RESOURCES
Jackie Rucker Bohi
HUMAN RESOURCES AND BENEFITS ASSOCIATE
Kathryn Perry
MANAGING DIRECTOR
Khady Kamara
AUDIENCE SERVICES
SENIOR DIRECTOR OF SALES AND AUDIENCE SERVICES
Lindsey Wareing Pisani
ASSISTANT DIRECTOR OF AUDIENCE SERVICES
Sabrina Clark
ASSISTANT DIRECTOR OF SALES SERVICES
Isaac Evans
ASSISTANT MANAGER OF GROUP SALES
Ellison Roberts
GROUP SALES ASSOCIATES
X Alexander Durden
Bria Hall

MANAGERS OF SALES SERVICES
Brian Antin
Marsha Kangas
SALES ASSOCIATES
DJ Batchelor
Kiana Livingston
Colin O'Bryan
Jacob Savage
Austin Sternlicht
HOUSE MANAGERS
Bruce Perry
Andrew Rampy
Renata Wilson
VISITOR SERVICES MANAGER
Jody Barasch
EVENTS AND RENTALS
ASSISTANT DIRECTOR OF EVENTS AND RENTALS
Emma Latimer
EVENTS AND RENTALS ASSISTANT MANAGERS
Brittany Lamback
Demi Mohamed
EVENTS AND RENTALS ASSISTANT
Cameron Appel
EVENTS FELLOW
Tommy Stack*
INFORMATION SYSTEMS
DIRECTOR OF INFORMATION SYSTEMS
Travis Armbuster
SYSTEMS ADMINISTRATOR
Jarett Poole
DATABASE MANAGER
Rachel Schlaff
HELP DESK ASSOCIATE
Edward Wieland
MARKETING AND COMMUNICATIONS
SENIOR DIRECTOR OF MARKETING AND COMMUNICATIONS
Renée M. Littleton
ASSISTANT MANAGER OF PUBLICATIONS
Kate Thompson
DIGITAL COMMUNICATIONS MANAGER
Brieahn J. DeMeo
PUBLICIST
Lauren McMillen
COMMUNICATIONS ASSOCIATE
Samantha Schneider
SENIOR GRAPHIC DESIGNER
Shawn Helm
WEBSITE AND NEW MEDIA MANAGER
Ben Nolan
MULTIMEDIA DESIGNER
Nicole Brate
MARKETING FELLOW
Tristin Evans*
PUBLICATIONS FELLOW
Brandon Pelar*
MEDIA RELATIONS FELLOW
Caroline Austin*
ARTWORK CREATION
Nicky Lindeman
ILLUSTRATORS
Jonathan Bartlett
Charles Chaisson
Raul Colón
Charlie Davis
Tim O'Brien
Roberto Parada
Paul Rogers
Jason Seiler
Owen Smith
OPERATIONS AND FACILITIES
SENIOR DIRECTOR OF OPERATIONS
Marissa LaRose
OPERATIONS MANAGER
Alicia Sells
OPERATIONS COORDINATOR
Jenna Murphy
ASSISTANT COMPANY MANAGERS
Maddie Newell
Katharine Templeton
FACILITIES AND ENGINEERING MANAGER
Jerry Sampson
MAINTENANCE TECHNICIANS
Vincent Gregg
Henry Williams
Keaun Windear
PORTER
Lawrence Wise
STAGE DOOR ATTENDANTS
Ra'Chelle Carey
Kay Rogers
PRODUCTION
DIRECTOR OF PRODUCTION
Robert Hand
PRODUCTION MANAGER
Karen O. Mayhew
ASSISTANT PRODUCTION MANAGER
Trevor A. Riley
SCENIC
TECHNICAL DIRECTOR
Natalie Bell
ASSOCIATE TECHNICAL DIRECTOR
Zachary Fullenkamp
ASSISTANT TECHNICAL DIRECTOR
Travis Smith
CHARGE SCENIC ARTIST
Li Qiang
CARPENTERS
Craig Hower
Sean Malarkey
Hannah Martin
Logan McDowell
Frank Miller
Amanda Srok
PROPERTIES
PROPERTIES DIRECTOR
Jennifer Sheetz
ASSOCIATE PROPERTIES DIRECTOR
Lance Pennington
ASSISTANT PROPERTIES DIRECTOR
Jonathan Borgia
MASTER PROP CARPENTER
Michael Ritoli
PROPS ARTISAN
Niell DuVal
PROPERTY ASSISTANTS
Marion Hampton Dubé
Kyle Handziak
LIGHTS
MASTER ELECTRICIAN
Christopher V. Lewton
ASSISTANT MASTER ELECTRICIAN
Paul Villalovoz
ELECTRICIANS
Scott Folsom
Brian Flory
Kelsey Swanson
LIGHTING FELLOW
Minjoo Kim*
SOUND
SOUND AND VIDEO SUPERVISOR
Brian Burchett
MASTER SOUND AND VIDEO TECHNICIAN
Timothy M. Thompson
SOUND TECHNICIANS
Alex Cloud
Adam W. Johnson
Drew Moberley
COSTUMES
COSTUME DIRECTOR
Joseph P. Salasovich
ASSOCIATE COSTUME DIRECTOR
Cierra Coan
DRAPERS
Carol Ramsdell
Steven Simon
FIRST HANDS
Michele Macadaeg
Mallory Muffley
CRAFTSPERSON
Deborah Nash
WARDROBE SUPERVISORS
Alina Gerall
Alice Hawfield
COSTUME ASSISTANT
Kathleen (Kitt) Crescenzo
COSTUME AND WARDROBE ASSISTANT
Adelle Gresock
STAGE MANAGEMENT
STAGE MANAGERS
Rachael Danielle Albert
Marne Anderson
Kurt Hall
Martha Knight
Emily Ann Mellon
Christi B. Spann
Susan R. White
STAGE MANAGEMENT FELLOWS
Stephen Bubniak*
Delaynie Rizer*
*Allen Lee Hughes Fellow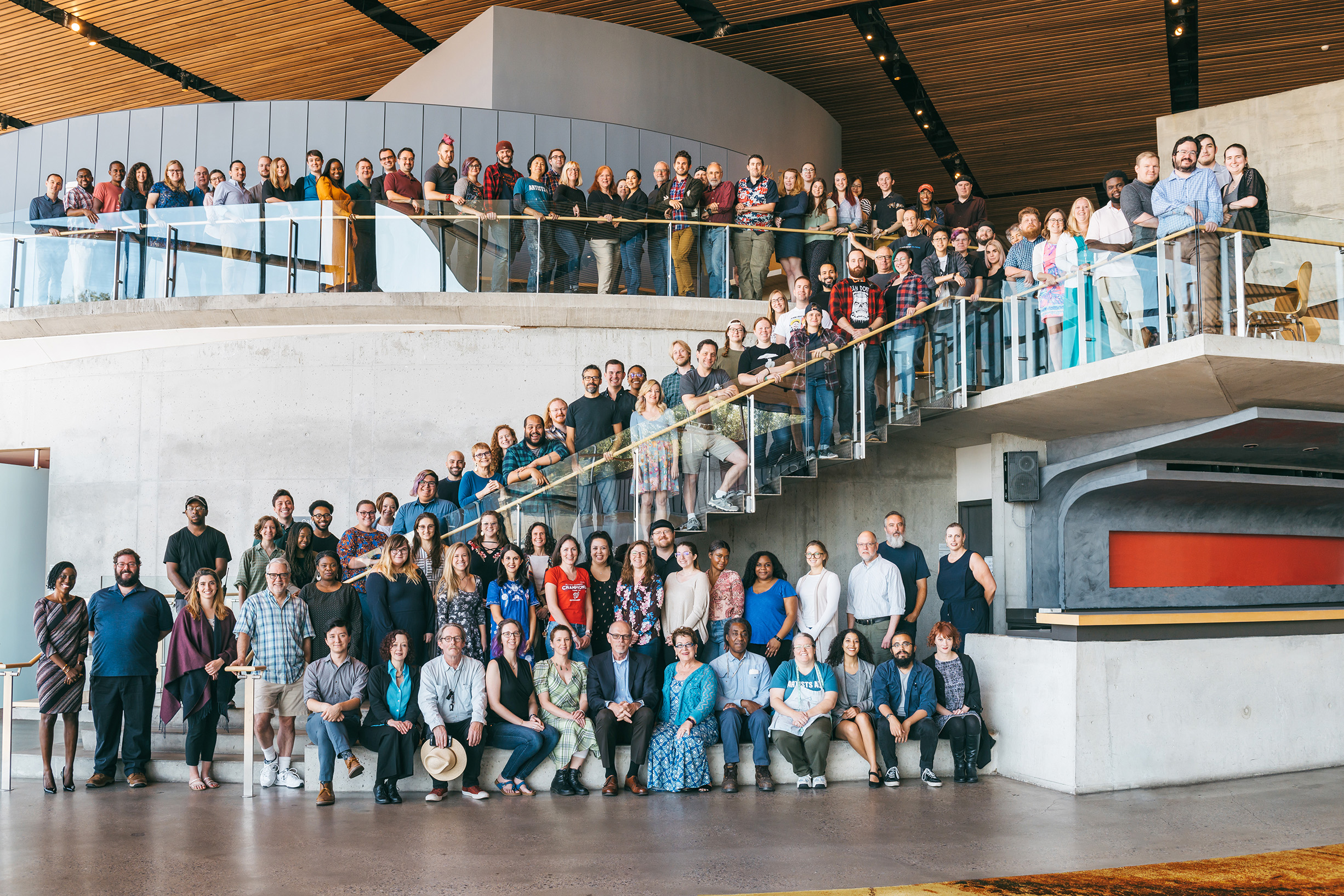 Photo by Cameron Whitman Photography.