Staff
Joseph Berardelli
Joe Berardelli joined the Arena staff in May 2001 and is responsible for overseeing and managing all fiscal and fiduciary responsibilities of Arena Stage including financial planning, administration and budgeting. In this capacity, he supervises the Business Office, reports to the Executive Director and serves on the Finance, Investment and Audit Committees. Joe holds an MBA from the State University of New York and has been an Adjunct Professor in the Graduate Arts Management program at George Mason University since 2008. Prior to joining Arena's staff, he was the Controller at the nation's oldest community music school, Third Street Music School Settlement, on the Lower East Side of New York City. At Third Street, Joe was responsible for all accounting, budget and human resources functions. He has also served as the Business Manager for the Orchestra of St. Luke's and Theatre Operations Manager at Symphony Space also in New York City.
Shonali Burke
Formerly a working actress/director, Shonali Burke cannot be more delighted to join the Arena Stage family as its chief marketing officer. A digital marketing pioneer, Shonali has a unique ability to ethically and powerfully tell data-driven stories for social impact and equity. Over the years, her creative strategies have resulted in packed houses for Cirque du Soleil's Varekai, Singalong Sound of Music, and the world premiere of Russell Simmons Def Poetry Jam. Her expertise in building communities of influence to amplify brand storytelling has benefited, among others, Oxfam America, the United Nations Foundation and USA for UNHCR, for whom she designed its now-textbook digital "Blue Key" campaign. Shonali also led media and communications for the ASPCA at an extraordinary time in animal welfare: during the 2007 pet food recall and Michael Vick case. Her efforts, which included launching its pet insurance product and ASPCA® Mission: Orange™, a series of local-national coalitions aimed at creating a country of humane communities, one community at a time, were key to growing the ASPCA's visibility, trust and revenue. An early adopter of social media, Shonali's numerous awards and accolades include being the first Indian American woman to be named to PRWeek's "Top 40 Under 40." She teaches multiple courses for The Johns Hopkins University's M.A. in Communication and is a 2021 graduate of the Harvard Business Analytics Program.
Robert Hand
Robert Hand is the director of production at Arena Stage, where he leads the very talented costume, lighting, props, scenery, sound and stage management teams. Before relocating to Washington, D.C., he was the production manager at American Conservatory Theater in San Francisco, where he also served as the project manager for the renovation of the historic Strand Theatre which opened in 2015. Formally trained in lighting design from the North Carolina School of the Arts, he has designed shows for many companies including American Conservatory Theater, where he received the Theater Bay Area Award for Outstanding Lighting Design for his work on Chester Bailey; San Francisco Playhouse; North Carolina Theatre; Atlanta Ballet; Pittsburgh Ballet Theatre; Nevada Ballet Theatre; Orlando Ballet Theater; English National Ballet; Milwaukee Ballet; Scottish Ballet; and, for the movies, Anchorman 2: The Legend Continues and Scary Movie 5.
Anita Maynard-Losh
Anita Maynard-Losh is the director of community engagement and senior artistic advisor at Arena Stage, where she leads the theater's education and outreach programs and serves on the artistic team. Now in her 18th season at Arena Stage, Anita has been involved in an artistic capacity on 45 Arena Stage productions: she directed the world premiere of Our War as part of the National Civil War Project, and has been an associate director, text director, and vocal/dialect coach on multiple other productions. Anita trained and taught at the American Conservatory Theater in San Francisco, was on the faculty at Webster University in St. Louis, headed the theater department at the University of Alaska Southeast and was the associate artistic director of Perseverance Theater in Juneau, Alaska, where she directed 21 mainstage productions. Anita traveled extensively with the artist-in-schools program in Alaska, working primarily with indigenous populations within the context of traditional villages. The Alaska Native-inspired production of Macbeth that Anita conceived and directed was performed in English and Tlingit at the National Museum of the American Indian as part of the Shakespeare in Washington Festival. Her essay about the project was published in Weyward Macbeth: Intersections of Race and Performance, Palgrave MacMillan. She has coached dialects for the Kennedy Center, the Washington National Opera, Oregon Shakespeare Festival, Portland Center Stage and the Broadway revival of Ragtime. Anita has traveled with Arena Stage's devised theater program, Voices of Now, to India (2012, 2014), Croatia (2015, 2019), and Bosnia and Herzegovina (2019) to collaborate with communities in devising original plays addressing social justice issues.
Ryan E. Merkel
Ryan E. Merkel is currently the Chief Development Officer for Arena Stage, overseeing all aspects of contributed revenue to the theater. Before moving into this position, Ryan was the director of major gifts for Arena Stage. Prior to finding a home at Arena Stage, Ryan held a number of positions at the Newseum in Washington, D.C., culminating in service as the director of individual giving where his work included cultivation, solicitation and stewardship of mid-range and major donors, as well as special event coordination and management of all the Newseum's annual membership programs. A devoted champion of the arts and culture sphere, Ryan has also held major gift positions at the Kennedy Center for the Performing Arts and the National Symphony Orchestra, and was a member of the Steering Committee of Emerging Arts Leaders of D.C. Ryan is also a Trustee of Synetic Theater in Arlington, Virginia, and a member of the Florida Cicerone Alumni Advisory Council at the University of Florida. Ryan earned a master's degree in communication management from the University of Maryland, while he also worked as a public speaking instructor and an alumni relations coordinator for the Department of Communication. He is a very proud graduate of the University of Florida and enjoys running the streets of D.C. when he isn't trying, and inevitably failing, to stay current on the New Yorker.
Teresa Sapien
Teresa Sapien joined Arena Stage's artistic staff in 2019, after seven seasons at La Jolla Playhouse, most recently as associate producer. At the Playhouse, she helped guide more than 50 productions on the mainstage and out in the San Diego community, including new plays by Martyna Majok, Will Power and Hansol Jung. She was the curator and producer of the 2019 Without Walls Festival of site-based and immersive theater which hosted more than twenty international and American companies. As the co-producer of the annual DNA New Work Series, she supported the development of more than 38 new plays and musicals. In addition to producing, she was the Playhouse's local casting director for numerous plays and musicals, including the world premieres of Wild Goose Dreams, Junk and Come From Away. She is a reader for The Playwrights Realm, Playwrights' Center Minneapolis, Native Voices at the Autry and a proud contributor to the Kilroys' List. Teresa is a graduate of the University of Evansville's theater department.
Alicia Sells
Alicia Sells started with Arena Stage as a freelance stage manager in 2013 and joined as a full-time staff member in 2016. Over the years, she has worked in various departments across the organization, including production, operations and general management, revitalizing various processes and procedures with an eye on streamlining resources and promoting interdepartmental collaboration. Now, as general manager, she oversees artists contracts, relations and company management. Prior to joining Arena full time, she worked on more than 30 productions as a freelance stage manager for companies such as Adventure Theatre, Arts on the Horizon, Folger Theatre, The Kennedy Center for the Performing Arts, Olney Theatre Center, Signature Theatre, Studio Theatre and Woolly Mammoth Theatre. She has extensive experience as both a freelance stage manager and production manager for corporate events, several of which she continues to work on an annual basis. She is also a proud company member of Arts on the Horizon, to whom she provides production management consultation. She is a graduate of Vanderbilt University with a B.A. in English, history, and theater and a minor in economics.
ASSOCIATE ARTISTIC DIRECTOR
Teresa Sapien
ARTISTIC ASSOCIATE - CASTING
Joseph Pinzon
LITERARY MANAGER
Otis C. Ramsey-Zöe
DRAMATURG
Jocelyn Clarke
ARTISTIC DEVELOPMENT COORDINATOR
Melissa Singson
CHIEF FINANCIAL OFFICER/CORPORATE TREASURER
Joseph Berardelli
CHIEF OF STAFF
Alison Irvin
LEGAL COUNSEL
Arent Fox LLP; Kramer Levin Robbins Russell
CONTROLLER
John Monnett
PAYROLL MANAGER
Larry Bright
STAFF ACCOUNTANT
Christopher Murk
ACCOUNTING ASSOCIATE
Mark Runion
AUDITORS
Bormel, Grice & Huyett, P.A.
INTERIM DIRECTOR OF HUMAN RESOURCES
Maria Lewis
HR ASSISTANT
Tyra Picazo
IT ADVISOR (consultancy)
RenTec Consulting
LEAD BUILDING
Technician Keaun Windear
BUILDING TECHNICIAN
Larry Serious
PORTERS
Tevin Smith, Lawrence Wise
STAGE DOOR ATTENDANT
Kay Rogers
DIRECTOR OF COMMUNITY ENGAGEMENT / SENIOR ARTISTIC ADVISOR
Anita Maynard-Losh
DIRECTOR OF EDUCATION
Ashley Forman
SCHOOL PROGRAMS MANAGER
Rebecca Campana
COMMUNITY PROGRAMS MANAGER
Mauricio Pita
COMMUNITY ENGAGEMENT PROGRAMMING COORDINATOR
Zoë Hall
CHIEF DEVELOPMENT OFFICER
Ryan E. Merkel
DIRECTOR OF INSTITUTIONAL RELATIONS
Shayla Hines-Graham
DIRECTOR OF DEVELOPMENT OPERATIONS AND EVENTS
Maria Corso
DIRECTOR OF STRATEGIC PHILANTHROPY
R. Wesley Meekins
FOUNDATION RELATIONS MANAGER
Abigail Cady
CORPORATE SPONSORSHIPS MANAGER
Charity Harris
MEMBERSHIP MANAGER
Lauren Lopaty
GIFT PLANNING SPECIALIST
Maya Weil
DEVELOPMENT OPERATIONS & EVENTS SPECIALIST
Casey Radner
STRATEGIC PHILANTHROPY ASSISTANT
Kiana Livingston
MEMBERSHIP ASSISTANT
Oscar León
GENERAL MANAGER
Alicia Sells
ASSISTANT GENERAL MANAGER
Katharine Templeton
COMPANY MANAGERS
Trisha Hein
Maddie Newell
GENERAL AND PRODUCTION MANAGEMENT COORDINATOR
Jenna Murphy
CHIEF MARKETING & STRATEGY OFFICER, VICE PRESIDENT
Shonali Burke
DEPARTMENT & EXECUTIVE ASSISTANT
Imani Pugh

Audience Services
---
DIRECTOR AUDIENCE SERVICES
Andrew Rampy
LEAD HOUSE MANAGER
Daniel Ricci
HOUSE MANAGERS
Ric Birch
Bruce Perry
PARKING
SP Plus
Business Intelligence & Information Systems
---
DIRECTOR, BUSINESS INTELLIGENCE AND INFORMATION SYSTEMS
Rich Johnson
SYSTEM ADMINISTRATOR
Brian Oh
BUSINESS INTELLIGENCE AND TESSITURA LEAD (consultancy)
Sabrina Clark
IS HELP DESK
Eddie Wieland
EARNED REVENUE
---
DIRECTOR, EARNED REVENUE
Isaac Evans
LEAD MANAGER, SALES
Jessica Comstock
LEAD GROUP SALES ASSOCIATE
Donald Jolly
GROUP SALES ASSOCIATE
Brandon Ferguson
MANAGERS, SALES
Caroline Hunt
Marion Levy Qualls
LEAD SALES ASSOCIATE
Sabrina Zillinger
SALES ASSOCIATES
Bailey Blumenstock
Jacob Gross
Meg Karch
Colin O'Bryan
Bianca Taylor
MANAGER, EVENTS AND RENTALS
Chrystal Vaughan
LEAD EVENTS AND RENTALS ASSOCIATE
Trevor Haren
EVENTS AND RENTALS ASSOCIATE
Aisha Noma
LEAD MANAGER, RETAIL OPERATIONS
Jody Barasch
BARTENDERS
Edwin Cortez
Greg Gonzales
Erika Wallace
MARKETING & COMMUNICATIONS
---
DIRECTOR, MARKETING & COMMUNICATIONS
Elizabeth Hawks
ASSOCIATE DIRECTOR, MARKETING & COMMUNICATIONS
Ryan Impagliazzo
MULTIMEDIA DESIGNER
Jeremy Keith Hunter
JUNIOR MULTIMEDIA DESIGNER
Kristopher Ingle
MANAGER, EMAIL AND DIGITAL CONTENT
Clare Lockhart
MANAGER, DIGITAL AND SOCIAL MEDIA
Juliana Avery
LEAD ASSOCIATE, PUBLIC RELATIONS
Anastasia St. Hilaire
DIRECTOR OF PRODUCTION
Robert Hand
PRODUCTION MANAGER
Trevor A. Riley
ASSISTANT PRODUCTION MANAGER
Rachel Crawford
RESIDENT PRODUCTION STAGE MANAGER
Christi B. Spann
Scenic
---
ASSOCIATE TECHNICAL DIRECTOR
Clare Cawley
SCENE SHOP SUPERVISOR
Travis Smith
CHARGE SCENIC ARTIST
Li Qiang
CARPENTERS
Matthew Grisdela
Julia Junghans
Hannah Martin
Logan McDowell
Frank Miller
Jess Rich
Erick Boscana
Properties
---
PROPERTIES DIRECTOR
Jennifer Sheetz
ASSOCIATE PROPERTIES DIRECTOR
Jonathan Borgia
HEAD PROPS ARTISAN
Niell Duval
PROPS ARTISAN
Kyle Handziak
PROPS ASSISTANT
Alessandra Shines
Erica Feidelseit
Lights
---
LIGHTING SUPERVISOR
Paul Villalovoz
ASSISTANT LIGHTING SUPERVISOR
Olivia Rudd
ELECTRICIANS
Scott Folsom
Kelsey Swanson
Sound
---
SOUND AND VIDEO SUPERVISOR
Brian Burchett
MASTER SOUND AND VIDEO SHOP TECHNICIAN
Timothy M. Thompson
SOUND TECHNICIANS
Lex Allenbaugh
Alexander Cloud
Andrew Moberley
Costumes
---
COSTUME DIRECTOR
Joseph P. Salasovich
ASSOCIATE COSTUME DIRECTOR
Cierra Coan
DRAPERS
Erika Krause
Carol Ramsdell
FIRST HANDS
Michele Macadaeg
Elizabeth "Liz" Spilsbury
CRAFTSPERSON
Deborah Nash
WARDROBE SUPERVISORS
Alice Hawfield
Adelle Gresock
WIGS, HAIR, AND MAKEUP SUPERVISOR
Jaime Bagley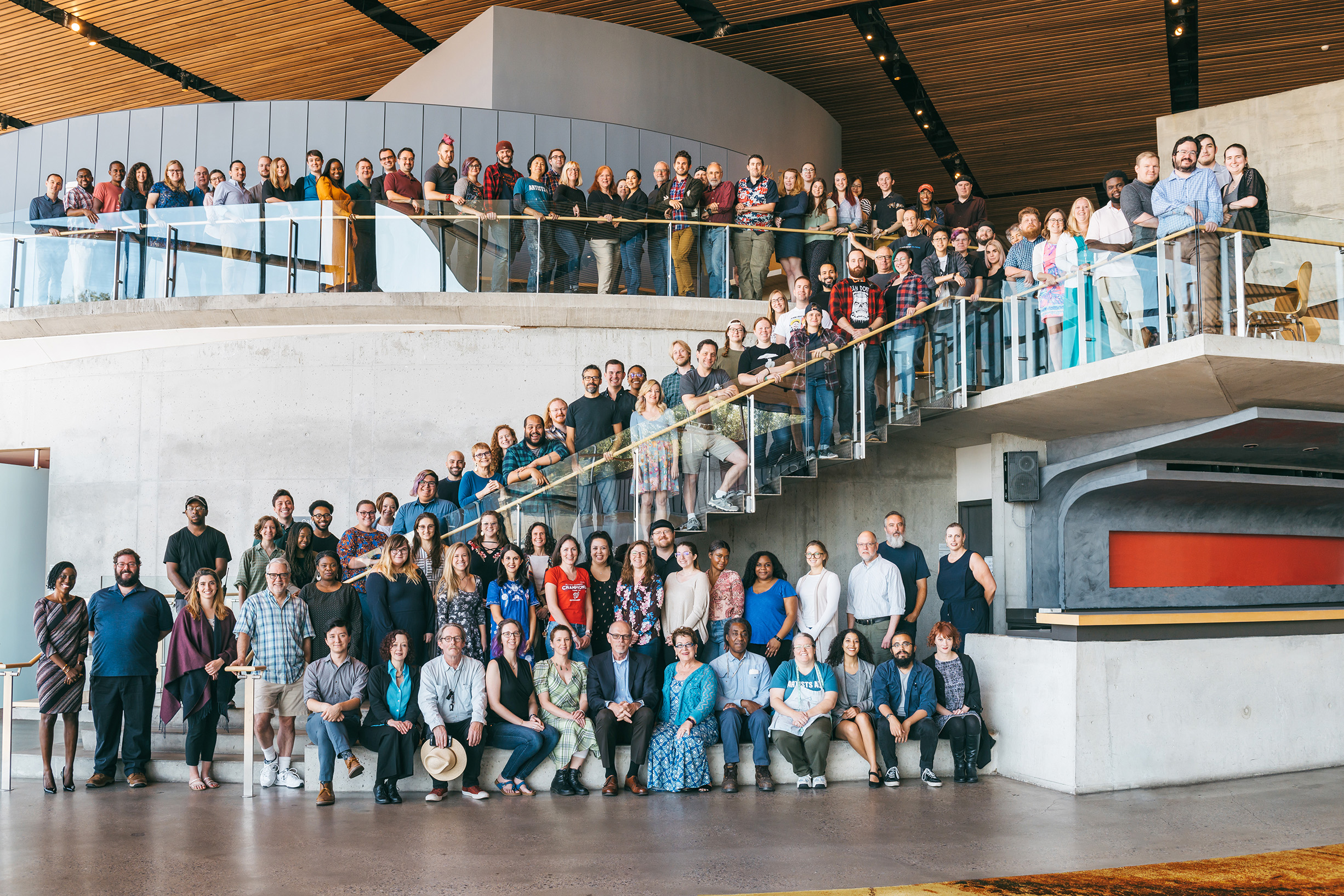 Photo by Cameron Whitman Photography.