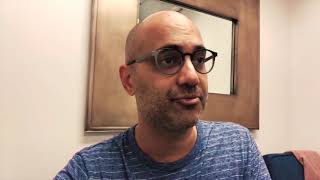 Play video icon.
Wall Street Drama
Junk
April 5 – May 5
Credits

Playwright
Ayad Akhtar

Directed by
Jackie Maxwell

Location
"An epic, strutting, slam-bang-wham piece of work."
Junk is generously sponsored by Joan and David Maxwell.
As the brilliant and calculating Robert Merkin prepares a hostile takeover of a family-owned manufacturing company, he is not concerned about crossing the line to get what he wants in the name of "saving America." Inspired by the volatile and cut-throat financial world and the junk bond giants of the 1980s, "this epic piece of work" (Chicago Tribune) is an enticing look at the money makers, their hubris and those who tried to hold them accountable. Pulitzer Prize-winner Ayad Akhtar's (Disgraced) latest work asks if redemption is truly possible or if there is always a new scheme waiting in the wings.
In The News
Washington Post
Arena Stage looks into history for inspiration in 2018/19 season
American Theatre Magazine
Arena's 2018-19 Season to Feature New Tom Kitt/Nell Benjamin Musical
Playbill
The 69th lineup at the Washington, D.C. venue will also include the a cappella musical Jubilee and Junk.