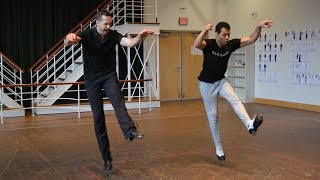 Play video icon.
Gold Standard Musical
Anything Goes
November 2 – December 23
Credits

Music and Lyrics by
Cole Porter

Original Book by
P.G. Wodehouse and Guy Bolton
And Howard Lindsay and Russel Crouse

New Book by
Timothy Crouse
and John Weidman

Directed by
Molly Smith

Choreography by
Parker Esse

Music Direction by
Paul Sportelli

Location
"A magnificent score of hard to resist sing-along classics… the quintessential American musical."
Anything Goes is generously sponsored by George and Duffy Ftikas, Margot Kelly and Sheila Stampfli. Choreography is sponsored by Virginia McGehee Friend.
The SS American has set sail from NY to London. Aboard, the lovelorn Billy has stowed away on a mission to stop the marriage of his mystery muse, heiress Hope Harcourt, to the millionaire Lord Evelyn Oakleigh. Now, it is up to Billy with the help of showgirls, sailors and public enemy #13, to find, woo and win back his true love. Unlikely alliances arise as mischief and mayhem ensue in this madcap musical by beloved composer and Tony Award winner Cole Porter. It's the perfect night out at the theater — contagiously fun and pure "musical comedy joy!" (New York Times)
Creative
P.G. WODEHOUSE and GUY BOLTON
HOWARD LINDSAY and RUSSEL CROUSE
Multimedia
It's all about the Tap in "Anything Goes"
Soara-Joye Ross performs "Blow, Gabriel, Blow" from Anything Goes at Season Preview at Arena Stage
Meet Soara-Joye Ross (our Reno Sweeney)
"Anything Goes" Teaser Trailer
Photo of Lisa Helmi Johanson and Corbin Bleu by Tony Powell.
Photo of Nicholas Yenson, Soara-Joye Ross and Mickey Orange by Tony Powell.
Events
Pet Adoption
Arena Stage is partnering with the Humane Rescue Alliance to support the adoption of shelter animals. The Humane Rescue Alliance's mobile adoption vehicle will be on site at Arena Stage on November 3 and December 8 between performances. City Dogs Rescue will be coming on November 17 and that Rural Dog Rescue will be coming on November 18 and December 2.
Civil Dialogues
Sunday, November 11, 2018: What makes a great America?
Who decides what makes America great? What are the alternate views of what makes a great America, at home and in a global sense? Can America still call itself a global leader?
Learn more
Post-Show Discussions
Tuesday, November 27, 2018 at 7:30 p.m.
Wednesday, November 28, 2018 at 12 p.m.
Tuesday, December 4, 2018 at 12 p.m.
Thursday, December 6, 2018 at 8 p.m.
Wednesday, December 19, 2018 at 12 p.m.