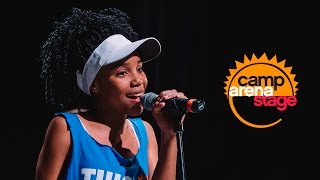 Play video icon.
Camp Arena Stage
Summer 2019
4–Week Intensive:
Registration
Camp Open House
Location

Georgetown Visitation Preparatory School
1524 35th Street NW
Washington, D.C., 20007

Contact
Community and art make the magic of Camp Arena Stage.
At camp we see, recognize and appreciate each individual for who they are and the art only they can make. We value being present, joyful, creative and kind.
We know art has a product, but it is also a process full of mistakes and discoveries. We support one another and make a place that is safe to take risks and grow.
Logistics
4-Week Intensive: The classic Camp Arena Stage immerses campers in the artistic process, allowing time for in-depth projects and arts exploration. Field trip, theme days and the final Arts Extravaganza make this the ultimate camp experience.
2-Week Session: A great introduction to Camp Arena Stage or a way to fit CAS into a packed summer, in this abridged session campers benefit from top-notch artistic instruction without the extras or time commitment of the 4-Week Intensive.
Campers are welcome to register for both sessions.
Read more about sessions, tuition, important dates and camper paperwork
Activities
Every day campers attend their set schedule of activities/classes. These activities are chosen before camp begins from more than 75 options in theater, dance, music, visual art, filmmaking and writing. Campers take the same five activities each day for the full camp session.
Campers can choose activities within the same discipline or a variety of disciplines. It's up to them!
Scholarships
Camp Arena Stage provides a limited number of need-based scholarships each year for the 4-Week Intensive. Both full and partial scholarships are granted. The 2018 scholarship deadline has passed. Applications will be available beginning in January 2019.
Camp Scholarships are supported by Friends of Southwest DC, Lavern Chatman/James I. Chatman Fund and the Robert and Natalie Mandel Family Foundation.
Multimedia
Welcome to Camp Arena Stage
Campers tell you why they love Camp Arena Stage
Photo by Cameron Whitman.
Photo by Cameron Whitman.
Photo by Cameron Whitman.
Photo by Cameron Whitman.
Photo by Cameron Whitman.
Photo by Cameron Whitman.
Photo by Cameron Whitman.