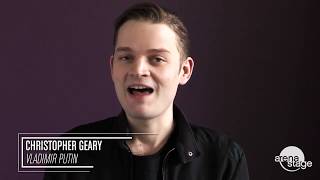 Play video icon.
Fearless political journey from House of Cards series writer
Kleptocracy
January 18 – February 24
Credits

A fictional play inspired by historic events
By special arrangement with Robert Ahrens, Mickey Liddell, Michael Mills and Andrew Tobias
By Kenneth Lin
Directed by Jackson Gay

Location
"[KENNETH Lin] is a voice to be reckoned with."
Kleptocracy is generously sponsored by Decker Anstrom and Sherry Hiemstra.
It is one of the most pivotal moments in history — the Soviet Union has collapsed. In the ensuing rampage of hyper-capitalism, the Oligarchs, a new class of robber barons, plunge Russia into a terrifying dark age of chaos and corruption. When the richest and most ruthless Oligarch attempts to reform and open Russian markets to the world, he's confronted by a young Vladimir Putin who is charting his own path to power. This world-premiere drama by Kenneth Lin (House of Cards) turns the spotlight on U.S.-Russia relations when crude oil is the language of diplomacy and events that dominate today's headlines are first set in motion.
Kleptocracy runs approximately one hour and 45 minutes with one 15-minute intermission. Please be advised this production contains haze.
Accessible Performances
Audio Described
Saturday, February 2, 2019 at 2:00 p.m. purchase
Open Captioned
Wednesday, February 6, 2019 at 7:30 p.m. purchase
Saturday, February 9, 2019 at 2:00 p.m. purchase
Thursday, February 14, 2019 at 8:00 p.m. purchase
*FREE tickets available to furloughed federal employees for select performances of Kleptocracy January 18 – 23 and The Heiress February 8 – 13. Limit two tickets per household. Use offer code: ArenaFREE. Offer subject to availability. Cannot be combined with other offers or applied to previously purchased tickets. Dates and performances subject to change. Offer expires Wednesday, January 23, 2019.