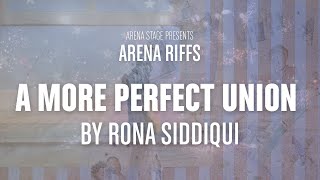 Play video icon.
Arena Riffs
Arena is excited to present a newly commissioned filmed musical series, Arena Riffs.

The three-part commissioned musical series features three different composer and lyricist teams with musical selections infused with sounds of folk, indie and hip-hop.
Themes in the musical series include the grief and void created by the pandemic, the nationwide reckoning on racial injustice, finding joy in difficult times and the exploration of one's relationship to the country.
The self-produced, self-contained finished pieces will be presented by Arena Stage. Each original musical will be 20 – 30 minutes long and will be available to stream on Arena's website.
Arena Riffs is free and open to the public to watch, but reservations are encouraged. All performances begin at 7 p.m. EDT.
Supporting Sponsorship for Arena Riffs is generously provided by the Artistic Director's Fund and Sheila Stampfli.
Arena Riffs
My Joy is Heavy! by the Bengsons

Presented by Arena Stage, award-winning indie-folk duo Abigail and Shaun Bengson premiered their new, original work My Joy is Heavy! on March 17 at 7 p.m.

Their musical memoir brings together story and song in an intimate portrait about cultivating joy during difficult times. Filmed from their home in Vermont, this intimate, narrative performance is filled with humor passion and sorrow. The 27-minute piece is self-filmed and captures their experiences of dealing with chronic pain and pregnancy loss during the lockdown.

Watch Now.

The Freewheelin' Insurgents

The Freewheelin' Insurgents, written and directed by award-winning playwright, director and actor Psalmayene 'Psalm' 24 (Arena's The 51st State, May 22, 2020) premiered on March 31.

Serving as a love letter to the Black Lives Matter movement and an elegy for theater, this musical piece examines the grief and void the pandemic, combined with the nationwide reckoning on racial injustice, has created for theater artists and audiences. The story unfolds through hip-hop and movement and explores issues of violent versus nonviolent protest, love and mental health during this unprecedented moment in history.

Watch Now

A More Perfect Union

A More Perfect Union, written by award-winning composer Rona Siddiqui (Salaam Medina: Tales of a Halfgan, One Good Day) premiered on April 14 at 7 p.m. Drawing on inspiration from concept albums, her story is told through a visual audio piece that showcases the different phases of the emotional life cycle of a relationship, while at the same time exploring the larger theme of Siddiqui's relationship to the country. The visual extended audio recording features a compilation of original songs including "Perfect Us," "Ghost Train" and "Your Blanket." The overarching themes in A More Perfect Union center around acceptance, identity and America's racial reckoning.
Composers
ABIGAIL AND SHAUN BENGSON
Multimedia
Trailer: Arena Stage Riffs: A More Perfect Union
Premiere: The Freewheelin' Insurgents
Trailer: Arena Stage Riffs: The Freewheelin' Insurgents
Premiere: My Joy is Heavy! by The Bengsons
Trailer: Arena Stage Riffs: My Joy is Heavy! by The Bengsons
Arena Riffs cast composed by Psalmeyene 24