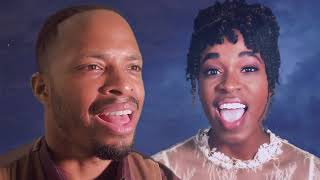 Play video icon.
Frederick Douglass in his own words
American Prophet
Coming in 2021
Credits

Music, lyrics and book by Marcus Hummon
Written and directed by Charles Randolph-Wright

Location
Charles Randolph-Wright (Arena's Born for This: The BeBe Winans Story, Broadway's Motown the Musical) returns to Arena Stage with a ground-breaking musical about Frederick Douglass, portrayed by Cornelius Smith Jr. (ABC's Scandal, All My Children). Douglass' own words power the soaring new melodies and original script from Grammy Award-winning songwriter Marcus Hummon and Randolph-Wright. This daring and heart-stirring new work presents Douglass as a fierce abolitionist and distinguished orator featuring interactions with key figures including, President Abraham Lincoln, activist John Brown and Douglass' wife, Anna Murray-Douglass, without whom his defiant escape from slavery would not have been possible. Filled with electrifying new songs including, "What Does Freedom Look Like," "We Need a Fire" and "A More Perfect Union," this world premiere celebrates the revolutionary legacy of one of history's first freedom fighters.
Prime Sponsorship for American Prophet is generously provided by


,

,
and Dan and Gloria Logan.
Supporting Sponsorship for American Prophet is generously provided by Andrew R. Ammerman, Judith N. Batty, The Drutz Family Fund for Musical Theater,

, Dr. Donald Wallace Jones, Dr. Betty Jean Tolbert Jones and Tracey Tolbert Jones,

, R. Lucia Riddle and Tiffeny Sanchez and Reg Brown.
Additional support is provided by Sandy and Jon Willen.
Multimedia
"Let the Storm Come" from world-premiere musical "American Prophet"
Ken Morris on Frederick Douglass
An interview with Charles Randolph-Wright and Marcus Hummon.
"American Prophet: Frederick Douglass in His Own Words" with Cornelius Smith Jr.
Photo of Cornelius Smith Jr. by Tony Powell.
Song Selections
Hear sample music from American Prophet.