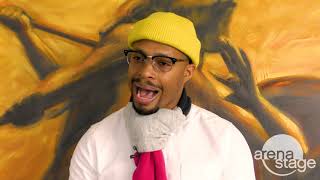 Play video icon.
Frederick Douglass in his own words
American Prophet
September 4 - October 18, 2020
Credits

Music, lyrics and book by Marcus Hummon
Written and directed by Charles Randolph-Wright

Location
Charles Randolph-Wright (Born for This: The BeBe Winans Story, Broadway's Motown the Musical) returns to Arena Stage with a ground-breaking musical tribute to Frederick Douglass, portrayed by Cornelius Smith Jr. (ABC's Scandal, How to Get Away with Murder). Douglass' own words power the soaring new melodies and original script from Grammy Award-winning songwriter Marcus Hummon and Randolph-Wright. This daring and heart-stirring new work presents Douglass as a fierce abolitionist and distinguished orator featuring interactions with key figures including President Abraham Lincoln and Douglass' own wife, Anna Murray-Douglass, without whom his defiant escape from slavery would not have been possible. Filled with electrifying new songs including "What Does Freedom Look Like," "We Need a Fire" and "A More Perfect Union," this world premiere celebrates the enduring legacy of one of history's first freedom fighters.
American Prophet is generously sponsored by:
PRIME SPONSOR


SUPPORTING SPONSORS
Andrew R. Ammerman
Judith N. Batty
Dr. Donald Wallace, Dr. Betty Jean Tolbert Jones and Tracey Tolbert Jones



R. Lucia Riddle
Tiffeny Sanchez and Reg Brown
Multimedia
Ken Morris on Frederick Douglass
An interview with Charles Randolph-Wright and Marcus Hummon.
"American Prophet: Frederick Douglass in His Own Words" with Cornelius Smith Jr.
Photo of Cornelius Smith Jr. by Tony Powell.
Song Selections
Hear sample music from American Prophet.