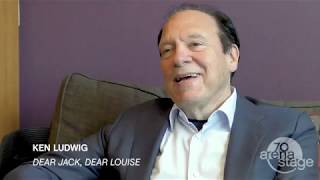 Play video icon.
World-Premiere Love Story
Ken Ludwig's Dear Jack, Dear Louise
November 21 – December 29, 2019
Credits

Written by Ken Ludwig
Directed by Jackie Maxwell

Location
[Ludwig] is "intelligent and saVvy"
When two strangers meet by letter during World War II, a love story begins. U.S. Army Captain Jack Ludwig, a military doctor stationed in Oregon, begins writing to Louise Rabiner, an aspiring actress and dancer in New York City, hoping to meet her someday if the war will allow. But as the war continues, it threatens to end their relationship before it even starts. Tony Award-winning playwright Ken Ludwig (Baskerville: A Sherlock Holmes Mystery, Lend Me a Tenor) tells the joyous, heart-warming story of his parents' courtship during World War II and the results are anything but expected.
Dear Jack, Dear Louise is generously sponsored by the Guttman-McCabe family in honor of Fred and Ilse Ruben;

; Daniel Korengold, Martha Dippell and

; and Hubert M. (Hank) Schlosberg.
Multimedia
"Dear Jacl, Dear Louise" season preview with playwright Ken Ludwig
In The News
TheaterMania
Jake Epstein, Amelia Pedlow to Star in Ken Ludwig's Dear Jack, Dear Louise
Broadway World
Arena Stage Announces Full Cast And Creative Team For Dear Jack, Dear Louise
Playbill
Jake Epstein to Star in World Premiere of Ken Ludwig's Dear Jack, Dear Louise
Accessible Performances
Closed Captioning
GalaPro Begins Friday, November 29. Learn more about Gala Pro
Open Captioning
Thursday, December 26 at 8 p.m.
Audio Described
Saturday, December 21 at 2 p.m.
Events
Post-Show Discussions
Wednesday, December 11 at 12 p.m.
Thursday, December 12 at 8 p.m.
Tuesday, December 17 at 12 p.m.
Wednesday, December 18 at 12 p.m.
Tuesday, December 24 at 7:30 p.m.
Southwest Night
Wednesday, November 27 at 7:30 p.m. Purchase