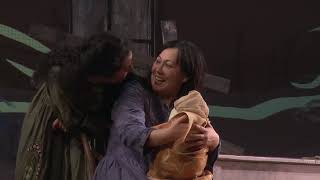 Play video icon.
Courageous Voices
A Thousand Splendid Suns
January 17 – March 1, 2020
Credits

Adapted by Ursula Rani Sarma
Based on the novel by Khaled Hosseini
Directed by Carey Perloff

Location
"

Gorgeously captivating performance.

"
"

Emotionally Stirring!

"
Adapted from the New York Times bestselling novel by Khaled Hosseini (Kite Runner), the lives of two Afghan women are inextricably bound together. In the war-ravaged Kabul, Miriam and Laila become unlikely allies in the face of the insurmountable odds of a brutal and oppressive way of life. Hopes of a new life lead to an unselfish and shocking decision, changing the course of their futures forever. Called "emotionally stirring" (Los Angeles Times), this gripping and heart-rending fight for survival will keep you on the edge of your seat from start to finish.
A Thousand Splendid Suns is generously sponsored by Beth Newburger Schwartz and Michele and Allan Berman.
Multimedia
Carey Perloff introduces "A Thousand Splendid Suns"
In The News
Broadway World
Arena Stage Announces Cast and Creative for A Thousand Splendid Suns
Accessible Performances
Closed Captioning
GalaPro Begins Friday, January 24. Learn more about Gala Pro
Open Captioning
Thursday, February 20 at 8 p.m.
Audio Description
Saturday, February 1 at 2 p.m.
Events
Post-Show Discussions
Tuesday, January 28 at 7:30 p.m.
Wednesday, January 29 at 12 p.m.
Tuesday, February 4 at 12 p.m.
Wednesday, February 12 at 12 p.m.
Thursday, February 27 at 8 p.m.
Southwest Night
Tuesday, January 21 at 7:30 p.m. Purchase