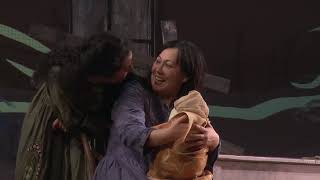 Play video icon.
Courageous Voices
A Thousand Splendid Suns
January 17 – March 1, 2020
Credits

Adapted by Ursula Rani Sarma
Based on the novel by Khaled Hosseini
Directed by Carey Perloff

Location
"

Gorgeously captivating performance.

"
"

Emotionally Stirring!

"
Adapted from the New York Times bestselling novel by Khaled Hosseini (Kite Runner), the lives of two Afghan women are inextricably bound together. In the war-ravaged Kabul, Miriam and Laila become unlikely allies in the face of the insurmountable odds of a brutal and oppressive way of life. Hopes of a new life lead to an unselfish and shocking decision, changing the course of their futures forever. Called "emotionally stirring" (Los Angeles Times), this gripping and heart-rending fight for survival will keep you on the edge of your seat from start to finish.
A Thousand Splendid Suns is generously sponsored by Beth Newburger Schwartz and Michele and Allan Berman.
A Thousand Splendid Suns runs approximately two and a half hours, including one 15-minute intermission.
Multimedia
Carey Perloff introduces "A Thousand Splendid Suns"
In The News
DC Theatre Scene
Family man Haysam Kadri on playing the villain in the Afghan play A Thousand Splendid Suns
Broadway World
Photo Flash: A Thousand Splendid Suns Begins Rehearsals At Arena Stage
Broadway World
Arena Stage Announces Cast and Creative for A Thousand Splendid Suns
Accessible Performances
Closed Captioning
GalaPro Begins Friday, January 24. Learn more about Gala Pro
Open Captioning
Thursday, February 20 at 8 p.m.
Audio Description
Saturday, February 1 at 2 p.m.
Events
Post-Show Discussions
Tuesday, January 28 at 7:30 p.m.
Wednesday, January 29 at 12 p.m.
Tuesday, February 4 at 12 p.m.
Wednesday, February 12 at 12 p.m.
Thursday, February 27 at 8 p.m.
Southwest Night
Tuesday, January 21 at 7:30 p.m. Purchase