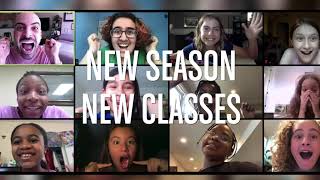 Play video icon.
Fall Classes
"Thank you for bringing joy & excitement into our home."
-Parent of Arena Stage Virtual class attendee
Design a costume. Write a play. Get ready for your close-up. Start your weekend with a musical theater dance combination. Online classes at Arena Stage allow participants, from preschoolers through adults, to try something new or explore a favorite artform more deeply. No experience is required.
Classes are held weekly via Zoom. Classes range from $60-$240. Zoom links are emailed to registered participants.
"My kids are learning, growing ... in a kind, compassionate, and creative environment."
-Parent of Arena Stage Virtual class attendee
REBECCA CAMPANA
Rebecca is in her 17th season in Arena Stage's Community Engagement Division, where she is the school programs manager, co-camp director and a teaching artist. She manages the D.C. Ticket Partnership, the theater's ticket program for D.C. public and public charter schools, teaching workshops in dozens of D.C. schools each season. She edits the theater's study guides and curriculum connections. She also directs and devises theater for social change for Arena's Voices of Now program both locally and internationally. Rebecca is an annual guest artist at the University of Notre Dame, specializing in teaching how to write 10-minute plays. She holds a dual honors B.A. in English literature and journalism from St. Bonaventure University. She begins her masters in writing (fiction) at Johns Hopkins University in 2021.
ASHLEY FORMAN
Ashley is the director of education at Arena Stage in her 18th season. She is responsible for the design and development of Voices of Now, Arena Stage's devised theater program. Through a partnership with the U.S. Department of State, Ashley has implemented Voices of Now in India twice (2012 and 2014), Peru (2014), Croatia twice (2013 and 2019) and Bosnia and Herzegovina (2019). She has presented on devised theater at numerous conferences, including the American Alliance for Theater and Education; the Association for Theater in Higher Education Conference; the National Bereavement Camp Conference; and the International AIDS Conference. Ashley has trained university professors and students, cultural attaches, pre-K through high-school public school teachers, teaching artists, professional artists, and young artists. Through Voices of Now she has devised autobiographical plays with numerous populations. Ashley oversees all lesson planning and curriculum for Arena Stage's education programs. She graduated from Syracuse University with a B.S. in theater, concentration in directing, and a minor in child development.
OLIVIA JONES
Olivia has worked as an arts administrator and teaching artist for all ages over the past eight years in D.C., New York, Los Angeles, Omaha and throughout southwest Virginia. She has worked with students as young as six months devising sensory experiences and has specialized in instruction for neuro-diverse students. Olivia was a recipient of the inaugural APAP|NYC 2020 Duke Access Award, identified as a field leader representing expertise in racial equity, diversity, and inclusion throughout the performing arts field.
MAURICIO PITA
Mauricio was born in Caracas, Venezuela and is currently Arena Stage's community programs manager. Previously he was GALA Hispanic Theater's director of education where he led the Paso Nuevo Youth Performance Group. In addition, Mauricio has worked as an educator for Young Playwrights Theatre, as a performer and educator for Superhero Clubhouse and The Society of Educational Arts (Teatro SEA) in New York City and has worked extensively as an performer with NYC Spanish Repertory Theatre, INTAR, Astoria Performing Arts Center (APAC), The Kennedy Center, The Director's Company and Studio Theatre. He was part of the artistic team for multiple devised theater productions at Columbia University and is a graduate of the Acting Program at Marymount Manhattan College and the Shakespeare Conservatory for Actors at Yale University.
KRISTYN POPE
Kristyn is excited for the opportunity to connect and teach virtually! She has performed in Arena Stage's productions of Sophisticated Ladies, Oklahoma! (Re-boot) and Anything Goes. Her NYC performing credits include: Radio City Christmas Spectacular (Rockette/Swing), Irving Berlin's White Christmas, and the Thoroughly Modern Millie Reunion Concert, as well as the City Center Encores! productions of Gentlemen Prefer Blondes, Lady Be Good, and The New Yorkers. Kristyn has also served as associate or assistant choreographer and/or dance captain at regional theaters across the country for such choreographers as Kelli Barclay, Jessica Hartman, Richard Stafford and Randy Skinner.
Kristyn has recently taught virtual classes for Motivated Movers NYC, Stage Door School of Dance at Home, Chambers Performing Arts, Get in Shape Grrl Broadway, Academy of Dance and Walnut Street Theatre Education. In person in NYC, Kristyn has taught special group classes at Broadway Dance Center, led classes/mock auditions for the Rockette Experience, and has taught classes for The Growing Studio, Broadway Theatre Connection and Motivated Movers NYC. She has also served as an adjudicator and/or taught Master Classes for organizations across the country, including Dance Masters, Encore Dance Competition, the Victoria Theatre Association, The Des Moines Performing Arts Center, the Hippodrome Foundation, Playhouse Square, Oklahoma City University, Point Park University, Indiana University, the Lied Center and Nebraska High School Theatre Awards.
Kristyn holds a B.A. in psychology from Northwestern University. "…We will only understand the miracle of life fully when we allow the unexpected to happen." ~Paulo Coelho. Ps100.
LIZ SPILSBURY
Liz has worked with Arena Stage for three years, originally as an Allen Lee Hughes fellow in the Costume Shop, and then as a stitcher and first hand, sewing and building costumes. She's been sewing and designing clothes since she was 12 years old, and has taught both hand sewing and machine sewing at other local D.C. summer camps. She is also a dancer and singer, and performs in a folk music a cappella duo with her sister. Liz graduated from Muhlenberg College, with a double major in theater and dance.