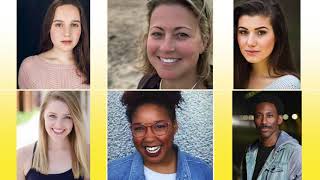 Play video icon.
Virtual Camp Arena Stage
Dates

Registration for the 2021 Summer Camp will take in place Winter 2021.

Contact
Camp Arena Stage will take place in Summer 2021! At this time we are unsure whether it will be in-person or online. While our dearest hope is to be together and in person, we know after the success of Virtual Camp Arena Stage that we can create our joyful, artistic community at a distance if necessary.
We will post updates here, including dates, format and registration, as we determine them. Any plans will align with city regulations and guidance from the CDC.
"I always feel free to express myself at camp."
The creativity and community of Camp Arena Stage are coming to your home this summer! In this half-day, multi-arts program, campers choose their own schedules from a list of classes in theater, music, dance, media, visual art and writing.
Learning from an all-star team of professional artists and educators, campers will be immersed in interactive arts activities.
With a daily show and time built in to connect with friends old and new, Virtual Camp Arena Stage will provide campers with an unforgettable summer experience at home.
"I can create beautiful, real art."
Logistics
Virtual Camp Arena Stage is an online, multi-arts program and community for young people ages 8 to 15. It is a place for young artists to explore, discover and create art while making meaningful connections with other young people.
Camps are half days – morning or afternoon – and run Monday through Friday for two weeks. Campers select their classes upon enrolling. Campers can register for more than one camp.
Tuition is $325 for returning campers and $340 for new campers.
Schedule
Each camper selects two classes from options in theater, music, dance, media, visual art and writing. Maximum class size is 16 campers. Supplies lists are provided for families to purchase supplies for visual arts classes.
All campers belong to a small "homeroom" group with time to participate in group activities, socialize and forge friendships. Our beloved daily show is an opportunity for our campers and staff to perform for and enthusiastically support each other.
Special Guests
Artists from Arena Stage's musicals, the record-breaking Disney's Newsies and Anything Goes will be featured guests during camp. These talented artists are excited to meet campers and discuss being an artist.
Staff
Classes are taught by a special team of professional artists and teachers. This "all-star" group has gathered virtually - from near and far - to plan an unforgettable summer program. Instructors have training and experience teaching online.
Frequently Asked Questions
Multimedia
Hear from our Camp Arena Stage co-directors about Virtual Camp Arena Stage
Virtual Camp Arena Stage - Half-day sessions with your favorite teachers
Sponsors
Arena Stage's community engagement efforts are generously sponsored by Denie and Frank Weil; AT&T; The Coca-Cola Foundation; the Paul M. Angell Family Foundation; Joanne Barker; the deLaski Family Foundation; the D.C. Commission on the Arts and Humanities; Arthur and Barbara Bushkin; Hattie M. Strong Foundation; Robert and Natalie Mandel Family Foundation; Max and Victoria Dreyfus Foundation, Inc.; Exelon Corporation; Alice Shaver Foundation; Theatre Forward; Collins Aerospace; Edington, Peel & Associates; Friends of Southwest D.C.; GEICO; JBG Smith; Wayne and Susan Jonas; Venable Foundation; Washington Nationals Dream Foundation; Wells Fargo & Company; Foley & Lardner LLP; Weissberg Foundation in memory of Wallace Kent Babington; The Albert & Lillian Small Foundation; Jean Schiro- Zavela and Vance Zavela; Actors' Equity Foundation; and Youth Activities Task Force (YATF) of the Southwest Neighborhood Assembly, Inc.