Camp Arena Stage is a multi-arts Summer day camp for artists ages 8-15.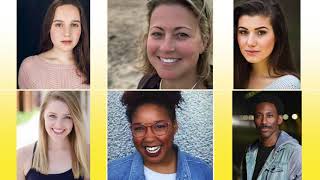 Play video icon.
Virtual Camp Arena Stage
Summer 2020
Dates

Registration for the 2021 Summer Camp will take in place Winter 2021.

Contact
REGISTRATION CLOSED
"I always feel free to express myself at camp."
The creativity and community of Camp Arena Stage are coming to your home this summer! In this half-day, multi-arts program, campers choose their own schedules from a list of classes in theater, music, dance, media, visual art and writing.
Learning from an all-star team of professional artists and educators, campers will be immersed in interactive arts activities.
With a daily show and time built in to connect with friends old and new, Virtual Camp Arena Stage will provide campers with an unforgettable summer experience at home.
"I can create beautiful, real art."
Logistics
Virtual Camp Arena Stage is an online, multi-arts program and community for young people ages 8 to 15. It is a place for young artists to explore, discover and create art while making meaningful connections with other young people.
Camps are half days – morning or afternoon – and run Monday through Friday for two weeks. Campers select their classes upon enrolling. Campers can register for more than one camp.
Tuition is $325 for returning campers and $340 for new campers.
Schedule
Each camper selects two classes from options in theater, music, dance, media, visual art and writing. Maximum class size is 16 campers. Supplies lists are provided for families to purchase supplies for visual arts classes.
All campers belong to a small "homeroom" group with time to participate in group activities, socialize and forge friendships. Our beloved daily show is an opportunity for our campers and staff to perform for and enthusiastically support each other.
Special Guests
Artists from Arena Stage's musicals, the record-breaking Disney's Newsies and Anything Goes will be featured guests during camp. These talented artists are excited to meet campers and discuss being an artist.
KRISTYN POPE
KRISTYN POPE is excited for the opportunity to connect and teach virtually! She has performed in Arena Stage's productions of Sophisticated Ladies, Oklahoma! (Re-boot) and Anything Goes. Her NYC performing credits include: Radio City Christmas Spectacular (Rockette/Swing), Irving Berlin's White Christmas, and the Thoroughly Modern Millie Reunion Concert, as well as the City Center Encores! productions of Gentlemen Prefer Blondes, Lady Be Good, and The New Yorkers. Kristyn has also served as associate or assistant choreographer and/or dance captain at regional theatres across the country for such choreographers as Kelli Barclay, Jessica Hartman, Richard Stafford and Randy Skinner.
Kristyn has recently taught virtual classes for Motivated Movers NYC, Stage Door School of Dance at Home, Chambers Performing Arts, Get in Shape Grrl Broadway, Academy of Dance and Walnut Street Theatre Education. In person in NYC, Kristyn has taught special group classes at Broadway Dance Center, led classes/mock auditions for the Rockette Experience, and has taught classes for The Growing Studio, Broadway Theatre Connection and Motivated Movers NYC. She has also served as an adjudicator and/or taught Master Classes for organizations across the country, including Dance Masters, Encore Dance Competition, the Victoria Theatre Association, The Des Moines Performing Arts Center, the Hippodrome Foundation, Playhouse Square, Oklahoma City University, Point Park University, Indiana University, the Lied Center and Nebraska High School Theatre Awards.
Kristyn holds a BA in psychology from Northwestern University. "…We will only understand the miracle of life fully when we allow the unexpected to happen." ~Paulo Coelho. Ps100.
DeMOYA WATSON BROWN
DeMOYA WATSON BROWN last appeared at Arena Stage in Anything Goes. Brown was also in Arena's Sophisticated Ladies alongside the legendary Maurice Hines. Off-Broadway and regional credits include The Radio City Christmas Spectacular (Rockette), The WIZ (Ford's Theatre), Crazy for You, Jelly's Last Jam and Dreamgirls (Signature Theatre) and The Boys from Syracuse (Shakespeare Theatre Company). Other stage appearances include the Washington National Opera's productions of Champion and Show Boat and Disney's productions of Finding Nemo the Musical and Beauty and The Beast. Television credits include Dancing with the Stars, The Ellen DeGeneres Show, CMT's Top 20 Countdown and TBN's Praise the Lord. She received her M.A. in Arts Management from George Mason University and her B.F.A. in Dance from Florida State University.
ETHAN VAN SLYKE
ETHAN VAN SLYKE (Davey Jacobs) returned to Arena Stage in Newsies after last being seen in Oliver! (Fagin's Gang, Oliver U/S) and Watch on the Rhine (Joshua and Bodo U/S). Other professional credits include Creative Cauldron's Caroline or Change (Noah, Helen Hayes Nomination), NextStop Theatre's Singin' in the Rain (Rod/ Hollywood Tenor) and The Secret Garden (Colin). Ethan has also been a featured artist on the Kennedy Center's Millennium Stage. Currently a senior at Freedom High School (South Riding, VA), his school credits include Singin' in the Rain (Don Lockwood/Choreo.), The Music Man (Marcellus/Choreo.), Flowers for Algernon (Burt Seldon) and High School Musical (Ryan). Ethan would like to thank everyone at South Riding Dance Academy, his teachers, friends and family for their unconditional support. Instagram: @ethan.vanslyke Twitter: @ethanvABC
JOE MONTOYA
JOE MONTOYA made his Arena Stage debut in Newsies! Recent theater credits include Les Miserables (Eponine), Modern Day Martyrdom (at Fuerza Fest NYC), and The Wild Party (Oscar D'Armano). Other favorite roles include Into the Woods (Jack) and Spring Awakening (Ernst). A recent graduate of Pace University's Musical Theater program, Joe has made concert appearances in New York City at 54Below, the Green Room 42, and MCC Theater. Many thanks go out to the incredible Cast and Crew of Newsies! Love wins! Instagram: @jo_shortstack Website: JoeMontoyaOfficial.com
Staff
Classes are taught by a special team of professional artists and teachers. This "all-star" group has gathered virtually - from near and far - to plan an unforgettable summer program. Instructors have training and experience teaching online.
ASHLEY FORMAN
Ashley is the director of education at Arena Stage in her 17th season. She is responsible for the design and development of Voices of Now, Arena Stage's devised theater program. Through a partnership with the U.S. Department of State, Ashley has implemented Voices of Now in India twice (2012 and 2014), Peru (2014), Croatia twice (2013 and 2019) and Bosnia and Herzegovina (2019). She has presented on devised theater at numerous conferences, including the American Alliance for Theater and Education; the Association for Theater in Higher Education Conference; the National Bereavement Camp Conference; and the International AIDS Conference. Ashley has trained university professors and students, cultural attaches, pre-K through high-school public school teachers, teaching artists, professional artists, and young artists. Through Voices of Now she has devised autobiographical plays with numerous populations. Ashley oversees all lesson planning and curriculum for Arena Stage's education programs. She graduated from Syracuse University with a B.S. in theater, concentration in directing, and a minor in child development.
Classes Taught: Mini Masterpieces, Devising Film for Social Change
BRANDON GLASS
Brandon has danced for performing artists, at NBA games and for companies both in the U.S. and abroad. He has been a coach, teacher and choreographer for eight years in the competitive dance industry and for musical theater, working with programs such as Red Branch Theatre. While obtaining his degree in deaf studies, Brandon also trained in the dance department at Towson University. He has recently been touring with Marvel Universe Live as a stuntman bringing his acrobatic and acting skills to the forefront. In his third summer at CAS, Brandon is sure to create a fun, and educational setting for his students to feel welcome and confident.
Why I Teach: I love helping others understand that they have a light worth shining and shining bright. Teaching puts a genuine smile on my face being able to encourage youth to seek what they love and embrace every part of it.
Art Can: EMPOWER!
Why I Love CAS: The ENERGY! The warm welcomes, the delightful staff and the eager and adventurous young artists that attend make this camp a space where you can FEEL the difference and inclusion when you're part of it.
Classes Taught: Hip-Hop Dance
BRANDON JOHNSON
This is Brandon's third year with Camp Arena Stage and he is excited for another year! He is a poet, performer, assistant editor for Storm Cellar Magazine and French teacher based in Washington, D.C. His work has appeared in journals such as Lucky Jefferson, Quiddity, Rigorous, among others.
Why I Teach: I enjoy helping to create spaces for young people to listen, learn and be heard.
Art Can: Change the way you see the world.
Why I Love CAS: The spontaneous moments of joy.
Classes Taught: Newspaper, Fantasy Writing, Podcasting & Storytelling
DOMINIC ELLIOTT
This is Dominic's second year at Camp Arena Stage. Dominic has been a music teacher for over 10 years and is in his third year of teaching Middle School for DCPCS. He has worked with students from Pre-K through high school in one-on-one lessons as well as classroom instruction. He has toured across the United States playing music in his brother's folk/Americana band and regularly performs with his band Go Mod Go! and as a solo acoustic/electric pop act. He began writing songs when he was 12 years old and recorded his first album when he was 14. Dominic is a teacher, performer and songwriter.
Why I Teach: My goal is to help students to find their voice and to express themselves creatively, as well as to discover the joy of playing music.
Art Can: Connect people!
Why I Love CAS: The positivity and the community.
Classes Taught: Songwriters Studio, Virtual Rock Band
KELLY DE ANGIOLETTI
Kelly is the CAS accompanist. She is a sophomore double major in musical theater and music who attends Rockford University in Illinois on a full scholarship. She has music directed, worked as a church pianist, instructed piano, accompanied and performed in pit orchestras in the D.C. and Chicago Metro areas. She attended the Virginia Governor's School for Theatrical Performance and the International Thespian Festival, as one of the top performers in her state. In addition to her work as an accompanist and performer, Kelly has studied visual arts and dance.
Why I Teach: I enjoy learning how young artists see our world and I draw inspiration from their bravery and excitement surrounding creation.
Art Can: Show us how we're alike
Why I Love CAS: The constant immersion in enthusiastic art
KERRY MCGEE
Kerry has worked for Arena Stage for six years as a teaching artist at Camp Arena Stage and with the Voices of Now program. She is also an actor and director and serves as the Artistic Director for We Happy Few, a classical theatre company in Washington DC. Her specialties include Shakespeare, classical text and movement theater. Kerry is especially proud of her work playing Charlie Chaplin in Pointless Theatre's highly acclaimed production of Visions of Love and of directing Lovers' Vows, a Helen Hayes recommended production. Kerry received her M.F.A. in theater pedagogy from VCU.
Why I Teach: Young artists are the most creative, energized learners out there. I'm constantly impressed by their imaginations.
Art Can: Change the world
Why I Love CAS: CAS is a welcoming place that puts emphasis on creating, having fun and exploring.
Classes Taught: CAS Classics: Silent Movie, CAS Classics: Lost and Found Shakespeare
LAURA EVERLING MULCHAY
Laura has been working with Camp Arena Stage for six summers and is happy to be returning as a teacher. Professional credits include five years performing and creating with Diavolo Dance Theater, six years of performing and creating KA by Cirque du Soleil and two years of coordinating Cirque du Soleil's social circus program for at-risk youth. Other appearances include dancing and doing stunts for film, TV and music videos. She also used to work with Peter Pan and Disneyland. In her spare time, she currently writes physical education curriculum that incorporates mindfulness, creativity and play into sports. She tries to go to the beach as much as possible.
Why I Teach: I like to facilitate discovery and then acclimation of that discovery into one's personal narrative.
Art Can: Bring us together.
Why I Love CAS: It's a safe pace for risk-taking and exploration. Anything is possible.
Classes Taught: Contemporary Dance
LIZ SPILSBURY
Liz has worked with Arena Stage for three years, originally as an Allen Lee Hughes fellow in the Costume Shop, and then as a stitcher and first hand, sewing and building costumes. This is her first time as a teaching artist at Camp Arena Stage, and she's very excited to join the team. She's been sewing and designing clothes since she was 12 years old, and has taught both hand sewing and machine sewing at other local D.C. summer camps. She is also a dancer and singer, and performs in a folk music a cappella duo with her sister. Liz graduated from Muhlenberg College, with a double major in theater and dance.
Why I Teach: Art and creating inspired me at a young age, and I want to share that passion with the new young artists.
Art Can: Bring people together
Classes Taught: Fashion Design
MALLORY SHEAR
Mallory is returning for her second summer. She has appeared on stage with Adventure Theatre, The Shakespeare Theatre of New Jersey, Flying V, Molotov Theatre and Live Action Theatre, to name a few. She has over a decade of teaching experience at theaters and schools such as Signature Theatre, Adventure Theatre, The Folger Theatre, Holy Child and The Landon School. She completed an apprenticeship with the Shakespeare Theatre of New Jersey and went on to specialize in stage combat, stunt work and intimacy choreography. She is certified in numerous weapons through the Society of American Fight Directors and she is a certified Intermediate Actor Combatant with Fight Directors Canada. She has choreographed for Molotov Theatre, Pinky Swear Productions, Venus Theatre, Flying V, Studio Theatre Conservatory and St. Mary's College among many others. She stunt coordinated the award-winning short The Croquet Calamity and is a resident fighter with the Maryland Renaissance Faire. She completed stunt training abroad and is also a proud associate member of SDC.
Classes Taught: CAS Classics: Shakespeare, CAS Classics: Stage Combat
MARIA RIZZO
Maria is excited to be returning for her 4th CAS summer. She is a professional actor in the D.C. area. This past year she won 2 Helen Hayes Awards for Outstanding Lead Actress in a Musical (Roxie Hart, Chicago- Keegan Theatre), and Outstanding Supporting Actress in a Musical (Erma, Anything Goes- Arena Stage). Maria holds a bachelor's in music from Catholic University of America. She is a regional teacher and choreographer, an Xtend Barre instructor and a proud member of Actors Equity Association. Most recently she was seen as Sheila in A Chorus Line at Signature Theatre and participated with 'Sig in the Schools; a program for Arlington County high school students working with and amongst professionals in the theatre industry. Upcoming is a holiday show at Signature Theatre and a Summer '21 production at the Anthem on the WHARF. @mariarizz9o
Why I Teach: I believe theater has to reflect the world around us and, in order for theater to continue to grow, we have to inspire children.
Art Can: Evoke change
What I Love About CAS: The community that extends beyond the summer.
Classes Taught: Contemporary Musical Theater, Musical Theater Dance
MAURICIO PITA
Mauricio was born in Caracas, Venezuela and is currently Arena Stage's community programs manager. Previously he was GALA Hispanic Theater's director of education where he led the Paso Nuevo Youth Performance Group. In addition, Mauricio has worked as an educator for Young Playwrights Theatre, as a performer and educator for Superhero Clubhouse and The Society of Educational Arts (Teatro SEA) in New York City and has worked extensively as an performer with NYC Spanish Repertory Theatre, INTAR, Astoria Performing Arts Center (APAC), The Kennedy Center, The Director's Company and Studio Theatre. He was part of the artistic team for multiple devised theater productions at Columbia University and is a graduate of the Acting Program at Marymount Manhattan College and the Shakespeare Conservatory for Actors at Yale University.
Why I Teach: Because I have the opportunity to empower young artists.
Art Can: Transform, illuminate, teach, and empower our humanity.
Why I Love CAS: The community! You become a member of a new family with shared values. It's also fun!
Classes Taught: Acting for the Camera, Devising Film for Social Change
Megan Thrift
Megan has worked as a multidisciplinary theater artist and full-time educator for the past fifteen years in D.C., Maryland, North Carolina, and Virginia. She has worked with students of all ages in camps, workshops, touring shows, and full-scale productions. She has worked on over 30 productions in the DC theater community. Most of the time, she is a high school theater teacher and the artistic director of the student driven Rambunctious Theatre Company. Last year, she had the great opportunity to work with educators in Mosul, Iraq to develop pedagogy, shape community building programs, and support the psychological health of themselves and their students. Megan received her B.A. in theater and M. Ed in theater education K-12 from George Mason University.
Why I Teach: To foster, support, and witness the magic of discovery and the endless potential of young artists.
Art Can: Remind us the human experience is a shared one and how we participate matters.
NICKI ELLEDGE
Nicki is a professional actor and teaching artist based in Washington D.C. She can't wait to return to Camp Arena Stage this summer! Previous performance credits include: First National Tour: Amazing Grace; Signature Theatre: Grand Hotel, A Little Night Music; Arizona Broadway Theatre: Sweeney Todd; Utah Shakespeare Festival: The Cocoanuts, South Pacific; Toby's Dinner Theatre: Grease, Beauty and the Beast; Riverside Center: Beauty and the Beast; Welk Resorts Theatre: Fiddler on the Roof; Lamb's Players Theatre: Joe vs. the Volcano...the Musical; Legoland California: LEGOFriends: To the Rescue! Nicki graduated from The Catholic University of America with a bachelor's of music degree in musical theater.
Why I Teach: I have been incredibly inspired and influenced by my theater teachers and mentors. I hope to generously pass on what I have learned, and positively impact and support students as they discover their creative voice.
Art Can: Bring us closer together and help us become more compassionate human beings.
Why I Love CAS: The environment is positive, supportive, and encouraging!
Classes Taught: Musical Theater, Disney on Broadway, Musical Theater Solos & Audition
NIEW BHARYAGUNTRA
Niew has been the camp coordinator for Arena Stage for seven years. When she's not at camp, Niew works as a stage manager at theaters such as Ford's Theater, Arena Stage, Rep Stage and most recently at Two River Theater. Niew received her bachelor's degree in theater design & production from Towson University. She is a proud alumnus of Arena Stage's Allen Lee Hughes Fellowship Program.
Why I Teach: I love sharing my compassion and joy for the arts with others.
Art Can: Inspire!
Why I Love CAS: The open-minded community.
Classes Taught: Art Surprise
OLIVIA JONES
Olivia has worked as an arts administrator and teaching artist for all ages over the past eight years in D.C., New York, Los Angeles, Omaha and throughout southwest Virginia. She has worked with students as young as six months devising sensory experiences and has specialized in instruction for neuro-diverse students. Olivia was a recipient of the inaugural APAP|NYC 2020 Duke Access Award, identified as a field leader representing expertise in racial equity, diversity, and inclusion throughout the performing arts field.
Why I Teach: Helping people to connect to one another through art is the best feeling in the world!
Art Can: Cultivate empathy
Classes Taught: Found Puppetry, Acting
Pamela T. Simonson
Pamela, full lyric soprano, author, charity founder and native New Yorker has been seen on stages throughout the United States and Europe with the Washington National Opera, Lyric Opera of Chicago, San Francisco Opera, Wolf Trap Opera and the Glory Gospel Singers. She has been a featured soloist with the American Center for Puccini Studies and in Washington National Opera's productions of Porgy and Bess, Showboat, and Dead Man Walking.In 2014, Pamela was awarded the esteemed Prince George's County "Forty Under 40" Award for her efforts in the arts community. She is the co-author of the award-winning book "Pearls of Wisdom from Three Generations" with her mother and grandmother and is the co-founder, along with her musically gifted brother Victor Simonson, of the non-profit 501c3 arts organization CAAPA (Coalition for African Americans in the Performing Arts) an organization dedicated to "Bring Color to the Classics" by supporting classical musicians of color and others in the performing arts.Pamela has served as music director for Camp Arena Stage for over 10 years, is currently a vocal music teacher for Prince George's County Public Schools in MD and also conducts workshops, seminars, and coaches private music students in the region.

Why I Teach: I teach because it brings me joy to share my love of music with my students and see their creativity and talents develop right in front of my eyes.
Art Can: Inspire, Heal, Uplift, and ultimately save lives.
Why I Love CAS: I have been there from the very beginning and I've seen it over and over again! CAS gives students a platform to authentically create art while taking risks and being nurtured in an artistic community of love!
ROSIE ALGERS
Rosie is a teaching artist and administrator in the D.C. Metro area. She has taught drama, music, visual arts and design with Imagination Stage for the last two years, both at their theater and in schools across Maryland and D.C. She has also designed curriculum and worked in classrooms on arts integration programs to enhance students' education ages 3 to 18. Rosie graduated from Washington College in 2018 with degrees in theater and anthropology, and is a director, actor, musician and artist. She enjoys painting and knitting in her spare time.
Why I Teach: I believe that every young person's voice deserves to be heard, and I love getting the opportunity to help them find their story.
Art Can: Connect us!
Classes Taught: Art Through the Ages, Art of the Self, Magical World Art
TRAVIS-MICHAEL COLEMAN
A Severna Park, MD native, Travis developed a love for the visual and performing arts at a young age that grew tremendously. Travis has since played the clarinet for over 25 years and has been a highly effective educator and an art education advocate who has 14 years of experience and engagement in the classroom. Travis obtained his B.S. in elementary education and middle school studies with a minor in visual arts from Morgan State University, and an M.A. in instructional design and media technology from Full Sail University. Travis often delves in his passion for the visual arts, which he uses as a tool to advocate for educational equality. In 2016 Travis was the D.C. recipient for the Voya Unsung Hero grant that helped him to develop his innovative teaching idea, "Clay Therapy," which focused on using ceramics to help students develop and strengthen their critical thinking skills in a relaxed and expressive environment. Travis is currently developing a repertoire of abstract art, some of which were displayed and sold at various art shows in both San Francisco and Oakland, California.
Why I Teach: To prepare each student to succeed beyond the requirements of a curriculum by instilling passion in each student to journey into the needs of the world.
Art Can: Evoke creative imaginations.

Classes Taught: Sculpture, Creature Crafts
WES BRAVER
Wes is a composer, lyricist and playwright from Washington, D.C. making his triumphant return to Camp Arena Stage. His musical Medusa (co-written w/ Rachel Dean) was presented in concert at Lincoln Center in 2019 and is in development with commercial producers. Past work includes Hear No Evil in the Year 2090, and Galapago; a song cycle, Space Cases; and METADATA, an electro-pop concept album about Edward Snowden (available on Spotify/iTunes). He wrote the songs for the musical film Chatsworth, which premiered at HBO's New York Latino Film Festival, and the score for the film "Youth," which premiered at SXSW in 2019. His songs have been featured at the Kennedy Center, Barrington Stage, and the Laurie Beechman Theater, and his music has been featured in a number of films, dance performances and with the Broken Box Mime Company. Wes holds a B.A. in music from Colorado College and an M.F.A. from NYU Tisch's Graduate Musical Theatre Writing Program.
Why I Teach: Great teaching changes lives. My favorite art and English teachers made me the person I am. I teach to try and pass on their wisdom and get people excited about their own creativity.
Art Can: Help you walk a mile in someone else's shoes - that will always make you kinder and more understanding. And the world needs more of that!
Why I Love CAS: Camp is simply one of those rare spaces that is just dedicated to creativity. Even in the professional arts industry, there's a limit on that. Camp is not about being cool, or making the best art that will sell, it's about being yourself.
Classes Taught: The Musical!
Frequently Asked Questions
How do I sign up for classes?
When registering you will see what classes are available. You sign up right then and there and know your schedule right away! Enrollment in the classes is first come, first served. Class descriptions are on the schedule page of our website.
Can I be in the same classes as my friend?
Since you sign up for classes when you register, you will need to coordinate with your friend to choose the same classes.
My friend is also coming to camp, will I get to spend time with them?
You can request to be in the same small group as your friend when you register.
Can I change my schedule once I start?
A parent/guardian can email a request to change classes at the end of the first day. Schedule changes will be made on a case-by-case basis. After the second day of camp schedules are set.
How big are classes?
Our largest classes have a maximum class size of 16.
Why are the camps half-day?
In surveying camp families, we discovered that there was a strong preference for a half-day program. Families cited sharing devices, screen time and other activities. Of course, campers can sign up for both the morning camp and the afternoon camp if they want to!
How do camps differ?
Morning camp and afternoon camp have the same format, but some different classes and instructors.
How does camp start?
The parent/guardian will receive an email from camp@arenastage each evening with their camper's Zoom links for the next day. At the beginning of the camp day campers will log onto Zoom. There will be time to visit with their small "home room" group and their group leader in breakout rooms followed by an all-camp warmup activity. They will then use their class Zoom link to begin their first class of the day.
How does the day work online?
After the opening activities with your small group leader and the all-camp warmup, you will Zoom to your first class. At the end of that class there will be a short break time to touch base with friends or get a glass of water or plug in a device before you Zoom on to your next class. You will also have a short break at the end of that class. After that is a period for small group activities—surprise offerings that focus on camp fun. Then on to the daily show to either perform for your friends or watch your friends perform. Farewells follow the show, and goodbye until your next camp day.
Is there time to socialize and make friends at camp?
We understand that having some down time to visit with old friends and make new ones is an important part of creating a camp community. We have built in some breaks and other activity periods for you to be able to enjoy the social side of camp.
Will I have a chance to perform? How does the daily show work?
Any camper can sign up to perform in the daily show. You can sign up through your group leader in the morning for shows later in the week —as long as there is room, of course. If you want to sing with accompaniment let your group leader know, and our accompanist will make you a track to sing to. Sometimes classes will perform, and, if there is room, staff members may perform as well!
Do I have to perform?
There are a lot of ways to be an artist, and not all artists are performing artists. So, no one will make you perform if you don't want to, but you might want to give it a try even if you feel a little shy. Camp Arena Stage audiences are the most supportive audiences ever!
Will there be a final sharing at the end of the session?
Classes will find ways to share their work. This will be determined by the instructor and what works best for the artform. It might a virtual gallery of artwork, a short film, a Zoom performance or another way. We will be sure to give you plenty of notice. Some classes are process based and may not have a final sharing.
My camper is due to age out this summer —how are you going to make sure that this summer is special for them?
A couple of ways. We will still have virtual special activities for our 15 year olds, but know that is not the same as the in-person activities they may have been expecting. So, we will make a special age exemption next summer and accept returning campers who are 16 if they wish to have the traditional last summer they have been looking forward to.
How much is tuition for Camp Arena Stage?
Tuition is $325 for returning campers and $340 for new campers.
What about security?
We know that online security is a concern and have put practices in place to address that issue. The week before we will send the camper's unique Zoom links and passwords for the week to the parent/guardian's email address. The links will be changed weekly for better security.
Each activity will be led by a minimum of two staff members to handle any technology or other problems that may arise. All sessions will be recorded and saved to the Zoom cloud for safety purposes.
In addition, all our instructors undergo background checks before camp starts.
What kind of parental involvement will there need to be in doing the camp virtually?
We understand that one of the aspects that is missing from a virtual camp is the provision of childcare. A responsible adult needs to be present or within call of the camper participating in Virtual Camp Arena Stage.
What if my child has special needs?
If your child has special needs and you wonder if Camp Arena Stage is a good fit for your child, please contact us at camp@arenastage.org to set up a phone call to discuss.
Who are the instructors?
Our instructors are professional artists and educators with expertise in their artistic fields and experience working with young people. The CITs (counselors-in-training), who assist the instructors, are rising high school juniors, seniors, college freshmen or sophomores.
All staff members undergo a careful interview process, including background checks. We have done our utmost to hire accomplished artists who, first and foremost, care about and excel in working with young people.
We've gathered a special group this summer, including instructors that have worked at Camp Arena Stage before but have moved to other cities. We are all excited to bring the playfulness and joy of CAS to your home.
How do I get supplies for visual arts classes?
We would prefer to be able to supply all art materials as we do at in-person camp, but because of the special circumstances this year we have decided to ask each family to provide their own visual arts supplies. With the current delivery delays we think ordering only the supplies you need delivered to your door is the most efficient way to proceed. You may already have some of the supplies at home—scissors and glue, for example. Supplies lists are included in the description of the visual arts classes. Please email camp@arenastage.org with any supplies questions that arise.
What technology do we need to have at home?
To participate in Virtual Camp Arena Stage, each camper will need a device such as a laptop or a tablet. Minimum bandwidth is 600kbps (upload/download) and recommended is 1.5 Mbps (upload/download). The device must have a camera and mic or an external web cam and mic. The device must be running the latest operating system and all major browsers (Chrome, Firefox, and Safari).
What happens if my technology breaks down?
If we can, we will coach the camper through technology issues. A parent/guardian should be nearby to assist the camper with technology issues as well. We will also provide a phone number for parents/guardians to reach an Arena Stage staff member.
General Questions: Email camp@arenastage.org. Include your name, phone number and a good time to reach you if you'd prefer a call back.
Special Needs and Health Questions: Email camp@arenastage.org to set up a time to speak.
Time-Sensitive Questions: 202-488-3300 (Monday-Friday, 10 a.m.-6 p.m. until June 19)
Online Registration and Payment Questions: 202-488-3300 or info@arenastage.org
What is your refund policy?
In response to the uncertain times, we are extending our refund policy. You may request a full refund (including registration fee if applicable) up to a week before your camp is set to start, with no questions asked. After that time, requests for refunds will be handled on a case-by-case basis. Please email info@arenastage.org or call 202-488-3300 Tuesday-Sunday 12 p.m.- 6 p.m. to request this option.
Multimedia
Hear from our Camp Arena Stage co-directors about Virtual Camp Arena Stage
Virtual Camp Arena Stage - Half-day sessions with your favorite teachers
Sponsors
Arena Stage's community engagement efforts are generously sponsored by Denie and Frank Weil; AT&T; The Coca-Cola Foundation; the Paul M. Angell Family Foundation; Joanne Barker; the deLaski Family Foundation; the D.C. Commission on the Arts and Humanities; Arthur and Barbara Bushkin; Hattie M. Strong Foundation; Robert and Natalie Mandel Family Foundation; Max and Victoria Dreyfus Foundation, Inc.; Exelon Corporation; Alice Shaver Foundation; Theatre Forward; Collins Aerospace; Edington, Peel & Associates; Friends of Southwest D.C.; GEICO; JBG Smith; Wayne and Susan Jonas; Venable Foundation; Washington Nationals Dream Foundation; Wells Fargo & Company; Foley & Lardner LLP; Weissberg Foundation in memory of Wallace Kent Babington; The Albert & Lillian Small Foundation; Jean Schiro- Zavela and Vance Zavela; Actors' Equity Foundation; and Youth Activities Task Force (YATF) of the Southwest Neighborhood Assembly, Inc.