Registration for the Summer 2021 Virtual Audition Intensive is now open!
2021 Virtual Audition Intensive
July 26 - August 6, 2021
Dates

July 26 - August 6, 2021
Register Today!

Hours
Location
Contact
Tuition
"The Virtual Audition Intensive gives young artists the opportunity to work with gifted theater professionals from all over the nation to learn the art and business of the audition process."
- Anita Maynard-Losh, Director of Community Engagement and Senior Artistic Advisor
Join Arena's Virtual Audition Intensive. In this two-week training program, pre-professional students and young artists will receive expert training in audition techniques in group and private 30-minute coaching sessions. Taught by award-winning theater professionals, students will receive valuable audition training in dance, singing and acting performance with coaching sessions on songs and monologues.
Students will leave having worked on a contemporary monologue, a Shakespeare monologue, two contrasting songs, and a private conference on their headshots and resumes.
The program is for serious, focused students and young artists ages 16-22.

Preparation
No audition required. Enrollment is limited to no more than 20 students, and is first come, first served.

Upon registration, students will be sent information on preparing a short song and monologue and uploading before the program starts. This is not an audition but a way for the faculty to get to know the students in advance to help tailor the program to the students. Please click here to view a list resources and details needed for submission.
Logistics
The day is structured with a daily musical theater dance session, singing training, acting training and group sessions on a variety of audition subjects, such as choosing audition material, headshots and resumes, working with an accompanist, cold readings, taking direction at an audition, navigating dance auditions, and more.
Schedule
Week 1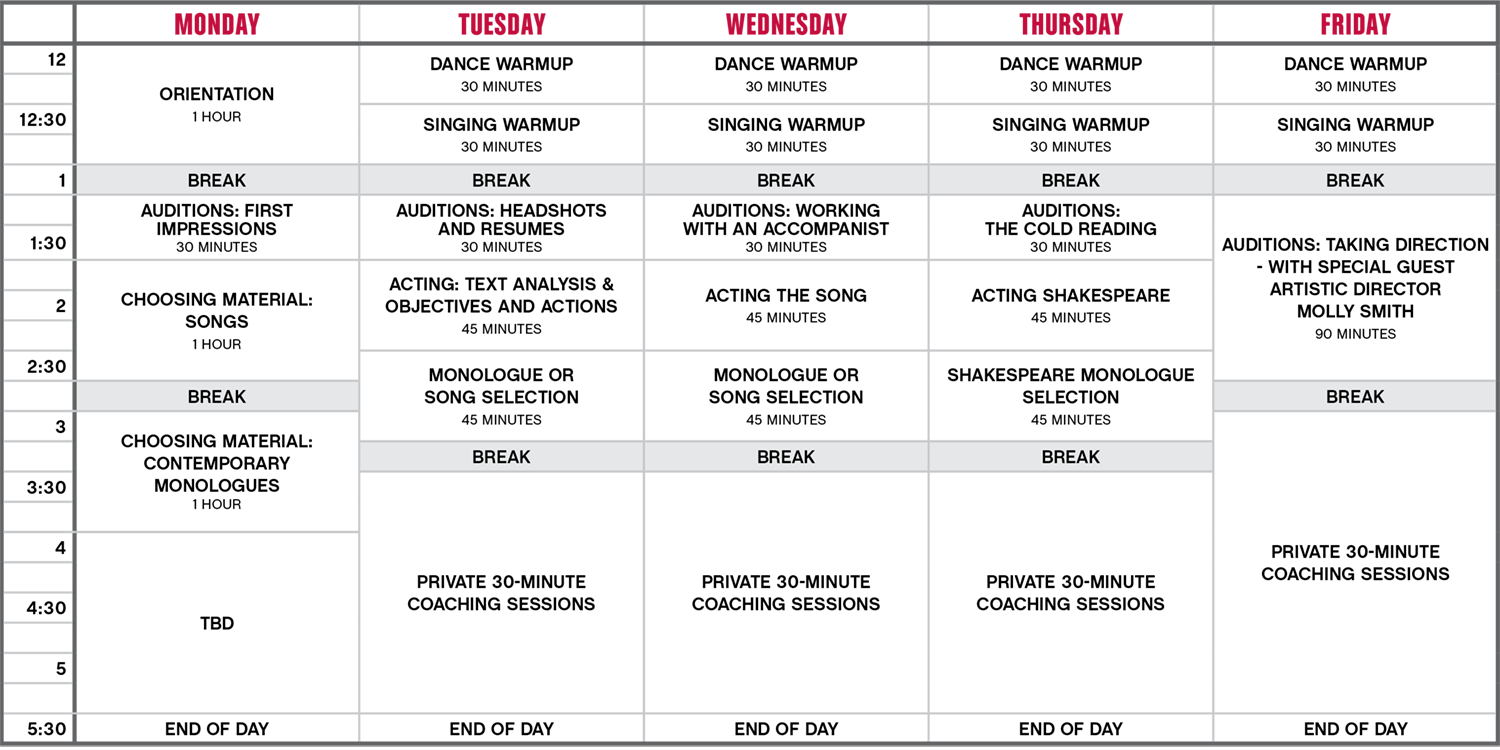 Week 2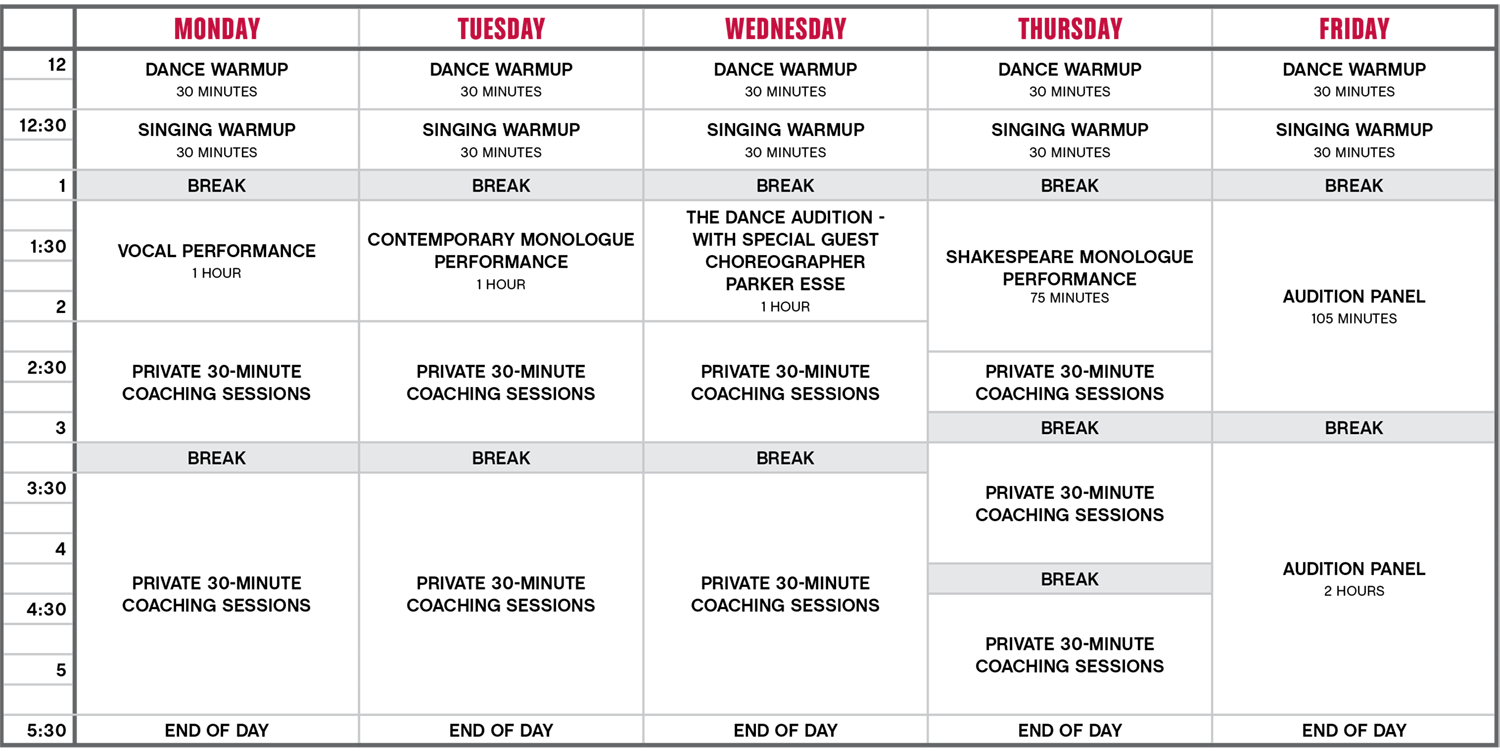 Resources
Please use the links below to access sheet music and recorded accompaniment for prep songs and for monologues.
Multimedia
Artists participate in the theater intensive
Acting and Audtion coach Amy Lizardo invite you to join Arena's Audition Intensive
Acting coach Erin Weaver (Newsies) and Audition coach Teresa Sapien share details about Arena's Virtual Audition Intensive.
Learn about Arena Stage's new Virtual Audition Intensive
Sponsors
Arena Stage's community engagement efforts are generously sponsored by Denie and Frank Weil; AT&T; The Coca-Cola Foundation; the Paul M. Angell Family Foundation; Joanne Barker; the deLaski Family Foundation; the D.C. Commission on the Arts and Humanities; Arthur and Barbara Bushkin; Hattie M. Strong Foundation; Robert and Natalie Mandel Family Foundation; Max and Victoria Dreyfus Foundation, Inc.; Exelon Corporation; Alice Shaver Foundation; Theatre Forward; Collins Aerospace; Edington, Peel & Associates; Friends of Southwest D.C.; GEICO; JBG Smith; Wayne and Susan Jonas; Venable Foundation; Washington Nationals Dream Foundation; Wells Fargo & Company; Foley & Lardner LLP; Weissberg Foundation in memory of Wallace Kent Babington; The Albert & Lillian Small Foundation; Jean Schiro- Zavela and Vance Zavela; Actors' Equity Foundation; and Youth Activities Task Force (YATF) of the Southwest Neighborhood Assembly, Inc.