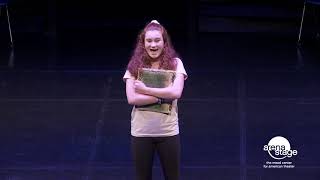 Play video icon.
Arena Stage Academy
July 20 – July 31, 2020
Dates
Hours
Location

1101 6th Street SW
Washington, D.C. 20024

Contact
COVID-19 UPDATE:
WE ARE MONITORING THE HEALTH CRISIS AND THE IMPACT IT WILL HAVE ON ARENA STAGE ACADEMY 2020. WHILE WE HOPE THAT WE WILL BE ABLE TO GATHER FOR ACADEMY AS WE HAVE IN THE PAST, WE ARE BEING PRUDENT AND EXPLORING A VARIETY OF ALTERNATIVE SCENARIOS SHOULD THAT BE IMPOSSIBLE.
WE WILL PROVIDE MORE INFORMATION WHEN ANY DECISIONS ARE MADE. WE HOPE THAT YOU AND YOUR LOVED ONES STAY SAFE AND WELL.
The Musical Theater Training Company
The Musical Theater Training Company, a two-week training program, provides pre-professional training for the serious student in American musical theater. Taught by expert faculty, company members train in singing, acting and dance technique in daily classes. They then apply these skills in rehearsals, working toward a polished, final showcase, which is attended by members of Arena Stage's artistic team. Members of this elite ensemble learn the importance of training within their art form, experience the professional rehearsal process within a company and begin to develop a professional network.
Participants
Serious, focused students ages 14 – 18. No audition required. Participants evaluated in dance, singing and acting on the first day.
Arena Stage Academy Showcase
July 31, 2020 at 7 p.m. | Kogod Cradle
Tuition
$1,000
$300 non-refundable deposit due upon registration
Balance due on June 1, 2020
Preparation
Though there is no audition, participants should have prepared:
A song from a musical to perform from memory, bringing in sheet music for the accompanist. Do NOT plan to sing a cappella or with a recorded track. You will be given a binder for your sheet music, so please have a clear, double sided copy that can be three hole punched and placed in the binder for the accompanist. (This is not an audition—you're already in!—but it is to show the faculty what your vocal range and quality are, how you move, and how you interpret a song.)
A short, true story from your life. The story should be prepared, but not written out and memorized. The stories need to be under two minutes in length and are meant to help the faculty get to know you.
Things to bring every day:
Black jazz shoes
Dance/movement clothes
Something that will keep hair out of your face (if necessary)
Small towel
Lunch (we will provide a snack)
Full water bottle
You will be given a locker next to one of the rehearsal halls to store your belongings.
Note that for the Showcase performance we will ask all students to wear black jazz or yoga pants that are at least calf length and a solid color top with no text or images on it.
Alumni
Academy alumni have gone on to star in professional shows including Arena Stage's The Pajama Game, Carousel and Oklahoma!

Photo of William Patrick Riley and June Schreiner by Scott Suchman.

Academy alumni have gone on to star in professional shows including Arena Stage's The Pajama Game, Carousel and Oklahoma!

Photo of Blakely Slaybaugh and Gabi Stapula by Margot Schulman.
Location
Arena Stage at the Mead Center for American Theater
1101 6th St. SW
Washington, DC 20024
Get Direction
Sponsors
Arena Stage's community engagement efforts are generously sponsored by Denie and Frank Weil; AT&T; The Coca-Cola Foundation; the Paul M. Angell Family Foundation; Joanne Barker; the deLaski Family Foundation; the D.C. Commission on the Arts and Humanities; Arthur and Barbara Bushkin; Hattie M. Strong Foundation; Robert and Natalie Mandel Family Foundation; Max and Victoria Dreyfus Foundation, Inc.; Exelon Corporation; Alice Shaver Foundation; Theatre Forward; Collins Aerospace; Edington, Peel & Associates; Friends of Southwest D.C.; GEICO; JBG Smith; Wayne and Susan Jonas; Venable Foundation; Washington Nationals Dream Foundation; Wells Fargo & Company; Foley & Lardner LLP; Weissberg Foundation in memory of Wallace Kent Babington; The Albert & Lillian Small Foundation; Jean Schiro- Zavela and Vance Zavela; Actors' Equity Foundation; and Youth Activities Task Force (YATF) of the Southwest Neighborhood Assembly, Inc.