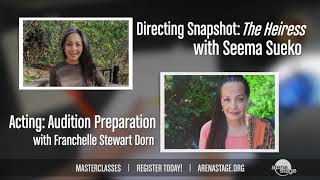 Play video icon.
For Theater Lovers
Get a peek into the offstage work that helps create the magic that you see onstage. Led by long-time Arena Stage collaborators, you will see examples of their work, hear stories about the people they've worked with, and have a chance to ask questions in this 90-minute insider glimpse.
Cost: $25-$30
Registration is available through the day of the lecture. The series is open to everyone, but designed specifically for theatergoers interested in learning more about the process of making theater.
Insider Lecture Series
Dressing to Impress: Costuming the Leading Ladies of Arena Stage with Joseph Salasovich

Saturday, March 6
10:30 a.m. - Noon EST

Spend a morning with Joe Salasovich, Costume Director at Arena Stage, reminiscing about the performances at Arena Stage through the lens of costumes.  We will dive into the process of bringing the garments to life on our stages and celebrate the fantastic designers and skilled artisans in the costume shops.  We will look at the marvelous creations made specifically for principal female characters in the plays and musicals presented in the Fichandler, the Kreeger, and the Kogod over the past 20 years.  We will see the entire journey of a costume—from the first read of a script to the final bow on closing night—and learn about the team that keeps all these fabulous actors dressed to impress.    Bring all your questions. Joe will answer those and more as we have open discussion about hats and wigs and corsets and petticoats and dresses and gowns and boot and shoes and accessories and how they support character and storytelling.