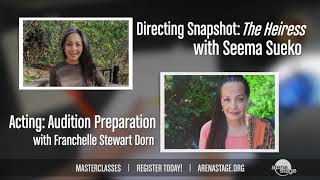 Play video icon.
For Theater Lovers
Get a peek into the offstage work that helps create the magic that you see onstage. Led by long-time Arena Stage collaborators, you will see examples of their work, hear stories about the people they've worked with, and have a chance to ask questions in this 90-minute insider glimpse.
Cost: $25-$30
Registration is available through the day of the lecture. The series is open to everyone, but designed specifically for theatergoers interested in learning more about the process of making theater.
Insider Lecture Series
Bit By Bit, Putting Steps Together: Inside the Choreographer's Process with Parker Esse

Saturday, February 6
10:30 a.m. - Noon

Join Parker Esse, Helen Hayes award-winning Choreographer, as he embarks on a creative discussion of his choreographic process. Having choreographed 13 productions at Arena Stage, Parker's choreography has been tailored and adapted to exciting design challenges and creative discoveries with each production. We will take an in-depth look at the collaboration between director, music director, costume designer, set designer, lighting designer, and sound designer and the role they play in shaping Parker's choreography for a production, from the first creative team production meeting to the opening night performance. Creating choreography is a complex, thrilling journey that breathes dynamic storytelling into musical theater. Parker is eager to share behind the scenes choreographic stories from past productions and answer any questions you may have.

Prop Culture: The Oddities and Adventures Backstage with Jenn Sheetz

Saturday, February 20
10:30 a.m. - Noon

Enjoy a morning chat with Jenn Sheetz, the Properties Director at Arena Stage as she gives a virtual "tour" of the prop shop and storage spaces. Learn about the staff in the prop shop and the extraordinary skills they bring to each project. She will highlight specific props that will be displayed; she will show their first concept in the script, describe how they were found or built, and end with their final design on stage. Stories about a "dead" goat (Sylvia),a tiger sofa that breathes, gutting a large fish, kitchen destruction, blood rig hidden in a chair, rolling cigars, real animals and many more! Jenn will share not only props she built as the properties director, but also as the properties assistant when she first ran shows at Arena. There will be a Q&A at the end, so bring your prop questions!

Dressing to Impress: Costuming the Leading Ladies of Arena Stage with Joseph Salasovich

Saturday, March 6
10:30 a.m. - Noon

Spend a morning with Joe Salasovich, Costume Director at Arena Stage, reminiscing about the performances at Arena Stage through the lens of costumes.  We will dive into the process of bringing the garments to life on our stages and celebrate the fantastic designers and skilled artisans in the costume shops.  We will look at the marvelous creations made specifically for principal female characters in the plays and musicals presented in the Fichandler, the Kreeger, and the Kogod over the past 20 years.  We will see the entire journey of a costume—from the first read of a script to the final bow on closing night—and learn about the team that keeps all these fabulous actors dressed to impress.    Bring all your questions. Joe will answer those and more as we have open discussion about hats and wigs and corsets and petticoats and dresses and gowns and boot and shoes and accessories and how they support character and storytelling. 
Drama Book Club
Reading and Watching Contemporary Plays with Otis Cortez Ramsey-Zöe and Rebecca Campana

Thursdays (February 4 - March 25)
6 – 7:30 p.m.

Join other theater lovers to read, watch and delve more deeply into four contemporary American plays. Participants will explore the context of the play on the page and in performance, analyzing artistic choices, themes and character and discuss your discoveries. Facilitated by dramaturg, director and instructor Otis Cortez Ramsey-Zöe (The 51st State) and School Programs Manager Rebecca Campana, participants will engage with the work and each other in lively, structured weekly sessions. Participants may register up until the second meeting of the class (2/11). Theater lovers will read the following plays:
1. Indecent by Paul Vogel
2. Kinky Boots by Harvey Fierstein (book) and Cyndi Lauper (lyrics/music)
3. I and You by Lauren Gunderson
4. The Shipment by Young Jean Lee

Participants will furnish their own copies of the plays and pay any associated streaming fees. Registered participants will receive a welcome email with instructions on where to buy the scripts and the streaming options for the plays (ex. BroadwayHD or purchasing tickets to an upcoming streamed production). When possible, registrants should wait to watch the play until after they have read and discussed it.

Cost: $200-$250