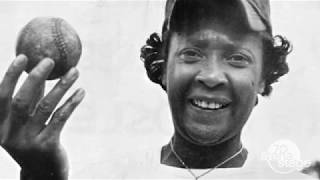 Play video icon.
A trailblazing spirit
Toni Stone
April 23 – May 31, 2020
Credits

Written by Lydia R. Diamond
Directed by Pam MacKinnon
In Association with American Conservatory Theater

Location
"[Diamond] is a powerfully smart writer"
Considered a pioneer, Toni Stone is the first woman to play baseball in the Negro Leagues, also making her the first woman to play professionally in a men's league in the 1950s. Against all odds, Stone blazes a path in the male-dominated sports world, shattering expectations and creating her own set of rules. Based on Martha Ackmann's book Curveball, The Remarkable Story of Toni Stone, the latest work from award-winning playwright Lydia R. Diamond (Smart People, The Bluest Eye) tells the dynamic and uplifting story of Stone's journey of perseverance and resilience just to do what she loved the most — play baseball.
Toni Stone is generously sponsored by

, Susan and Steve Bralove,

and Sue Henry and Carter Phillips.
Multimedia
"Toni Stone" at Arena Stage
In The News
Washington Post
For a new play about baseball, the actors needed a designated hitting coach
Accessible Performances
Closed Captioning
GalaPro Begins Friday, May 1. Learn more about Gala Pro
Open Captioning
Thursday, May 28 at 8 p.m.
Audio Described
Saturday, May 30 at 2 p.m.
Events
Post-Show Discussions
Wednesday, May 6 at 12 p.m.
Wednesday, May 13 at 12 p.m.
Tuesday, May 19 at 12 p.m.
Tuesday, May 19 at 7:30 p.m.
Thursday, May 21 at 8 p.m.
Southwest Night
Sunday, May 24 at 7:30 p.m. Purchase