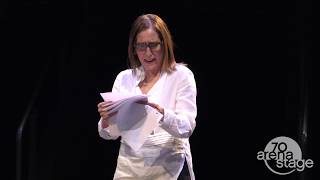 Play video icon.
World-Premiere Power Play
Celia and Fidel
February 28 – April 12, 2020
Credits

Written by Eduardo Machado
Directed by Molly Smith

Location

Arlene and Robert Kogod Cradle
"A leading playwright"
Can one woman change the mind of a man and the fate of a nation? Fidel Castro's most trusted confidant and political partner, Celia Sánchez, is never far from his side as he grapples with how to move his country forward. It's 1980 and a failing economy has led 10,000 Cuban citizens to seek asylum at the Peruvian Embassy in Cuba. Castro must decide what kind of a leader he wants to be: merciful or mighty. Imbued with magical realism, Arena Stage's seventh Power Play imagines a conversation between Cuba's most influential female revolutionary and its most notorious political leader in a contest between morality and power.
Celia and Fidel was generously commissioned by Drs. Elliot and Lily Gardner Feldman and BakerHostetler LLP as part of Arena Stage's Insider Voices Power Play Cycle.
Additional support provided by the
.
Celia and Fidel is a fictional play inspired by historic events.
Multimedia
"Celia and Fidel" preview
Playwright Eduardo Machado introduces "Celia and Fidel"
Photo of Robert M. Jimenez and Marian Licha by Tony Powell.
Photo of Robert M. Jimenez and Marian Licha by Tony Powell.
In The News
Washington Post
GALA Hispanic Theatre and Arena Stage amplify Cuban voices with a twofer of plays by Nilo Cruz and Eduardo Machado
Broadway World
Robert M. Jimenez, Marian Licha and more will star in the world premiere of Celia and Fidel at Arena Stage
Accessible Performances
Closed Captioning
GalaPro Begins Friday, March 6. Learn more about Gala Pro
Open Captioning
Wednesday, March 25 at 7:30 p.m.
Audio Described
Saturday, April 11 at 2 p.m.
Events
Post-Show Discussions
Wednesday, March 11 at 12 p.m.
Wednesday, March 25 at 12 p.m.
Thursday, March 26 at 8 p.m.
Tuesday, April 7 at 12 p.m.
Tuesday, March 31 at 7:30 p.m.
Special Guest: Jonathan M. Hansen, Harvard historian and author of Young Castro (book signing to follow discussion)
Southwest Night
Sunday, March 29 at 6 p.m. Purchase