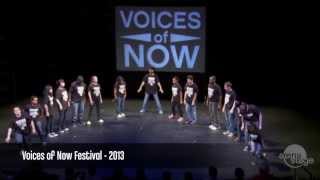 Play video icon.
Voices of Now
Voices of Now (VON) is a program that devises autobiographical plays with ensembles of middle school, high school and adult artists. VON plays are fast-paced, collaboratively written physical theater pieces that pose challenging social questions relevant to the artists and their communities. The plays investigate those questions through poetry, movement and the recounting of the artists' personal stories.
Originally created to work with one local middle school, the program has expanded to serve hundreds of students in the D.C.-Metro area and beyond. One of the primary goals of the program is to create positive change within the artists' communities by engaging in dialogue centered on young people's daily experiences of their world.
Each season, the Voices of Now ensembles present their original plays at the annual Voices of Now Festival in Arena Stage's Arlene and Robert Kogod Cradle.
Get Involved
Voices of Now workshops are available to middle school, high school and community groups of eight or more. Group leaders and performers can learn more by contacting Community Programs Manager Mauricio Pita at mpita@arenastage.org at 202-600-4065.
Sponsors
Voices of Now is made possible by support from the Hattie M. Strong Foundation, Rockwell Collins, Friends of Southwest D.C., Washington Nationals Dream Foundation, Eileen Fisher, Friends of Southwest DC, Raytheon, GEICO, the Weissberg Foundation and Wells Fargo & Company.
Arena Stage's community engagement efforts are generously sponsored by Denie and Frank Weil; AT&T; The Coca-Cola Foundation; the Paul M. Angell Family Foundation; Joanne Barker; the deLaski Family Foundation; the D.C. Commission on the Arts and Humanities; Arthur and Barbara Bushkin; Hattie M. Strong Foundation; Robert and Natalie Mandel Family Foundation; Max and Victoria Dreyfus Foundation, Inc.; Exelon Corporation; Alice Shaver Foundation; Theatre Forward; The Bay & Paul Foundations; Collins Aerospace; Edington, Peel & Associates; Friends of Southwest D.C.; GEICO; JBG Smith; Wayne and Susan Jonas; Venable Foundation; Washington Nationals Dream Foundation; Wells Fargo & Company; Foley & Lardner LLP; Weissberg Foundation; The Albert & Lillian Small Foundation; Jean Schiro- Zavela and Vance Zavela; Actors' Equity Foundation; and Youth Activities Task Force (YATF) of the Southwest Neighborhood Assembly, Inc.